Lev Parnas' Interview on MSNBC Drew 4.5 Million Viewers—'The Rachel Maddow Show's' Highest-Rated Episode Ever
MSNBC has something to celebrate afterThe Rachel Maddow Show drew 4.5 million viewers for its interview of Rudolph Giuliani associate Lev Parnas on Wednesday night, beating Fox News' Hannity in its timeslot and making it the most-watched cable program of the evening—also bringing in the highest ratings yet in its 11-year history.
The Rachel Maddow Show's previous viewership peak came in March of 2017 at 4.13 million viewers. During that program, host Rachel Maddow revealed a portion of President Donald Trump's 2005 tax returns.
Sean Hannity's program, which nominally leads the pack among the cable news set, ratings wise, on Wednesday night pulled in 3.79 million viewers, putting Hannity in second place.
This is a turnabout from the way the two shows' typical ratings play out. In 2019, for example, Hannity drew an average of 3.3 million viewers, while Maddow drew 2.78 million on average. This ultimately made Maddow the third-most-watched cable news program in 2019, behind Hannity and Fox News' Tucker Carlson Tonight.
But on Wednesday, Maddow also pulled ahead of Hannity in a key viewing demo. For adults 25-40, Maddow drew 844,000 on Wednesday. Hannity comparatively took in 590,000.
Maddow also more than tripled the ratings pulled in by CNN's Cuomo Prime Time, which stood at 1.06 million for the night.
The Last Word with Lawrence O'Donnell and The 11th Hour with Brian Williams, both of which follow Maddow's program on MSNBC's prime time lineup, saw a ripple effect as their own ratings went up, with each finishing first in their time periods.
Parnas alleged during his appearance on Maddow's show that President Trump knew "exactly" what Parnas was doing in Ukraine on his behalf, and also said that he was "basically on the team" seeking information on Hunter and Joe Biden's dealings in Ukraine and specifically with Hunter Biden's dealings with the Ukrainian gas company Burisma. Parnas then went on to implicate other alleged "team" members—Rudolph Giuliani, Attorney General William Barr, Vice President Mike Pence, former National Security Adviser John Bolton and others—as being part of an ongoing campaign to pressure Ukrainian President Volodymyr Zelenskiy into investigating both Bidens in trade for promised military aide.
On Thursday, President Trump said of Parnas to reporters, "I don't know him at all. Don't know what he's about. Don't know where he comes from. Know nothing about him. I can only tell you this thing is a big hoax."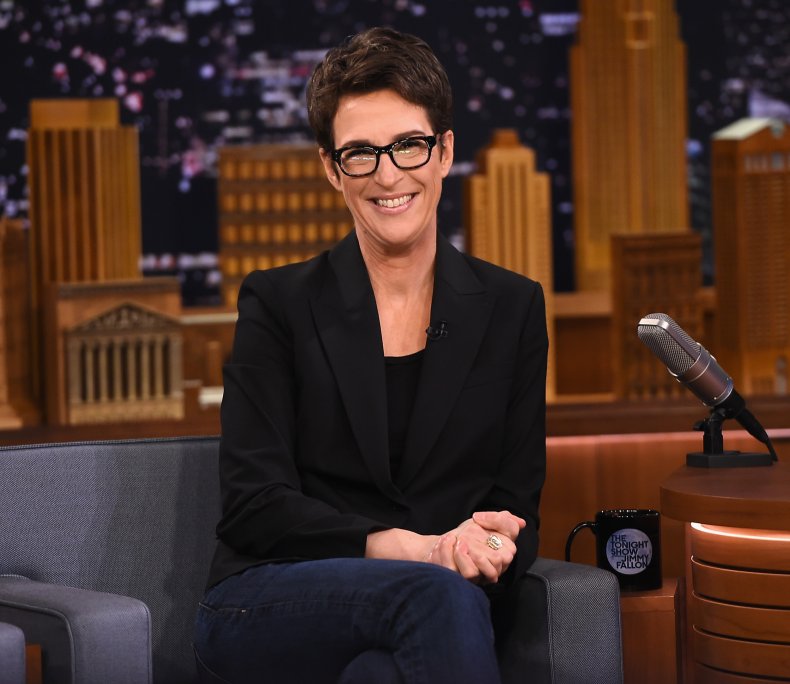 The second part of Maddow's interview with Parnas aired on Thursday evening.