Lev Parnas' Lawyer Releases Video of Trump Talking to His Client After President Tells Acosta He Doesn't 'Know Him at All'
During a meeting between President Donald Trump and reporters Thursday, CNN's Jim Acosta attempted to ask Trump about his relationship with Lev Parnas, who has said in recent reports that he was acting under Trump's authority while he was in Ukraine.
Trump denied knowing Parnas and told Acosta to be quiet when the reporter pressed the issue.
Acosta asked the president for his response to allegations Parnas made in Wednesday interviews with MSNBC's Rachel Maddow that "your efforts in Ukraine were all about 2020. You just wanted Joe Biden out."
"Well, I don't know [Parnas]," Trump said. "I don't know Parnas other than I guess had pictures taken which I do with thousands of people including people today that I didn't meet. I don't know him at all, don't know what he's about, don't where he comes from, know nothing about him. I can only tell you this thing is a big hoax."
"He's probably trying to make a deal for himself," Trump added.
Trump said the picture taken of him with Parnas was probably taken at a fundraiser.
"I don't even know who this man is other than I guess he attended fundraisers so I take a picture with him," Trump said. "I'm in a room, I take pictures with people. I take thousands and thousands of pictures with people all the time."
"Perhaps he's a fine man, perhaps he's not. I know nothing about him," Trump said.
Acosta attempted to continue his line of questioning but the president kept speaking.
"So let me just tell you," Trump said, "you just have to take a look at the polls."
Then to Acosta, Trump said, "Quiet."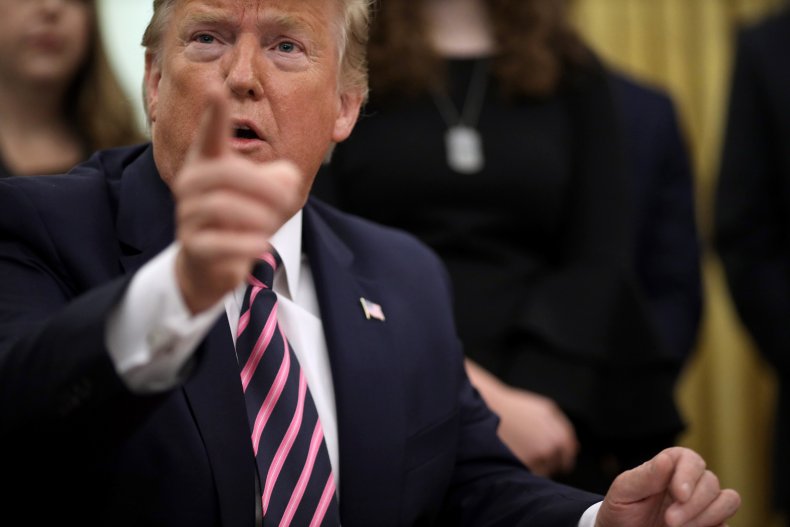 After espousing the health of the American economy and the two trade deals Trump recently signed, Trump said, "We are doing well. I don't need the help of a man I never met before, other than perhaps taking a picture at a fundraiser or something, if that's where it was taken."
Parnas' lawyer, Joseph A. Bondy, wrote on Twitter soon after Trump's comments became known to post a video of Trump and Parnas together, casting more aspersions on Trump's claim that he never met Parnas.
"Here's the 'I don't know him at all, don't know what he's about, don't know where he comes from, know nothing about him' guy w Lev Parnas & Roman Nasirov, former head of Ukrainian Fiscal Service, at Mar-a-Lago 12/16," Bondy tweeted Thursday.
Newsweek reached out to the White House for comment but did not receive a response in time for publication.
Parnas, a former associate of Trump's personal lawyer, Rudy Giuliani, is currently out on bail having been indicted while trying to flee the U.S. He is accused of attempting to influence the relationship between the U.S. and Ukraine, and of funneling foreign donations to U.S. politicians.
Documents from Parnas imply he may have been monitoring the movements of former U.S. Ambassador to Ukraine Marie Yovanovitch in order to help Giuliani remove her from her position.