Lev Parnas Not in Custody After Conviction, Says 'I've Never Hid From Nobody'
Rudy Giuliani's former business associate Lev Parnas remained free pending sentencing after being convicted of federal campaign finance crimes on Friday.
A New York jury found Parnas, a 49-year-old Soviet-born businessman from Florida, guilty on multiple charges of making illegal campaign contributions after deliberating for about five hours. Parnas is expected to appeal the convictions. He was reportedly defiant while leaving the Manhattan courthouse, telling supporters that he "never hid from nobody" and "always stood up and told the truth," according to The New York Times.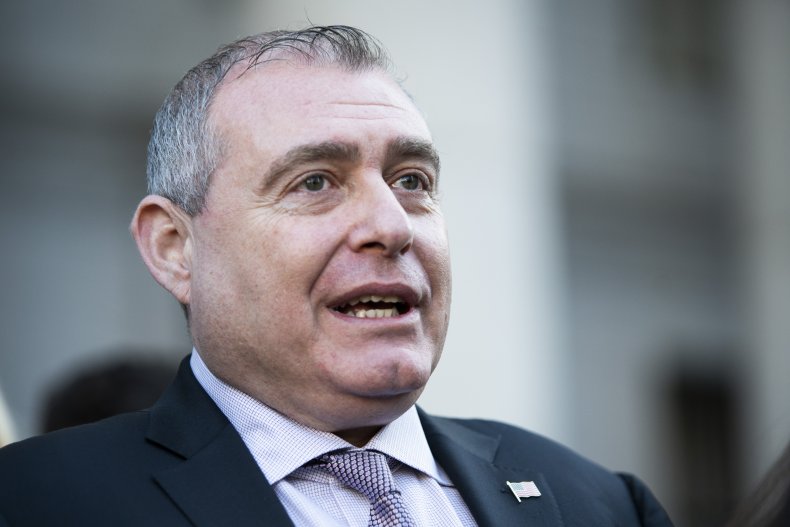 Prosecutors said that Parnas illegally donated over $350,000 to Republican politicians and candidates, included two super PACs supporting former President Donald Trump. In addition, he was accused of helping a wealthy Russian businessman who hoped to enter the U.S. recreational marijuana market make illegal political donations.
Co-defendant Andrey Kukushkin was also convicted on all counts Friday. Igor Fruman, Parnas' former business partner, pleaded guilty to a related charge last month. Another man who was originally a co-defendant, David Correia, pleaded guilty to two counts in October 2020 and was sentenced to just over a year in prison in February.
U.S. District Court Judge Paul Oetken declined a request from prosecutors to jail Parnas and Kukushkin following their convictions. Oetken said that "the defendants have sufficiently established that they're not a risk of flight" and had "complied with the terms of their pretrial release," according to Politico.
During the trial's closing arguments on Thursday, prosecutor Hagan Cordell Scotten reportedly said that the "purpose behind this conspiracy was influence buying" and that the actions of the defendants were intended to ensure that "the voters would never know whose money was pouring into our elections."
"In order to gain influence with American politicians and candidates, they illegally funneled foreign money into the 2018 midterm elections with an eye toward making huge profits in the cannabis business," U.S. Attorney Damian Williams said in a statement after the convictions.
"Campaign finance laws are designed to protect the integrity of our free and fair elections—unencumbered by foreign interests or influence—and safeguarding those laws is essential to preserving the freedoms that Americans hold sacred," added Williams.
Parnas, alongside former business partner Fruman, came to public attention in late 2019 as a key figure in the first impeachment of Trump. Parnas said that he helped Giuliani execute a scheme to pressure Ukrainian officials into launching a potentially damaging investigation into Trump's political rival President Joe Biden and his son Hunter Biden.
Giuliani and Trump were not involved in the trial that ended this week. Parnas could be sentenced to up to 45 years in prison following the convictions. He is also facing a separate trial on fraud charges.
Newsweek reached out to Parnas' attorney for comment.