Lev Parnas Says Attorney General Barr Was 'Basically on the Team,' Devin Nunes Was 'Involved in Getting Stuff on Biden'
In an interview with MSNBC's Rachel Maddow on Wednesday night, Rudy Giuliani associate Lev Parnas said Attorney General William Barr "knew" about President Donald Trump's alleged efforts to get Ukraine to announce an investigation into former Vice President Joe Biden's son, Hunter Biden, and that GOP Congressman Devin Nunes was "involved."
House Democrats on Tuesday night released new evidence obtained by Parnas, who, along with fellow Giuliani associate Igor Fruman, was indicted last October for allegedly illegally transferring foreign funds to American politicians. The trove of documents included voicemails, text messages and photos that related to the alleged surveillance of former U.S. Ambassador to Ukraine Marie Yovanovitch by Giuliani associates, which is believed to have occurred before her employment was terminated by Trump.
When asked by Maddow whether he knew if Giuliani was in contact with Barr about his efforts in Ukraine, Parnas simply responded: "Absolutely."
"Mr. Barr knew about that?" Maddow pressed.
"Mr. Barr had to have known everything," Parnas said.
"Did Giuliani tell you he'd spoken to the Attorney General specifically about Ukraine?" Maddow asked, to which Parnas replied: "Not only Rudy Giuliani... Attorney General Barr was basically on the team."
Maddow went on to note that Trump had reportedly told Ukrainian President Volodymyr Zelenskiy to contact Barr. "Does that make sense to you?" she asked.
"Absolutely," Parnas replied. "Attorney General Barr wanted to get to the bottom of the Biden stuff and everything like that. I think that he might have gotten upset that the president ousted him, maybe. He didn't want it in the public eye that he was doing it. But it was known internally that he was investigating the investigators."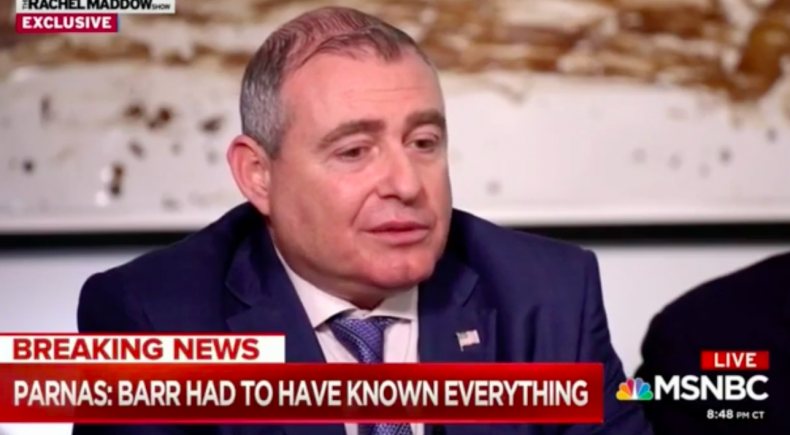 Later in the segment, Parnas claimed that Republican Congressman Devin Nunes was another person who was "involved" in the Ukraine scandal.
"We don't have too much of a relationship," Parnas said of the lawmaker. "We met several times at the Trump Hotel, but our relationship started getting... basically where it expanded was when I was introduced to his aide, Derek Harvey, and the reason why Derek Harvey I was told because Devin Nunes had an ethics... something to do with the Ethics Committee, he couldn't be in the spotlight."
"He was kind of shunned a little bit and that he was looking into this Ukraine stuff also, wanted to help out. And they gave me Derek Harvey to deal with."
Parnas goes on to explain that he was surprised when he saw Nunes and Harvey together in the room for the Intelligence Committee hearing that occurred before the impeachment trial.
"I was in shock when I was watching the hearings and when I saw Devin Nunes sitting up there, and then there was a picture where Harvey was in the back sitting. I texted my attorney, 'I can't believe this is happening,'" he said.
I was shocked "because they were involved in getting all this stuff on Biden," Parnas added.
In a statement emailed to Newsweek, Kerri Kupec, a spokesperson for the Department of Justice (DOJ) asserted that Barr "was first notified of the President's conservation with Ukrainian President Zelensky several weeks after the call took place, when the Department of Justice learned of a potential referral."
"The President has not spoken with the Attorney General about having Ukraine investigate anything relating to former Vice President Biden or his son. The President has not asked the Attorney General to contact Ukraine – on this or any other matter," Kupec said, "The Attorney General has not communicated with Ukraine – on this or any other subject. Nor has the Attorney General discussed this matter, or anything relating to Ukraine, with Rudy Giuliani."
Maddow also read the response on air during the Parnas interview.
Newsweek reached out to a representative for Nunes for comment, but did not hear back in time for publication.
Trump has repeatedly denied that he knows Parnas and Fruman, despite there being images from 2018 of the three men together. The second half of Maddow's interview with Parnas will air on Thursday evening.
In mid-December, the House voted to approve two impeachment articles—abuse of power and obstruction of Congress—against Trump. At the heart of the proceedings is a July phone call between the U.S. leader and Zelenskiy, during which Trump asked his foreign counterpart to investigate the Bidens.