Lev Parnas Says Mike Pence Was Tasked With Getting Ukraine President to Announce Investigation Into Bidens: 'Everybody Was In the Loop'
In an interview with Rachel Maddow Wednesday night, Lev Parnas said that Vice President Mike Pence was given the task of telling Ukrainian president Volodymyr Zelenskiy that if he did not announce his government's investigation into the Bidens, the U.S. would not provide any military aid.
When asked if Pence was aware of the quid pro quo, Parnas said, "I'm going to use a famous quote from [Ambassador Gordon] Sondland. Everybody was in the loop."
"These allegations are being made by a man who is currently out on bail for federal crimes and is desperate to reduce his exposure to prison," White House press secretary Stephanie Grisham told Newsweek in a statement. "The facts haven't changed - the President did nothing wrong and this impeachment, which was manufactured and carried out by the Democrats has been a sham from the start."
Parnas said that Pence was scheduled to be a guest at Zelenskiy's inauguration.
"It was already planned out, it was already discussed," Parnas said. But Parnas told Zelenskiy's senior aide Sergei Schaffer that if the investigation were not announced, then the relationship between Ukraine and the U.S. would become "sour."
"The announcement was the key at that time because of the inauguration and I told him Pence would not show up, nobody would show up to his inauguration," Parnas said. "It was particularly Vice President Mike Pence."
Pence's visit to the inauguration was canceled the day after Parnas met with Schafer.
"It was after my phone call. The conversation that I laid out to Mr. Schafer was basically what I was told to do by Giuliani and the president and then afterwards I got back to them saying he was going to get back to me later tonight," Parnas said.
But Schafer blocked Parnas from the WhatsApp messaging service on his phone.
"I remember Rudy going, 'Okay. They'll see.' To my awareness, Trump called to say 'Make sure Pence doesn't go [to the inauguration].'"
Parnas said he was positive Pence canceled his trip to the inauguration because of the disagreement between the U.S. and Ukraine.
"It was 100 percent," Parnas said. "I know it was 100 percent."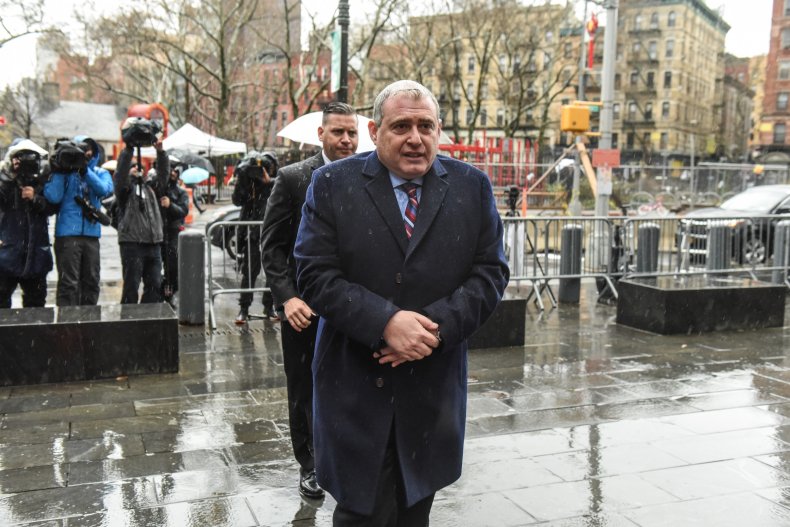 Parnas told Maddow that President Trump was fully aware of his actions and that Ukrainian officials only agreed to meet with him because he was representing the White House.
"President Trump knew exactly what was going on," Parnas said. "He was aware of all my movements. I wouldn't do anything without the consent of Rudy Giuliani, or the president. I have no intent, I have no reason to speak to any of these officials. I mean, they have no reason to speak with me."
"Why would President Zelenzkiy's inner circle, or Minister Avakov, or all these people, or President Poroshenko meet with me?" Parnas asked. "Who am I? They were told to meet with me. And that's the secret that they're trying to keep. I was on the ground doing their work."
Updated 1/16/2020 3:41 p.m. EST: This story has been updated to include a statement from White House press secretary Stephanie Grisham.