Lev Parnas Says Trump Tried to Fire Yovanovitch At Least 4-5 Times But She Wouldn't Leave: 'It Was Becoming Comical'
Thursday on The Rachel Maddow Show, Lev Parnas said President Donald Trump attempted to fire former U.S. Ambassador to Ukraine Marie Yovanovitch multiple times, but was unable to do so via regular channels.
"The president kept firing her and she wouldn't leave," Parnas said, "so nobody could understand what was going on. He fired her to my knowledge at least four or five times. He even had a breakdown and screamed, 'Fire her' to Madeleine [Westerhout], his assistant or secretary before he fired her. And she said, 'Mr. President, I can't do that.'"
Parnas said he spoke directly with Trump about the firing of Yovanovitch, including one time during a dinner at the Trump Hotel. Both Trump and his son, Don Jr., were in attendance.
"I don't know how the conversation came up but I do remember me telling the president that the ambassador was badmouthing him and saying that he was going to get impeached, something to that effect," Parnas said. "At that point, he turned around to John DeStefano, who was his aide at the time, and said, 'Fire her.' There was a silence in the room. He responded to him and said, 'Mr. President, we can't do that right now because Pompeo hasn't been confirmed yet."
According to Maddow, Pompeo had in fact been confirmed at the time of the dinner in question but had not been sworn into office.
"Several conversations and he mentioned it again," Parnas added. "I don't know how many times at that dinner- once or twice or three times. But he fired her several times."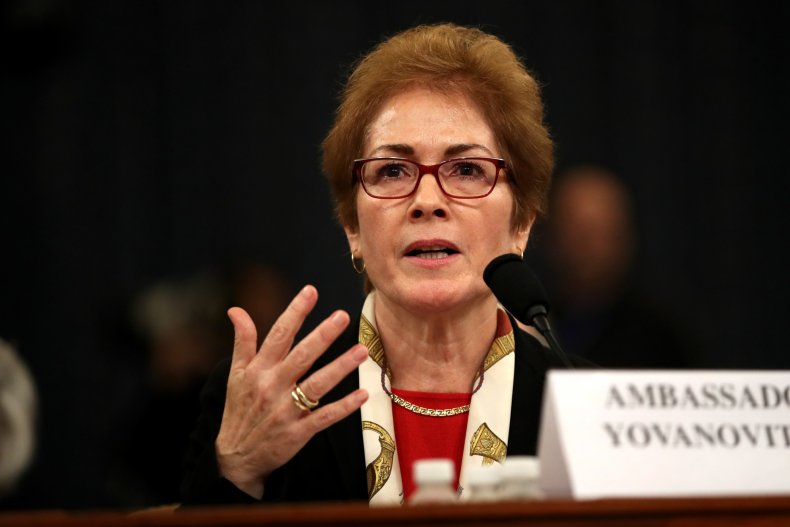 Parnas claims that Trump instructed several members of his administration to fire Yovanovitch, but it never happened.
"[Trump] fired her when he gave an order to Mike Pompeo once, which he didn't do. Secretary Pompeo didn't fire her," Parnas explained. "Then Rudy [Giuliani] came back and [Trump] told him, 'Go speak to Pompeo." Rudy didn't speak to Pompeo."
"Then they had another meeting at the White House where he told [former national security adviser John] Bolton to fire her," Parnas continued. "Bolton didn't want to fire her. He told Pompeo to fire her. Rudy got into it with all of them."
"It was becoming comical because I couldn't understand," Parnas said. "You're the president. When I say 'comical,' it's not more comical. But it's more of an affirmation to me that there was people against the President of the United States if they're not listening to his orders."
Newsweek reached out to the White House for comment but did not receive a response in time for publication.
Parnas' documentation of his actions in Ukraine allegedly on behalf of members of President Trump's administration was publically released by the House Intelligence Committee Tuesday. While Parnas' documents have not yet been entered into the record for Trump's upcoming impeachment trial, that potentiality still exists.
In his interviews, Parnas has pointed the finger at high profile members of the Republican Party as being aware of Trump's quid pro quo including vice president Mike Pence, Attorney General William Barr and California Republican Representative Devin Nunes.
Parnas claimed that Nunes and Parnas were connected to "getting all this stuff on Biden."
Nunes said he did not recall speaking with Parnas, although call logs released by the House Intelligence Committee indicated that those conversations had taken place.
Nunes told Fox News in December 2019 that he would need to go back and check his own phone records but that it seemed "very unlikely" he would accept phone calls "from random people."
As previously reported by Newsweek, Nunes said Wednesday he did remember speaking to Parnas on the phone.
"It was very clear," Nunes told Fox News. "I remember that call, which was very odd, random, talking about random things. And I said great, just talk to my staff and boom, boom, boom. Which is normal, standard operating procedure."
Lev Parnas Says Trump Tried to Fire Yovanovitch At Least 4-5 Times But She Wouldn't Leave: 'It Was Becoming Comical' | Politics