What LeVar Burton Has Said About Becoming the Permanent 'Jeopardy!' Host
Jeopardy! has been presented by a series of guest hosts over the last season as the show works out what to do following the passing of long-time presenter Alex Trebek.
Some like Aaron Rodgers, Mayim Bialik and George Stephanopoulos have all spoken about wanting the full-time hosting job next season, but no one has given as many interviews about the topic as the last host, LeVar Burton.
The actor and Reading Rainbow host has long been stating the case for why he would make a good permanent host. He first tweeted about taking Trebek's role back in September 2020, when he tweeted: "not gonna lie, I feel like I've been preparing my whole life to occupy the @Jeopardy host podium when Alex retires."
Everything LeVar Burton Has Said About Becoming the Full-Time Host of 'Jeopardy!'
Burton gave an interview to Newsweek in April 2021 just before he was announced as a guest host where he made his case for why he would be a good choice to present the show.
He said: "I think I could continue his legacy, I think I would do it proud. Yeah, I think I would bring myself and my skills and my life experience. I believe that I will be honoring Alex's legacy by standing on the podium."
This came after a petition to have him host the show garnered 200,000 signatures. Speaking of this, the Star Trek: The Next Generation actor said: "I think that's because it feels as right to them perhaps as it does to me. It just feels like a good fit—it feels like the right thing."
He went on to compare his feelings about the Jeopardy! job with those he felt before getting the roles in Roots and TNG that would define his career. He told Newsweek: "It happened with Roots, Kunta Kinte. As soon as I read, the very first scene I knew, I knew who this character was. Next Gen. Reading Geordi I remember thinking 'I got this—this I can do.'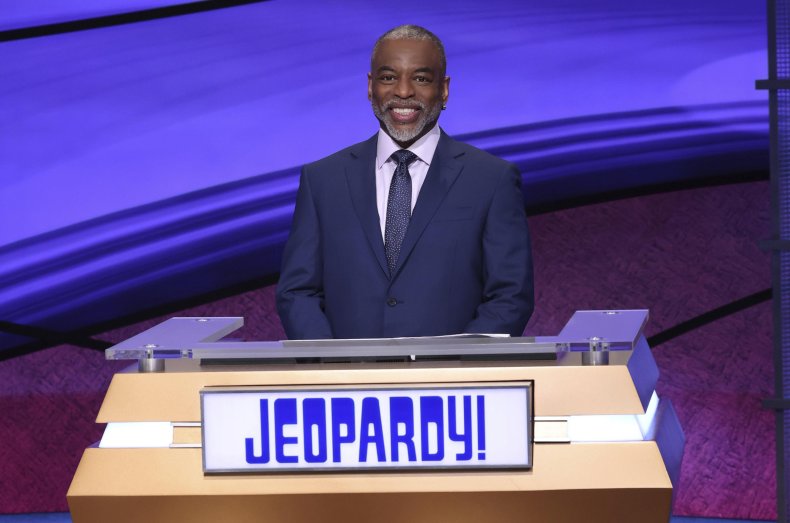 "Both of those jobs I wanted desperately because I knew myself to be right for them. I thought, this is for me, and I feel the same way about Jeopardy!"
More recently, he reaffirmed his desire to become the permanent Jeopardy! guest host in a GQ profile. He told the outlet: "I've gone out on a limb and actually put it out there that I want that job, because I do think it's a logical and natural progression for me. We'll see if Sony Pictures Entertainment [who make Jeopardy!] feels the same way."
Asked why he wanted the role, the 12-time Emmy winner said, "knowledge and information, as shared daily in a public forum. That half-hour of television, every evening, is a cultural touchstone in America. And for a Black man to be at that podium—more specifically, for me to be at that podium—it makes a whole lot of sense."
Speaking to Entertainment Weekly, he also had words for any critics of his hosting during his five-episode run. "You've got to be on top of it every second," Burton said. "It's really challenging on every level. But it's a very cool gig, and I feel like given an opportunity, I could get really good at it."
This came after he revealed to TVLine he had received some fairly harsh criticism about his hosting from his own wife. "I came backstage after taping the first episode and I said to Stephanie [Cozart Burton], 'Well, how did I do?' She said, 'Ehhh.' Now, this is a woman who loves me enough to tell me the truth. She said it wasn't me... ​​I made it my business for the next four chances at bat to just be myself."
Burton has also made comments about becoming the Jeopardy! guest host to other outlets including:
The New York Times: "[I've] won a Grammy. Got a shelf full of Emmys. I'm a storyteller, and game shows are tremendous stories. There's a contest, there's comedy, there's drama. If you don't know your [expletive] on Jeopardy! you're sunk in full view of the entire nation. The stakes are high. I love that."
Esquire: "To have a person of color or a marginalized person standing behind that podium is good for America. It means something. It's a milestone marker on this journey toward wholeness that the great American experiment is supposed to be about."