My daughter Neve is a smart girl and she works really hard. She received the highest marks possible in her GCSEs—the exams 16-year-old students take in England, Wales and Northern Ireland. We have had to tell her to stop working at times—she even worked on Christmas Day one year.
Neve took math, economics and Latin for her A-Levels, exams taken here at 18, but she hadn't been sure whether she wanted to be a lawyer or an accountant. So in the summer of 2019 she arranged to do work experience here in Oxfordshire at a local firm of accountants, a local firm of solicitors, at local law courts and in London in a financial agency. She went into her final year of A-Levels feeling really positive.
Then, the University of Cambridge application process started in the fall. Neve had to have her personal statement ready to submit mid-October, and Cambridge then asked her to write another personal statement and take an entrance exam, which she passed with flying colors. She went for a face-to-face interview and everything was going well. But then my father, Neve's grandad, died. That really knocked her because they were very close.
Shortly afterwards, she was diagnosed with glandular fever and had to take three weeks off school. Neve ended up in hospital in December 2019 because she was so unwell.
Her A-Level mock exams were in the beginning of January 2020, which she took after missing school because of an illness that can leave people feeling tired for months. But Neve did what she could and she did OK, although she did not receive the A grade in math that she would have likely got otherwise.
She'd never received less than A* in economics or Latin, but in math she had fallen back a tiny bit. In early 2020, Robinson College, University of Cambridge offered her a place to study Land Economy with a minimum requirement of A* AA grade, and she also had a back up offer from another university. By March, she was on the mend, started to see A grades again in her math assessments and she was feeling better physically.
Then of course, in March COVID-19 hit and schools in the U.K. closed. This included Neve's school, Cokethorpe School, an independent non-selective school in Oxfordfordshire, England. Neve carried on studying online and working up to 12 hours a day. But then students were told that their exams were no longer taking place in May and June.
Neve was predicted A* A* A by her teachers and as her Cambridge offer was A* A A, we knew she would have been fine, had she been able to take the exams. Neve received A*A B from The Office of Qualifications and Examinations Regulation (Ofqual) which was based on her teachers predictions, previous assessments and work and then being standardised using Ofqual's statistical model, which is supposed to ensure that grades are neither too generous nor too severe. However, part of this standardisation model compares the predicted grades with each school's exam results from 2017, 2018 and 2019. The model then adjusts some grades up or down in line with the previous years.
The grades Neve has been given mean she hasn't met the requirements for Cambridge or for her backup university's offer—she is absolutely distraught because she had her life all planned out. She didn't go through clearing because she was in shock about her grades, so she missed that and now she is faced with nothing for next year.
What feels particularly unfair for Neve is that on August 12, the U.K. government announced a "triple lock" which allows students to take either; grades from their mock exams, their estimated grades or take the exams in the fall this year. Neve was in hospital before the mock exams, missed three weeks of school and was physically unwell with glandular fever, so of course she didn't do as well in the mock exams as she would have done five months later.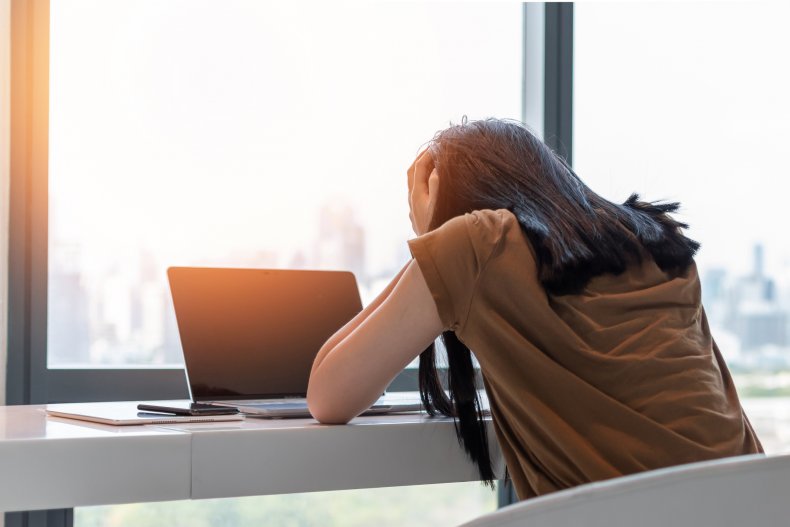 If we are able to appeal and get Neve's grades changed to meet that minimum requirement before the end of August, Neve can attend Cambridge. But if she can't then she will have to live at home for another year, find a job locally or volunteer. She can't go traveling because of the pandemic and she doesn't have the money to live in her own place.
Although the Ofqual site says A-level results can be appealed if a school thinks grades are lower because previous cohorts are not representative of current students' abilities, we don't know how long this will take. The standards of evidence required for an appeal is now not going to be announced until next week, and that pertains to including mock results which won't be helpful for Neve. It feels like the statistical model for standardisation developed by Ofqual has resulted in a "computer says no" situation for Neve's grades.
The consequences of what is happening for Neve's generation of students really worries me. Neve and her peers had to leave school unceremoniously and they didn't get to take their exams after all that build up. They have missed any post exam party, they've missed prom, summer and many have missed celebrating their 18th birthdays together—they have missed so many rites of passage. Neve's 18th birthday was spent inside, at home, eating cupcakes with her family.
Of course we want to see Neve's "B" grade in math increased to an "A" so she can attend Cambridge. But, from an overall point of view I think that the number one thing that needs to happen is for the government to do a U-turn on the results in England, as Scotland has done. I think they should admit that this system hasn't worked and has ended up disadvantaging a whole group of young people who have been deprived of a lot this year already. We feel the government needs to trust the teachers who think these young people could have received the grades they were predicted.
I have been in chatrooms with other parents and students and there are so many people feeling like Neve and us, her parents. It just seems that this process is so wrong and unfair. It has been detrimental to so many students, as if this year hadn't been bad enough for them already.
Julie Macken lives in Oxfordshire, England with her husband and two children, including her daughter, Neve. Julie is the co-founder of Neve's Bees, a company producing all-natural products from local beeswax.
All views expressed in this piece are the writer's own.
As told to Jenny Haward