England Announces Major U-turn on GCSE and A-level Results
Prime Minister Boris Johnson's government has announced a major U-turn on A level and GCSE exams in England, scrapping an algorithm to decide results and basing them on teacher predictions instead.
It comes after schools and parents as well as pupils and members of Parliament, including from Prime Minister Boris Johnson's own government, criticized the decision to base results on an algorithm which resulted in 39% of A-level grades being lowered in England.
Students from poor and disadvantaged backgrounds were particularly impacted, while those attending private schools were most likely to have grades that remained unchanged.
With GCSE results expected this Thursday, there were fears a similar outcome was going to be replicated for thousands of 16-year-olds across England.
It comes after Wales said it would be relying on teacher assessments for A-level and GCSE results, with Northern Ireland announcing that GCSE results would be based on grades provided by teachers. Scotland had announced a U-turn last week after it became clear that those from disadvantaged backgrounds had been disproportionately impacted by moderation applied by the Scottish Qualifications Authority.
Ofqual, the exams regulator for England said in a statement: "We understand this has been a distressing time for students, who were awarded exam results last week for exams they never took. The pandemic has created circumstances no one could have ever imagined or wished for. We want to now take steps to remove as much stress and uncertainty for young people as possible - and to free up heads and teachers to work towards the important task of getting all schools open in two weeks.
"After reflection, we have decided that the best way to do this is to award grades on the basis of what teachers submitted. The switch to center assessment grades will apply to both AS and A levels and to the GCSE results which students will receive later this week.
"There was no easy solution to the problem of awarding exam results when no exams have taken place. Ofqual was asked by the Secretary of State to develop a system for awarding calculated grades, which maintained standards and ensured that grades were awarded broadly in line with previous years. Our goal has always been to protect the trust that the public rightly has in educational qualifications."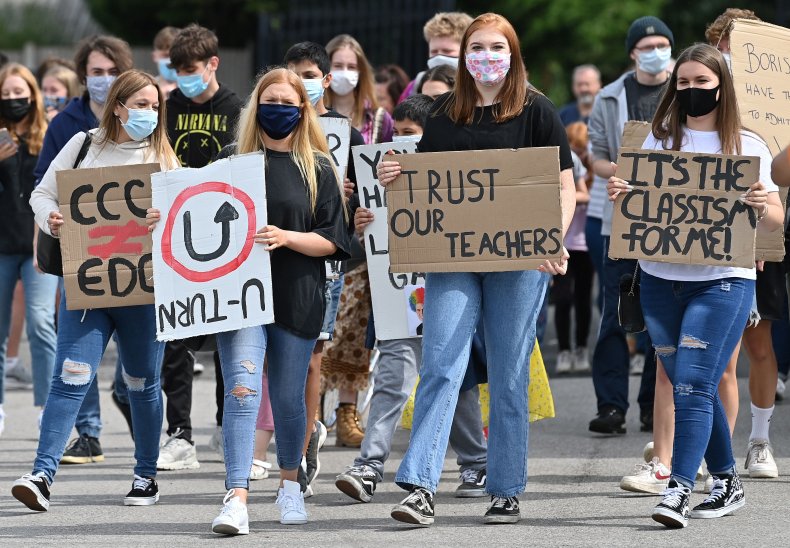 The Secretary of State for Education, Gavin Williamson had previously insisted that there would be no U-turn from the government like the one seen in Scotland.
Asked on Sky News if he could confirm that he would be not be pressured into an embarrassing U-turn and that the standardisation scheme would be staying, Williamson said last week: "Absoultely."
However, the education secretary now says he is sorry for the distress caused to students and hopes students and parents have the certainty and reassurance they need.
He said: "This has been an extraordinarily difficult year for young people who were unable to take their exams.
"We worked with Ofqual to construct the fairest possible model, but it is clear that the process of allocating grades has resulted in more significant inconsistencies than can be resolved through an appeals process.
"We now believe it is better to offer young people and parents certainty by moving to teacher assessed grades for both A and AS level and GCSE results."
Some students had come together to launch a legal challenge against the exams regulator and government over the results.
However, Curtis Parfitt-Ford, the organizer behind the campaign says that early indications are that the government has met their demands.
"We need to look into exactly what is going on here, but if we understand what the government has done correctly, then no, they have addressed the grounds to our legal challenge", he told Newsweek.
"We need to wait to see exactly how they intend on giving these grades to people and also how its going to affect students doing vocational qualifications like BTECs."
Curtis said that although he welcomed the news and some friends had told him they were happy, it was too little too late for others who have been told their universities are already full and cannot take them on.