Le'Veon Bell Update: Pro Bowl RB Spotted in Pittsburgh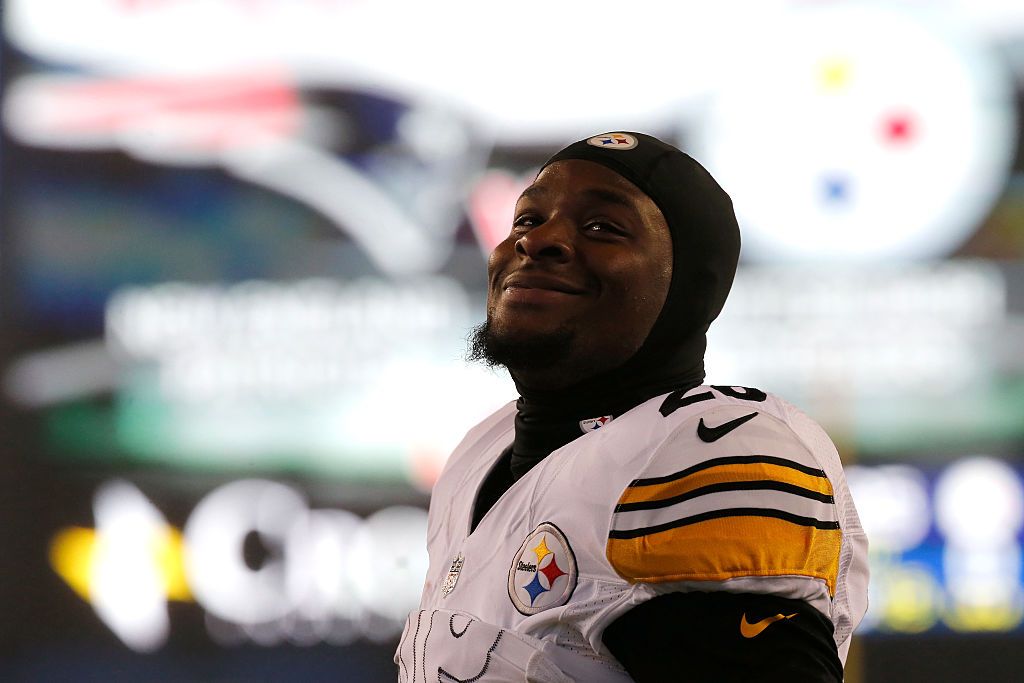 Pittsburgh Steelers running back Le'Veon Bell has reportedly been spotted in the Pittsburgh area and could return to the team prior to Thursday's game against the Carolina Panthers.
According to ESPN's Jeremy Fowler, Bell was photographed playing basketball at a local L.A. Fitness, which was confirmed by the gym's manager on Wednesday.
The Steelers are reportedly aware that Bell is back in town and expected to contact him about his physical, although a member of the organization said that he hadn't made contact with the running back as of Wednesday afternoon's walkthrough, according to NFL Network's Aditi Kinkhabwala.
A photo of Bell playing basketball was shared via Twitter on Tuesday, sarcastically referring to him as a "local rapper" amid his lengthy holdout.
The 26-year-old running back refused to sign his $14.5 million franchise tag this offseason, instead hoping to sign a long-term contract either with Pittsburgh or another franchise.
On Tuesday, ESPN's Adam Schefter reported that the former Pro Bowler hadn't made contact with the Steelers and it was becoming increasingly possible that he'll miss the entire 2018 season.
Bell must report to the team before the deadline of 4 p.m. EST on Nov. 13 or he'll be ineligible for the remainder of the season as part of the NFL's collective bargaining agreement, a source confirmed to ESPN.
The collective bargaining agreement states that any player under contract or on a tender must report by the Tuesday after the 10th week of the season in order to be eligibile to play during that season.
However, a source close to the situation told ESPN that it "doesn't make any sense for [Bell] to play now."
"If he doesn't want to play for $14.5 million, why would he want to play for $5 million?" the source told ESPN, referring to the prorated balance remaining on Bell's $14.5 million franchise tender.
Bell told ESPN last month that he is looking to preserve his long-term health for his next contract, but intended to return before the end of the 2018 season. The former All-Pro running back has been working out in Miami all season, but suddenly tweeted "Fairwell Miami" without an explaination on Monday.
However, the Steelers haven't been in contact with Bell and the organization is focused on Thursday's game against Carolina, a source told ESPN on Monday.
Bell said the Steelers told him they planned on using the transition tag on him this offseason, which would be worth approximately $9 million to $10 million.
The tag would allow Bell to negotiate with other teams while still providing Pittsburgh with the option to match any offer. In that case, the running back would have to sign that offered deal with the Steelers.
Bell does not have to report to the team in order to be eligibile for free agency, despite reports claiming the opposite previously.
Bell had previously told ESPN's Jeremy Fowler that he planned on returning to the Steelers between Week 7-8 after holding out for the first six games of the season last month.
"I miss football," Bell told Fowler. "When I do get back, I plan to give it my all. I still do want to go out there and win a Super Bowl with the Steelers."
Bell recorded 5,336 yards and 35 touchdowns on 1,229 rushing attempts, as well as 312 receptions for 2,660 yards and seven touchdowns during his six seasons in Pittsburgh.
The three-time Pro Bowl running back had 1,291 yards and nine touchdowns on a career-high 321 rushing attempts, as well as 85 receptions for 655 yards and two touchdowns in 2017.
Le'Veon Bell Update: Pro Bowl RB Spotted in Pittsburgh | Sports