Le'Veon Bell's Reaction to Todd Gurley's New Contract Breaks Twitter
Todd Gurley's contract extension was always going to be a big deal and Pittsburgh Steelers star Le'Veon Bell ensured it got the reception it deserved.
On Tuesday, Gurley agreed a four-year contract extension with the Los Angeles Rams which, according to ESPN's Adam Schefter, will completely change the scenario of the market for running backs.
While the Rams did not disclose the terms of the deal, sources quoted by Schefter suggested the deal is worth $60 million, the highest per-year average for a running back.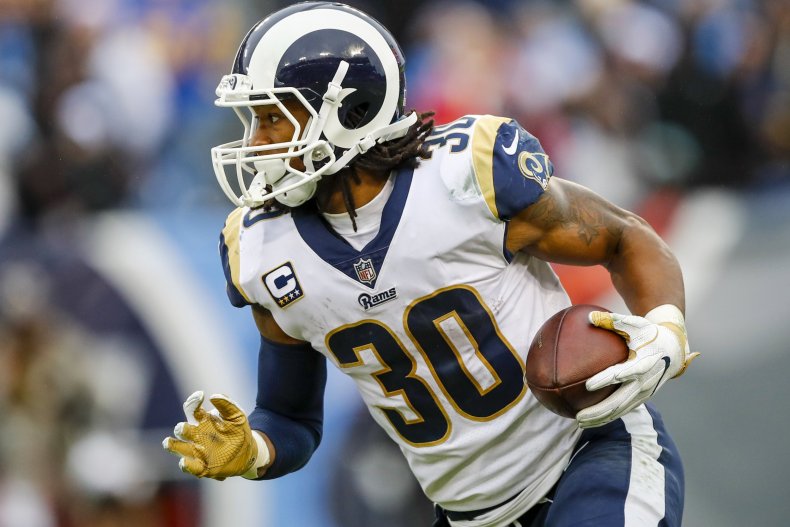 Gurley will also receive a $20 million signing bonus and $45 million of his contract is guaranteed, the largest amount that's ever been guaranteed to a running back.
The deal sets a particularly important benchmark for fellow running backs seeking to sign a new lucrative deal, such as Dallas Cowboys' Ezekiel Elliott and Arizona Cardinals' David Johnson.
Gurley's deal certainly appeared to please Bell, who took to Twitter to congratulate his colleague and pointed out the extension validated his own financial demands.
Bell did not get the big the contract he was looking for this summer, as the Steelers opted to franchise-tag him instead but failed to agree a long-term deal ahead of the July 16 deadline for franchise-tagged players.
The former Michigan State student will make $14.5 million this season and will hit the free agency market in 2019, and he will almost certainly feel entitled to ask for a bigger deal than Gurley's $15 million-a-year salary.
Last week, NFL Network's Ian Rapoport suggested the Steelers' offer was in the region of $70 million over five years, with over $30 million over a two-year deal. Crucially, only his signing bonus of over $10 million was guaranteed, less than a quarter of the amount included in Gurley's new deal, and less than what LeSean McCoy got when he signed with the Buffalo Bills in 2015, when he got over $18 million guaranteed.
Last year, Devonta Freeman got over $17 million guaranteed when he extended his deal with the Atlanta Falcons, while Jerick McKinnon got over $11.7 million from the San Francisco 49ers earlier this year.
"Is it safe to say that he would get a guarantee that's more traditional for NFL contracts [...] the answer to that is a resounding yes," Bell's agent, Adisa Bakari, said in an interview with NFL Network on Tuesday.
Last season, Bell recorded career-high figures in rushing touchdowns and rushing attempts with nine and 321 respectively.
Gurley's figures were even better. The 23-year-old led the NFL with 13 rushing touchdowns, 19 total touchdowns and 2,093 yards-from-scrimmage and was the league's top scorer among non-kickers with 114 points.
"Last year's production isn't really a reflection of the value that he provides because he did such a great job, but he's so much more than that to our team," Rams coach Sean McVay was quoted as saying by ESPN. "The way that he competes in protection, the way that he works and the way that rubs off on his teammates."