Levi's Boss Says She Was Ousted for Speaking Out Against School COVID Rules
Levi's brand President Jennifer Sey said on Monday that the company pushed her out because of her public comments against COVID-19 school closures and mask mandates.
Sey, 52, made the claims in Bari Weiss' Substack channel Common Sense, writing she turned down the company's offer of a $1 million severance package because she didn't want to sign a nondisclosure agreement.
"The money would be very nice. But I just can't do it. Sorry, Levi's," Sey wrote in an essay published on the site.
School shutdowns and mask mandates have become polarizing issues, and Sey said Levi's did not want her making public statements on the matters. However, by her own admission, she repeatedly expressed her views in op-eds and during appearances on news programs, as well as by organizing rallies and posting on social media.
The result was her being "condemned for speaking out," she said.
Prior to her time with the company, Sey was a celebrated gymnast, becoming the U.S. Women's All-Around national champion in 1986. She also co-produced the 2020 documentary Athlete A, which detailed allegations that Dr. Larry Nassar sexually abused young female gymnasts.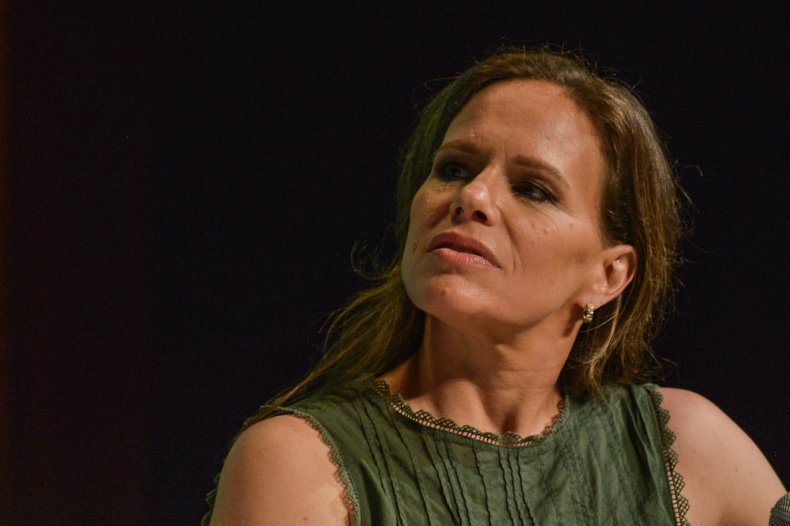 Sey also had long been a fan of Levi jeans, she wrote on Common Sense.
"I loved wearing Levi's; I'd worn them as long as I could remember. But if you had told me back then that I'd one day become the president of the brand, I would've never believed you," she wrote. "If you told me that after achieving all that, after spending almost my entire career at one company, that I would resign from it, I'd think you were really crazy."
Sey worked her way up at Levi Strauss & Co. after starting as an assistant marketing manager in 1999. She said, "[t]he company has been the most consistent thing in my life" until recently.
Things changed went COVID hit, she wrote. A mother of four, Sey questioned the harm that could befall children from schools being closed. Soon, she said, company representatives tried to silence her.
Sey claimed Levi's head of corporate communications was the first to approach her and said: "You know when you speak, you speak on behalf of the company."
Sey said she responded by noting her job title was not listed in her Twitter bio. Instead, she was "speaking as a public school mom of four kids."
The former Levi's executive shared her essay and decision to leave the company in a Monday post on Twitter.
Other company employees soon tried to get her to stop with the public comments, she said, including representatives from the Levi's legal department and human resources.
Eventually, she claimed, the CEO of the company tried to stop her, cautiously warning her at first and then giving more frank suggestions. (Though he is not named in Sey's Common Sense essay, Charles "Chip" Bergh has been president and CEO of Levi Strauss & Co. since 2011.)
More attention came Sey's way when she appeared on Laura Ingraham's show on Fox News. Sey said it was "the last straw" for co-workers who opposed her stance on the school issues.
"The comments from Levi's employees picked up—about me being anti-science; about me being anti-fat [I'd retweeted a study showing a correlation between obesity and poor health outcomes]; about me being anti-trans [I'd tweeted that we shouldn't ditch Mother's Day for Birthing People's Day because it left out adoptive and step moms]; and about me being racist, because San Francisco's public school system was filled with black and brown kids, and, apparently, I didn't care if they died," Sey wrote.
In the fall of 2021, she said that during a dinner with the CEO, she was told she was "on track" to replace him as the head of the company. But "[t]he only thing standing in my way, he said, was me. All I had to do was stop talking about the school thing."
Things came to a head last month, according to Sey, when the CEO told her it would be "untenable" for her to stay and offered her a $1 million severance package. She said "a nondisclosure agreement about why I'd been pushed out" would have been included with the deal.
"I'll always wear my old 501s," she wrote. "But today I'm trading in my job at Levi's. In return, I get to keep my voice."
When contacted by Newsweek for comment on Monday, Levi Strauss & Co. acknowledged Sey's departure without addressing the claims she made in her essay.
Update 02/14/22, 3:04 p.m. ET:This story has been updated to acknowledge Levi Strauss & Co. responded to Newsweek.