Lewis Hamilton Is Told Princess Diana Sea Mammal Joke in Bizarre Interview
Formula 1 driver Lewis Hamilton was told a joke about Princess Diana during a bizarre interview filmed at Kensington Palace, which also saw the star asked who his favorite member of the royal family was.
Hamilton, who is currently midway through the Formula 1 racing season, participated in an interview which took an unexpected twist in the memorial garden to Princess Diana at Kensington Palace in London this month.
Opening the interview, Hamilton was asked by broadcaster Steve Jones for Britain's Channel 4 network: "Who's your favorite royal? Mine's Kate. She seems very classy."
At this Hamilton seemed slightly taken aback and responded that "Diana has always been my favorite royal."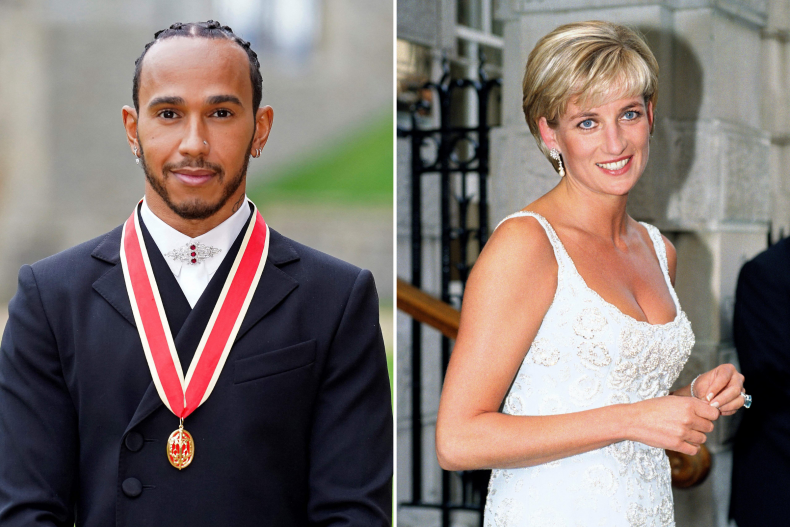 Jones then told Hamilton a joke about Diana, whose statue stands in the garden in which the interview took place, and her title of Princess of Wales, saying: "My wife, who's American, thought the Princess of Wales was the sea mammal."
The play on words between the country of Wales and the sea mammal, whale, raised a small laugh from Hamilton who then reaffirmed that he was a fan of the princess.
The interview's discussion of the royal family did not end there. Hamilton continued to say that of the modern royals he didn't feel he had any favorite.
"I wouldn't say today I have [a favorite]," he said, adding "I think Kate's pretty awesome and I like Meghan."
To this Jones offered the assessment that "Meghan's cool. The queen's a bit of a badass too mind you."
Over the course of his distinguished career as a motor driver, Hamilton has had many encounters with members of the royal family including the queen, Prince Charles and Prince Harry.
In 2021, the sports star was made a knight in the new year's honors list which was later presented to him by Charles at a Windsor Castle investiture.
The knighthood followed an earlier honor of an MBE (Member of the British Empire) award which Hamilton was given by the queen herself.
Hamilton later revealed that at a private lunch after he was awarded his honor he made a breach of royal protocol. Speaking on the Graham Norton Show the star said:
"The best thing is I got invited back like a year later for lunch with a group of about eight of us.
"I walked in and saw the seating plan and I was sat right next to her so I was kind of excited you know," he explained.
"So, I sat down and she was to my right, and I started to talk to her and she's like 'no, you speak that way first and I'll speak this way and I'll come back to you.'"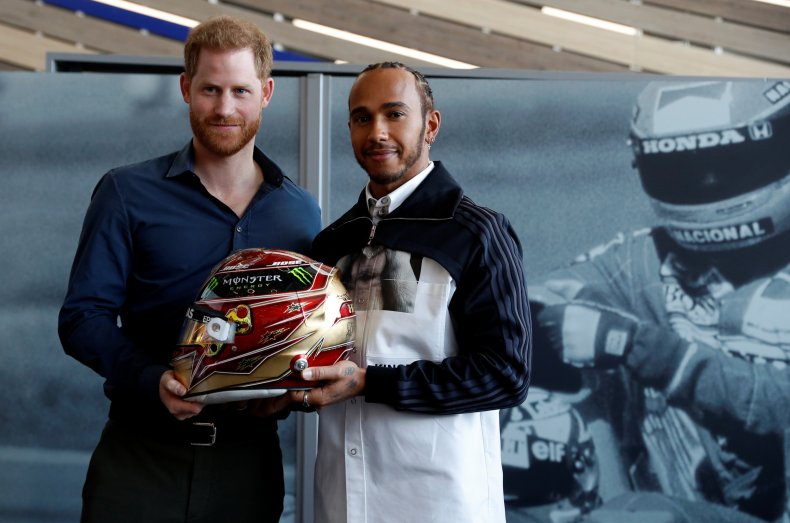 Hamilton has also been a vocal supporter of Meghan Markle as she married into the royal family as its first biracial member in 2018.
"I watched here at the weekend just with a smile on my face the whole time," Hamilton said of the royal wedding when asked by Sky Sports.
"It was great to see such a positive change. It was great to see how happy they both were. It was just a really proud day for the world and it's always great to see positivity and change.
"The fact you do have diversity in the Royal Family today is a huge thing, people probably don't realize how important that is. Even to see at the church you had a mixture with the ministers, in the music, in the choir, it was just really beautiful to see."