Lexington Second Kentucky City to Ban No-Knock Warrants After Breonna Taylor Death
Lexington has become the second city in Kentucky to ban no-knock warrants following calls for the policy change sparked by the death of Breonna Taylor.
Members of the public could be heard erupting in cheers as the Lexington-Fayette Urban County Council moved to approve the ban by a vote of 10-5 on Thursday evening, according to local NBC affiliate WLEX.
"The decision has been made and now it's time for our community to come together," Lexington Mayor Linda Gorton, who had previously imposed a limited moratorium on the warrants, reportedly said after the vote.
The warrants were previously banned in Louisville after "Breonna's Law" passed in June 2020, months after Taylor was shot and killed in the city by police officers who were raiding her home while serving a no-knock warrant.
The Lexington ban was approved after an 8-7 vote to defeat a proposed amendment that would have placed new restrictions on no-knock warrants instead of banning the warrants outright, a move that detractors described as a "bait and switch," according to The Lexington Herald-Leader.
"I'm relieved that first of all we got to vote on what we've been talking about all year," Rev. Clark Williams of the group Black Faith Leaders of Lexington and Vicinity told the paper. "It's very sobering it was this hard to get a vote. We're happy with the outcomes, but it shows us we have a lot more work to do."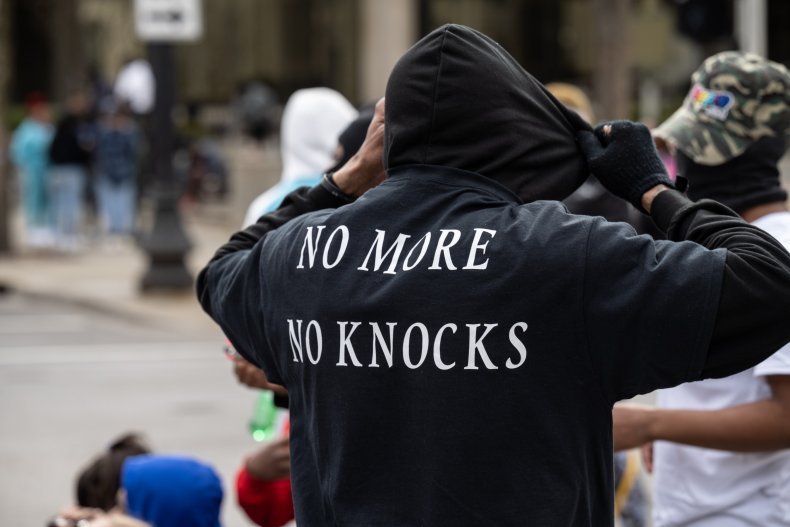 Lexington Police Chief Lawrence Weathers argued against the ban, suggesting that not allowing police to use the "tool" of no-knock warrants could force them to use "the last resort" instead.
"There's all kinds of scenarios that could occur without the use of that one tool, I may have to move to another tool and as I explain I've got a lot of tools on my belt, one of them is the last resort," Weathers said, according to Lexington CBS affiliate WKYT.
"If you start taking tools away from me you might leave me with just the last resort I do not want that, I want to have as many options as I can," he continued.
Newsweek reached out to the Lexington Police Department for additional comment.
Taylor's death was one of several high-profile instances of police officers killing Black people in 2020, events that sparked an international wave of protests against police brutality and racial injustice.
She was killed by police in Louisville on March 13, 2020, during an attempted drug raid. Although a no-knock warrant was issued, police said that they knocked on Taylor's door and announced themselves before forcing their way into her apartment.
Taylor was fatally shot after her boyfriend Kenneth Walker fired at officers, which he said he did as a "warning shot" because police did not identify themselves and he did not know who was forcing their way in.
None of the officers involved were indicted for Taylor's death, although the city of Louisville settled a wrongful death suit from her family for $12 million without admitting responsibility for her death.