Lexus Creates 10 Cars Inspired by Marvel's 'Eternals' Superheroes
Lexus and Marvel Studios have combined forces to create 10 themed concept vehicles inspired by the new film Eternals. Each customized vehicles is a translation of a character that appears in the film.
"We're excited to bring the Eternals partnership to life through these custom-wrapped Lexus vehicles," said Vinay Shahani, Lexus vice president of marketing. "Just as each Eternals character has a distinct style and set of capabilities, so does each character-themed Lexus."
The roster of nearly a dozen vehicles features custom wraps inspired by the individual armor design, iconography and super powers of the film's 10 super heroes. Additionally, the grilles and underbodies are illuminated in a reflection of the characters' energy, according to a release from Lexus.
Characters with their own concept car include Ajak (Selma Hayek), Druig (Barry Keoghan), Gilgamesh (Don Lee), Ikaris (Richard Madden), Kingo (Kumail Nanjiani), Makkari (Lauren Ridloff), Phastos (Brian Tyree), Sersi (Gemma Chan), Sprite (Lia McHugh) and Thena (Angelina Jolie).
The featured vehicles range from the sleek LC 500 sports car to the LS, Lexus's flagship sedan and the LX, the company's largest SUV.
"After so successfully telling a co-branded story on the original Black Panther film, we're thrilled to be teaming up with Lexus once again. Combined with our custom spot directed by the Russo Brothers and starring Kumail Nanjiani in-character as Kingo, these Eternals-inspired vehicles show that exciting collaborative storytelling can extend even beyond traditional media," said Mindy Hamilton, senior vice president, global partnership marketing at Marvel Studios.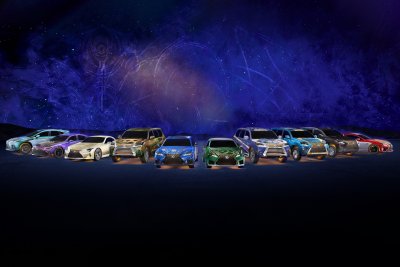 Lexus is far from the only automaker to have a deal with a production studio. In May 2020, Hyundai Motor Group and Sony Pictures Entertainment celebrated the signing of a unique deal that sees the automaker's new products and technologies feature alongside characters and landscapes in Sony Pictures productions.
Automakers like Aston Martin and Jaguar Land Rover recently collaborated with Eon Productions on the new James Bond film No Time to Die while numerous companies have utilized the megawatt power of the Fast and Furious franchise to showcase their models.