Leylah Fernandez Gets Twitter Shoutout From Sloane Stephens, Magic Johnson After Latest Upset at Us Open
Leylah Fernandez is putting on a show at the U.S. Open, and the sports world is taking notice.
Sloane Stephens voiced her approval for the 19-year-old, Canadian-born Fernandez after she pulled off her third-straight stunning upset, 6-3, 3-6, 7-6 (7-5) over fifth-seeded Elina Svitolina on Tuesday at Arthur Ashe Stadium in New York.
Fernandez entered the Open as the No. 73-ranked player on the WTA Tour but has gone on a dramatic, and captivating, run to her first semifinal appearance at a Grand Slam event. She's stunned three of the game's best: defending champion and third-seeded Naomi Osaka, No. 16 ranked Angelique Kerber, and then Svitolina in the quarterfinals.
Fernandez now moves to the semifinals, where she will face the winner of Wednesday's quarterfinal between Barbora Krejcikova (Czech Republic) and Aryna Sabalenka (Belarus).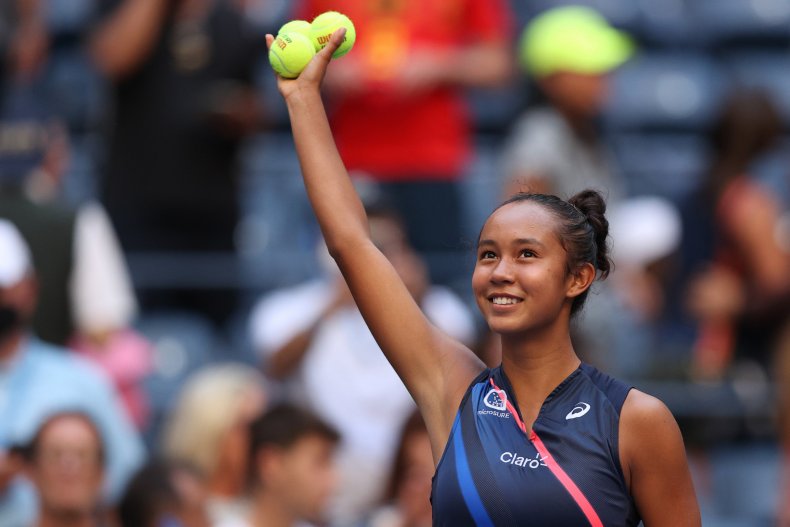 The run harkens memories of Stephens' stunning ride to the women's singles championship in 2017. The native of Plantation, Florida, entered the Open as the world's 83rd-ranked player after battling a combination of injuries and inconsistency.
Fernandez's stunning run has gripped the fans in New York, who live to cheer an underdog at the year's final major tournament. She's loved the environment there, too.
"I honestly have no idea what I'm feeling right now," Fernandez said during the on-court interview after her match. "I was so nervous ... thank you so much to the crowd, cheering me on. You helped me push through today."
Aside from peers like Stephens, who is a spectator after she lost to Kerber in straight sets in the tournament's third round, her play has also captured fans in Canada and across the world. That includes Brooklyn Nets coach and Canadian basketball icon Steve Nash and former NBA superstar Magic Johnson, who also pointed out Fernandez's excellence on social media.
The Montreal native is the second Canadian-born player to reach the semis in the past three Opens, joining Bianca Andreescu who won the championship in 2019. Fernandez's personality also came through when asked about what makes Canadian players so successful.
"I would say it's the maple syrup," Fernandez joked when asked what Canadians are being fed. "The Canadian maple syrup is very good."
Fernandez, who turned 19 Monday, is the youngest player to reach the tournament's semifinals since Maria Sharapova in 2005. She is two wins away from becoming the youngest Canadian, and fourth-youngest North American-born player, to win the Open singles draw. She is confident and self-assured, realizing that she deserves to be where she is.
"From a very young age, I knew I was able to beat anyone who was in front of me," Fernandez told USOpen.org before her match against Svitolina. "I've always had that belief. I've always tried to use that in every match."