LG WT7900HBA and LG DLEX7900BE Review: Impressive Washer and Dryer Pair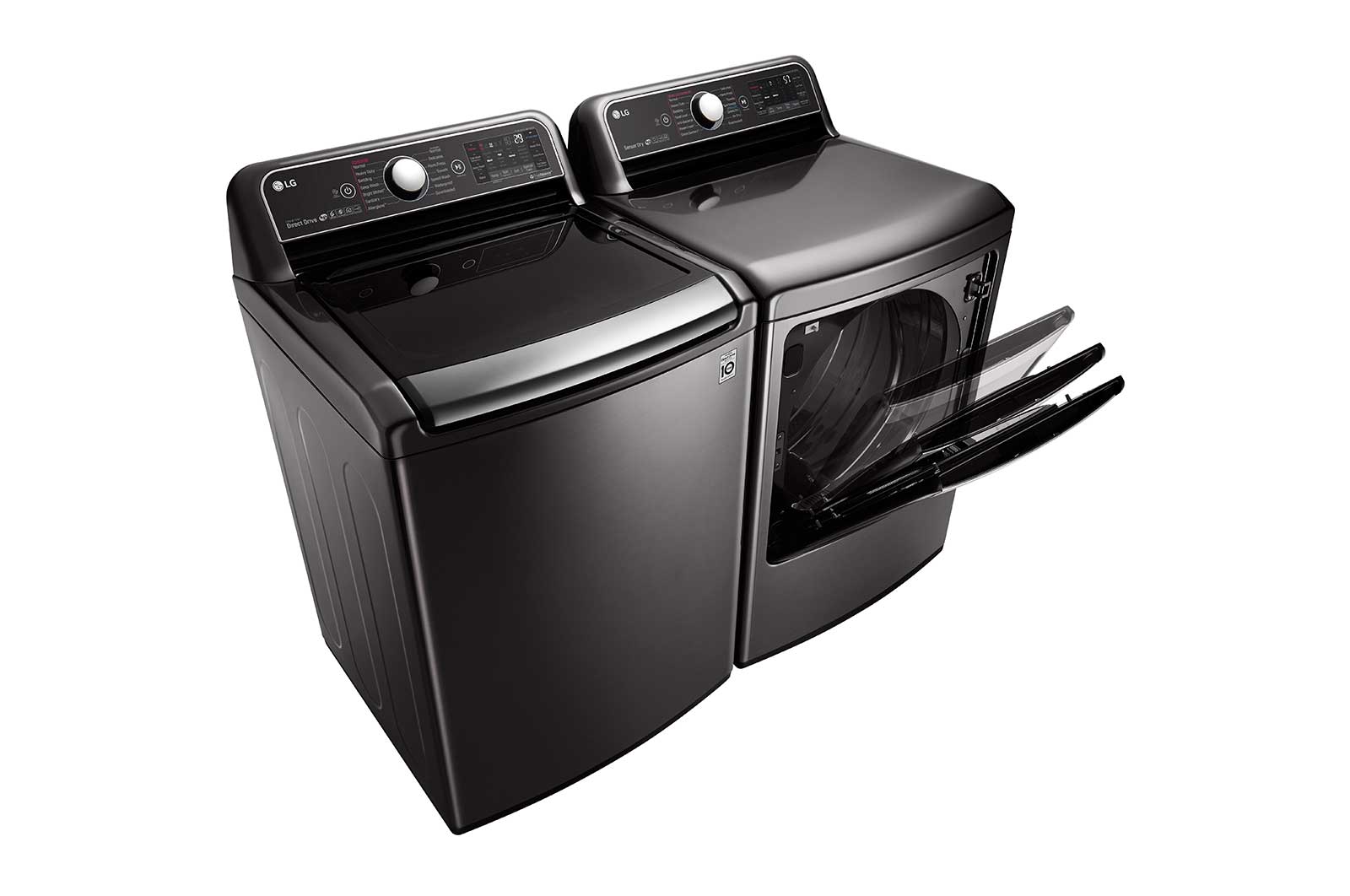 The LG WT7900HBA washer and LG DLEX7900BE dryer are hands down the best washer and dryer pair that we've used.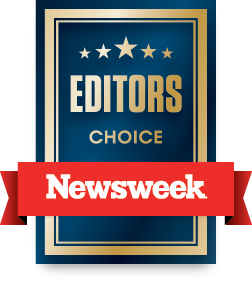 Not only do they handle a lot of clothes in a load and look great, but they also remove many of the annoyances you encounter with other units. The controls are super easy to use and reliably register button presses. Plus, the dryer features a dual open door design that is simply brilliant.
Both models include Wi-Fi and smart features, including an awesome alert on your phone when the cycle is complete and the ability to load different wash modes. You can even name each unit. We called our devices Thelma and Louise.
The LG WT7900HBA is a top load high-efficiency (HE) washer without an agitator with a 5.5 cubic foot capacity and a TurboWash3D quick wash cycle that is fast. The unit also includes an Allergiene cycle to remove pet dander and dust mites, and the ability to add more water to a cycle when you need it.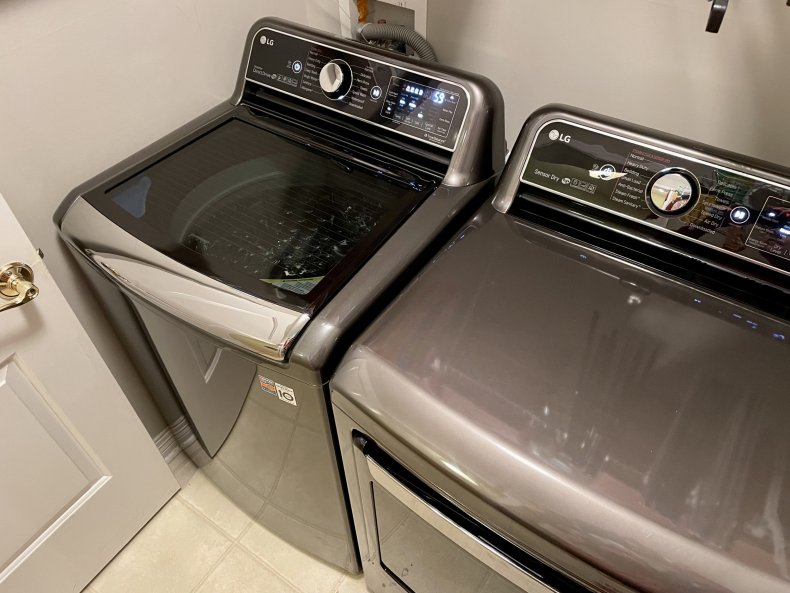 The LG DLEX7900BE is a 7.3 cubic foot smart dryer with TurboSteam technology. This dryer can handle a lot of laundry in one load, and the steam feature can help remove wrinkles. The door can open to the side or from the top, depending on where you grasp it. This makes moving clothes from the washer into the dryer a breeze, yet it is still simple to open wide when you need to grab small items out of the cavernous drum.
The LG WT7900HBA washer and LG DLEX7900BE dryer are $999 each. Shoppers can find the washer at LG, Best Buy and Home Depot and the dryer at LG, Best Buy and Home Depot. The prices listed may fluctuate due to the latest deals and discounts.
Design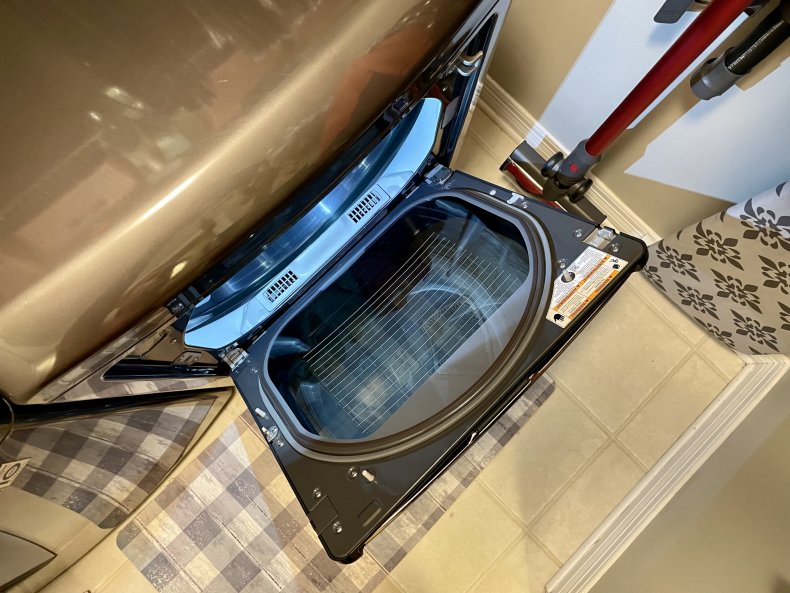 While we keep the LG washer and dryer pair behind a door, their design is stunning enough to show off. Their black finish with accents looks modern and still manages to do a good job of not revealing dust and fingerprints.
The glass lid on the washer makes it easy to glance quickly at what is in the tub. The door stays up while loading and even features a soft close so that no one can slam it. The tub is stainless steel, and there is no center agitator, which allows for larger loads and prevents potential tangling and damage.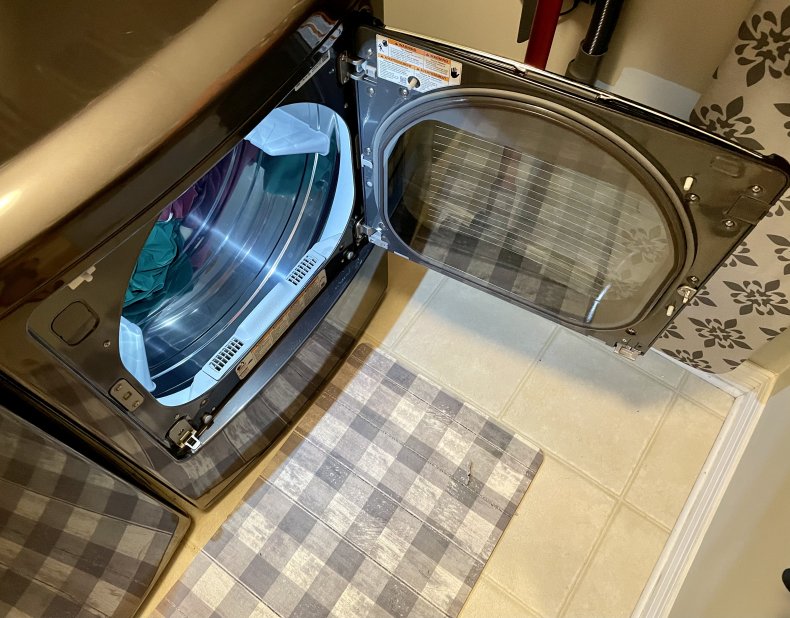 The dryer door opens from the side like many models, but when clutching the middle of the door, it can open up partially from the top. This creates the perfect angle for clothes to roll into the dryer. The door design is brilliant and one of our favorite features—one of those you didn't know you needed. The interior light is very bright, and you can choose to keep it on, which is handy when clearing out a big load of clothes.
Performance
The washer does a great job of cleaning clothes and bedding. In addition, it handles the demands of a family, fighting stains and keeping up with the quick turnarounds we often need for a specific item of clothing.
The LG TurboWash3D feature is a proper quick wash that finishes in 29 to 34 minutes. That's nearly twice as fast as the competition. Many washers don't deliver on the promise of a good and fast quick wash, but LG does.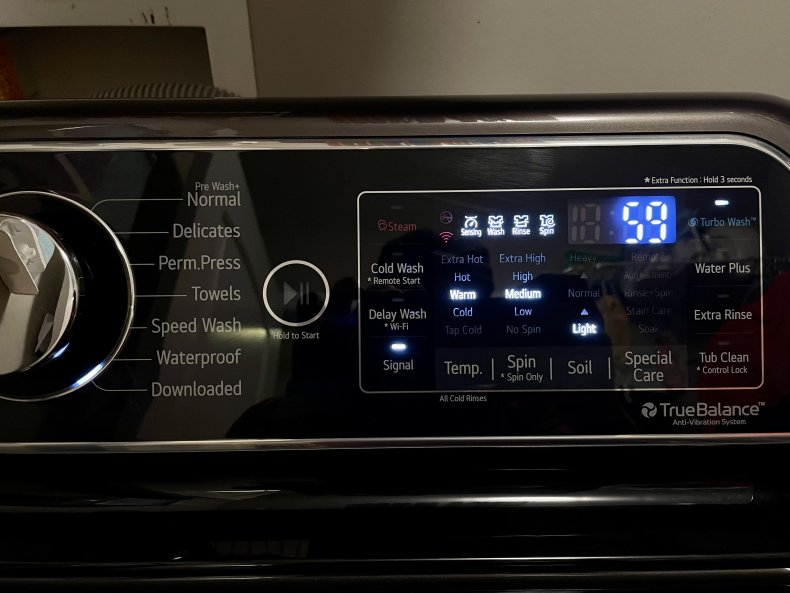 There is also a wide range of wash modes, including Bulky/Bedding, Waterproof and heavy-duty cycles. You can also download additional modes to the unit using the app and a Wi-Fi connection. The unit is very quiet when running, which is perfect if your laundry room is right next to the family room and dining room, as in our house. We are impressed with the cleaning capability across the modes, even with stained items.
Each month, LG sends a summary of the usage and a reminder to clean the washer. Its Tub Clean function is substantial and takes two-and-a-half hours, leaving the washer looking and feeling clean. When using the steam or clean features, some moisture does accumulate on the outside of the washer.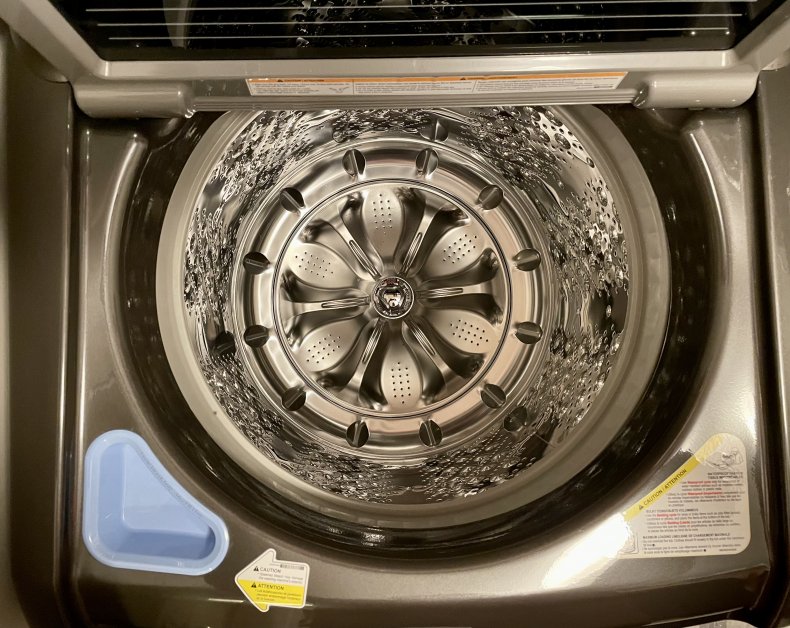 The dryer does a great job of quickly drying clothes. We love Wrinkle Care, which helps keep clothes moving to avoid wrinkles. There are many modes to choose from, and as with the washer, it is possible to download even more. The Wrinkle Care mode is handy for most things, but it isn't great on moisture-wicking "quick dry" types of materials.
The capacity is impressive, and it is an excellent match to this washer, with enough space so that even a full wash load can dry promptly. The lint trap is easy to access and keep clean. The dryer's steam wrinkle-reducing option is a handy way to combat wrinkles, but it does leave clothes damp, so you need to hang them up to complete the process. It would be handy to have a nonsteam option sometimes.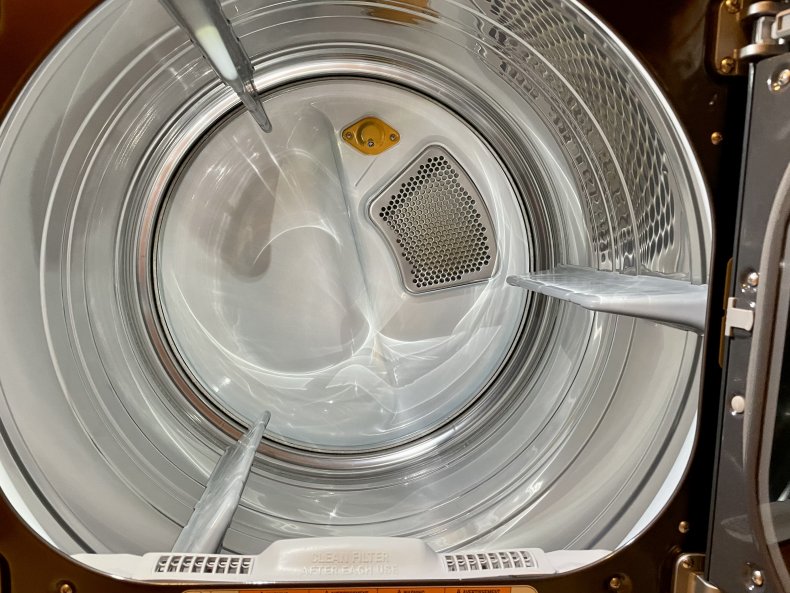 Do You Need a Smart Washer and Dryer?
At first, a smart washer and dryer may sound like something you don't need, but the convenience is clear once you have a set.
The phone notifications when a load is complete are the main reason we love this feature. Since the units are so quiet, this alerts us to switch loads or remove laundry from the dryer before it wrinkles.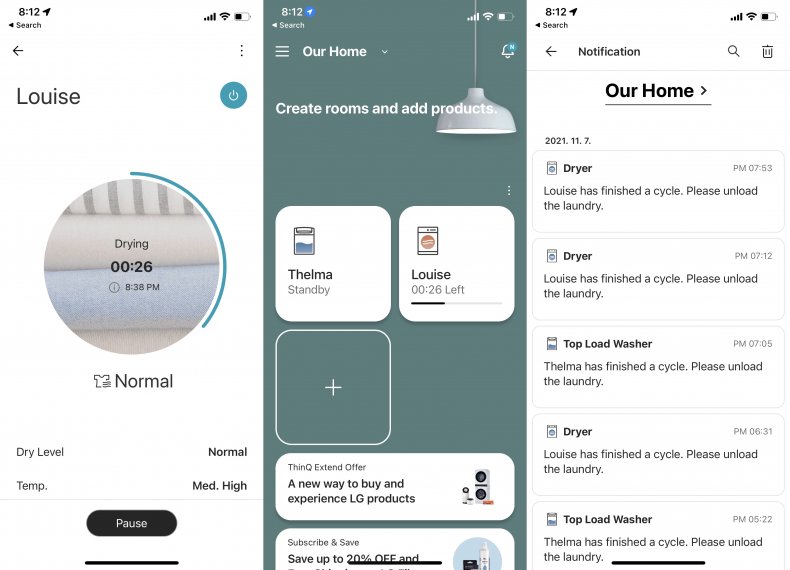 Notifications work at home and on the go, making it possible to see the status of a load of laundry. The connectivity also adds lots of flexibility to the washer and dryer. The app also has a wide range of modes you can download for stubborn stains, lingerie, premium jeans, baby items and more.
Both models support the LG Proactive Care program, which monitors the usage and sends diagnostics to LG. This program uses AI to detect and notify you of any potential problems.
Should You Buy the LG WT7900HBA and LG DLEX7900BE?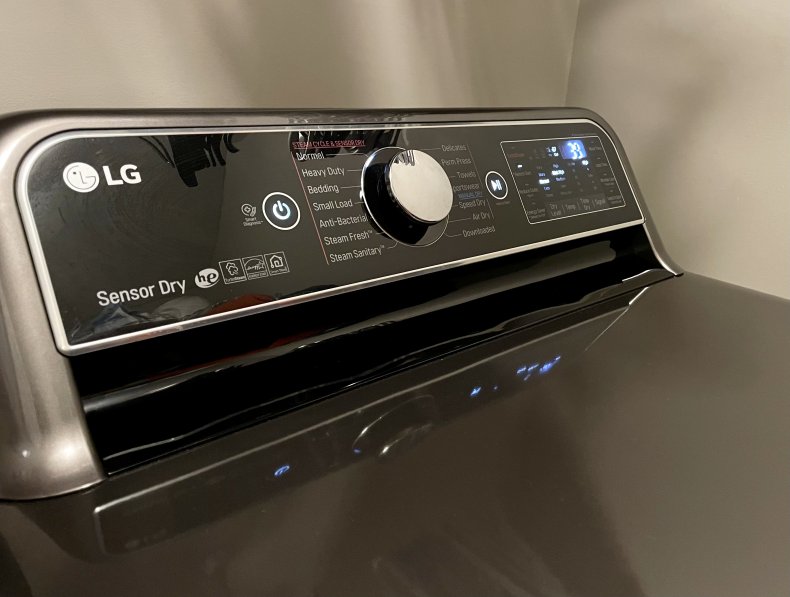 The LG WT7900HBA smart washer and DLEX7900BE smart dryer we tested are an excellent upgrade to your laundry room. They do a great job of cleaning clothing and keeping it in good condition.
Smart design choices and easy controls remove many of the pain points of doing laundry. In addition, the Wi-Fi connectivity and app support are helpful for day-to-day laundry needs and for reminders to clean the washer.
If you are looking for an upgrade to your laundry, this set is a great choice.
Buy the washer at LG, Best Buy and Home Depot for $999.
Buy the dryer at LG, Best Buy and Home Depot for $999.
Newsweek may earn a commission from links on this page, but we only recommend products we back. We participate in various affiliate marketing programs, which means we may get paid commissions on editorially chosen products purchased through our links to retailer sites.