Is It Legal? If Trump Bans Transgender Military Members, It Might Not Stand up in Court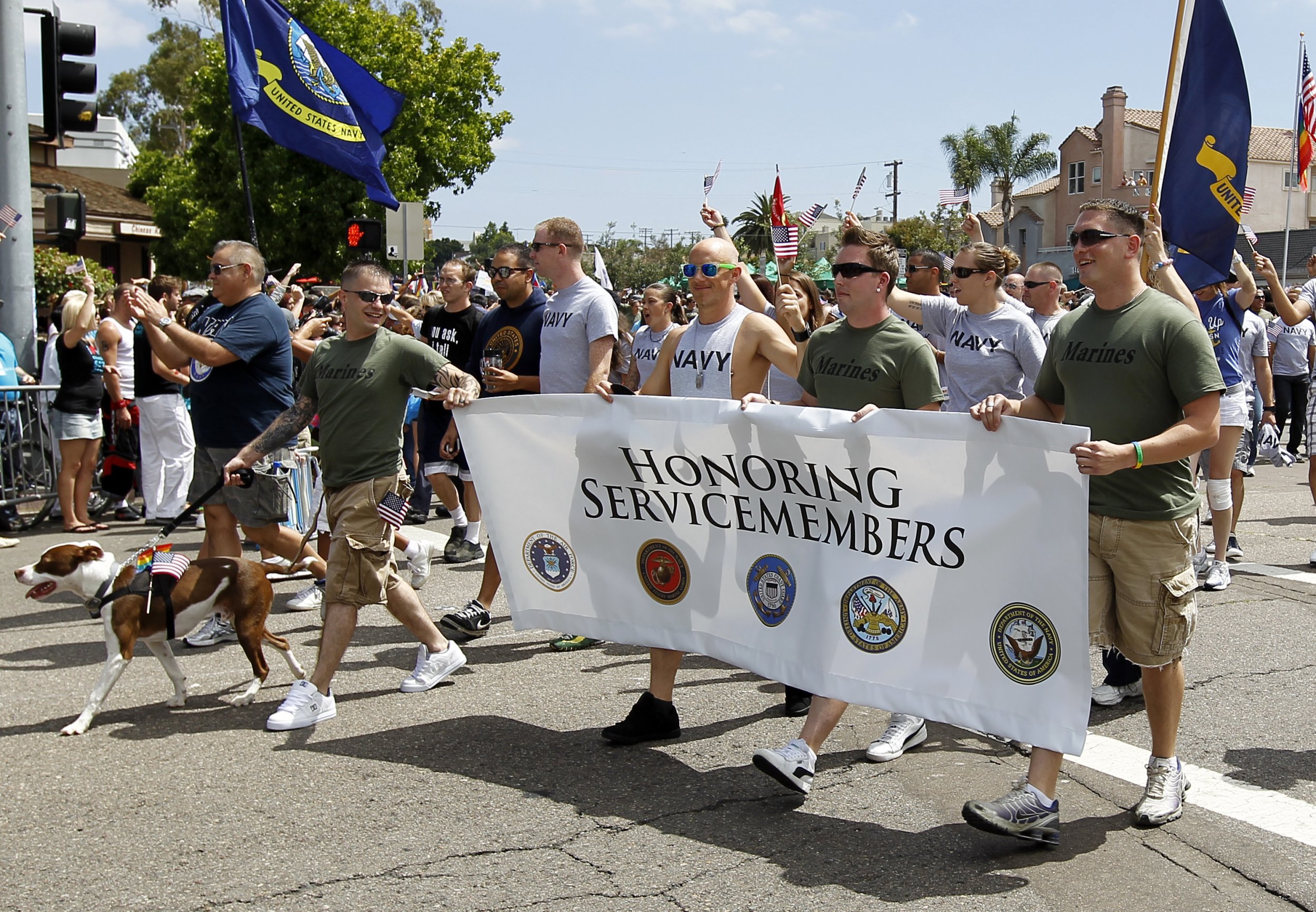 Leading civil rights and LGBT organizations have a simple message for President Donald Trump: Move forward with your plan to bar transgender soldiers from the military, and we'll see you in court.
Lambda Legal, a leading LGBT legal organization, will file suit "immediately" if Trump's tweets turn into policy, and the American Civil Liberties Union also is ready to take legal action if the current policy changes.
Trump tweeted Wednesday morning that after consulting "my Generals and military experts," he had decided to change the government's policy on transgender individuals serving in the military.
"The United States Government will not accept or allow... Transgender individuals to serve in any capacity in the U.S. Military," he tweeted. "Our military must be focused on decisive and overwhelming...victory and cannot be burdened with the tremendous medical costs and disruption that transgender in the military would entail."
Transgender service members already in the military can serve openly under a policy started during the Obama administration. While July 1 was scheduled to be the first day openly transgender individuals would be allowed to enlist, Secretary of Defense James Mattis asked for a six-month delay to allow the military to review the plan.
Josh Block, an attorney for the ACLU's LGBT Project, said his inbox was "completely flooded" with messages from transgender people and their relatives and friends after Trump's tweets. But he cautioned that it is extremely unclear if and how the Trump administration is going to move forward.
"There are still a lot of question marks on how literally and seriously to take this tweet," he said. "If they take the really shocking step of pulling people off the battlefield and kicking them out because they are trans, they absolutely have to see us in court."
If the tweets turn into policy, Block believes it would violate the Constitution's equal protection clause and the Administrative Procedure Act. The APA protects individuals from "arbitrary or capricious" actions.
"I can't think of anything that is more arbitrary or capricious than what Trump did today," he said. "In any separation procedure, they could make that argument and raise it in federal court as well."
Jon Davidson, Lambda Legal's legal director, said if Trump issued an executive order, demanded the Department of Defense change regulations or got Congress to change the law, Lambda Legal would partner with Outserve-SLDN, a military-specific LGBT advocacy organization, and "immediately" sue.
"The fact he tweeted this does not change the current military regulations that allow transgender members of the military to serve openly, and that was based on extensive study that undercuts, totally, his unfounded assertions that allowing transgender people to serve would be disruptive or costly," Davidson said.
He noted a case in which a gay soldier, Perry Watkins, won a lawsuit (Watkins v. U.S. Army) against the government over the Clinton-era "Don't ask, don't tell" policy of not allowing openly gay service members. Watkins won on the grounds that the Army allowed him to re-enlist knowing he was gay before attempting to discharge him. Since the current policy allows transgender service members to serve openly, Davidson said the Army can't use the fact those soldiers are out as transgender against them.
Trump's tweets immediately came under bipartisan fire from members of Congress and civil rights organizations. A RAND Corporation study commissioned by the Department of Defense predicted gender transition-related treatment would cost from $2.4 million to $8.4 million, a minuscule portion of the DOD's health care expenses.
The move was celebrated by some on the right, and Vice President Mike Pence had been lobbying Congress to stop the Pentagon from paying for medical procedures for transitioning service members, as Foreign Policy magazine reported. But even the Republican-held House of Representatives was unable to pass a bill cutting off funding, with 24 Republicans joining Democrats in voting against the bill.
The judicial system previously ruled in favor of gay service members when a district court judge and the Ninth Circuit ruled that "Don't ask, don't tell" was unconstitutional in Log Cabin Republicans v. United States. The courts found that the policy violated the First and Fifth Amendments to the U.S. Constitution.
Log Cabin Republicans, a group for LGBT conservatives, "certainly has a history" of legal action, Gregory T. Angelo, the organization's president, said. Although the news is so recent the organization hasn't had any "substantive conversations" about a possible lawsuit, Angelo said they would consider one if the tweets turn into official policy.
"It's certainly something we would consider, of course," Angelo said. "Anything supporting our transgender service members and opposing discrimination against them is on the table right now."