Joy Reid's New Homophobic Blog Post Comments Prompt LGBT Group to Take Back Award
LGBT advocacy group PFLAG National rescinded Joy Ann Reid's ally award yesterday after she claimed that homophobic posts discovered on her former blog were "fabricated."
Reid apologized last December when a Twitter user uncovered posts containing homophobic remarks on The Reid Report, a blog she ran before became an icon of the #Resistance movement.
"As someone who is not a member of the LGBT community, I regret the way I addressed the complex issue of the closet and speculation on a person's sexual orientation with a mocking tone and sarcasm," Reid wrote in her statement.
She added: "It was insensitive, tone deaf and dumb."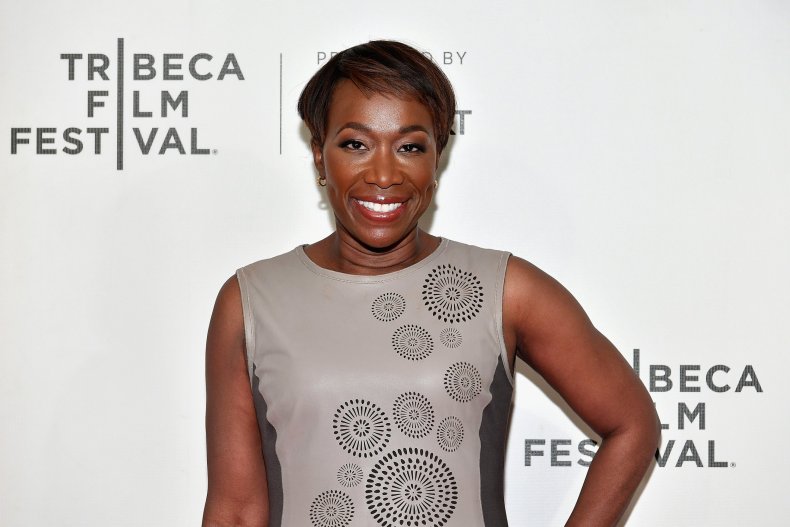 Earlier this month the MSNBC host backtracked on her apology. In an interview with Mediaite, Reid claimed the posts were "fabricated" by an external party who intended to paint her as "offensive and harmful."
"I began working with a cyber-security expert who first identified the unauthorized activity, and we notified federal law enforcement officials of the breach. The manipulated material seems to be part of an effort to taint my character with false information by distorting a blog that ended a decade ago," Reid said.
On Tuesday, PFLAG National revoked the Straight for Equality in Media award that Reid was set to receive in May at the organization's 45th anniversary.
"When we extended our invitation to Ms. Reid to honor her at our 45th anniversary celebration, we did so knowing about the blog posts from the late 2000s regarding Charlie Crist. We appreciated how she stepped up, took ownership, apologized for them, and did better—this is the behavior and approach we ask of any ally," Jean Hodges, PFLAG National president, said in a statement.
Hodges added: "However, in light of new information, and the ongoing investigation of that information, we must at this time rescind our award to Ms. Reid."
In December, a Twitter user uncovered homophobic posts from 2007-2009 about Congressman Charlie Crist on The Reid Report. In the posts that were found using The Wayback Machine, Reid joked that Charlie Crist, the then-Florida Governor, was a closeted homosexual.
"Now that he's married to a girl," she wrote in one of the posts.
"Charlie Crist is being sought out for all KINDS of good stuff… [The GOP] are wooing Miss Charlie to run."