LGBT Refugees Share Hopes and Fears After Orlando Shooting
Ishalaa Ortega fled Mexico in 2013 shortly after receiving death threats from a political party and a decade after surviving a hammer attack that nearly killed her. She is a transgender woman.
Reza* and Ali* are both from Iran, where LGBT people and their families suffer widespread abuse and discrimination, and where homosexual acts are punishable by the death penalty. Osama* ran away from a Middle Eastern country where he escaped an honor killing and faced housing and employment discrimination in order to "have a life." They are all gay men.
Ishalaa, Reza, Ali and Osama are all refugees or asylum seekers in the U.S. They escaped terror and abuse for their LGBT status in their home countries, only to wake up on Sunday to news of the worst mass shooting in U.S. history when U.S.-born gunman Omar Mateen killed 49 people after opening fire in Pulse, a gay nightclub in Orlando.
"I never felt I would be unsafe just going into a gay bar. This is happening right now," Ali, who works for a nonprofit assisting LGBT refugees , tells Newsweek. "It is a very, very present thought."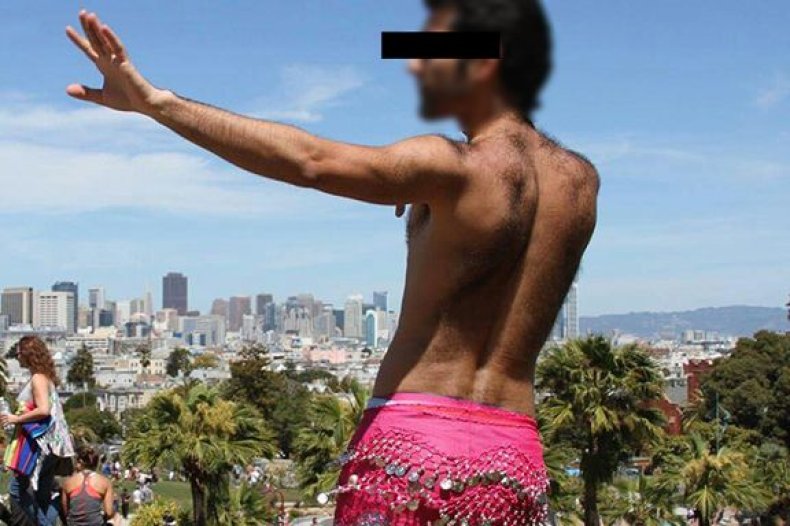 Ali, who lives in the Bay Area , first heard about the Pulse shooting after receiving a call from a distraught and terrified volunteer who was scheduled to speak about LGBT rights in the Middle East on Sunday afternoon. Ali says he never felt 100 percent safe as a gay man in the U.S., "but I never thought that if I was walking down the street I'd be attacked. That is new after Orlando."
He's still considering whether to volunteer at Frameline, an annual LGBT film festival in San Francisco next week, and would reconsider going into gay bars, clubs or establishments after the shooting. "I would think three times now," he says.
Many LGBT bars and nightclubs have ramped up security in the wake of the shooting to better protect their patrons. Some of the men who spoke with Newsweek aren't just concerned about being gay, but the color of their skin and country of origin. Following recent mass shootings in the U.S., political rhetoric, backlash and blame is often directed at refugee or immigrant communities, particularly those that are Muslim.
"I look Middle Eastern, I have a beard. I feel like these people can look at me negatively or someone crazy can target me," says Reza, 32, who identifies as culturally Muslim but no longer practices Islam. "So that seems like a more real danger for me than being gay."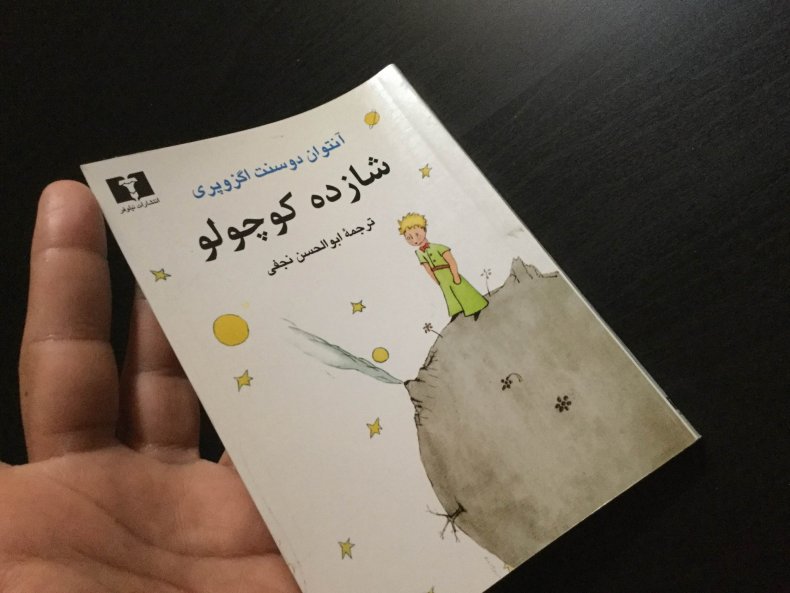 Osama, 22, also lives in California and says he found out about the attack after a friend in his home country sent him a message warning him to stay away from bars.
"I was crying for a second because I have to defend myself again," says Osama, who no longer practices Islam. "The person who did this is not a human being, and it has nothing to do with where he's from."
"Those people are my people. I'm sure they had struggles coming out and were planning a beautiful life with their partner or whoever they have in their life," he says. "I was in danger, where I was about to die back home, and I know how valuable being alive is. For me, coming here was a new date of birth."
Reza lives in San Francisco and says he was particularly affected by the story of Eddie Jamoldroy Justice, a 30-year-old victim of the shooting who texted his mother during the attack, urging her to call the police and telling her "He's coming. I'm gonna die." Reza's sadness quickly turned to anger after James Wesley Howell was arrested in Santa Monica on Sunday after threatening to attack the Los Angeles Pride festival, which went ahead that day.
"I left my country because I had all this fear. I had to hide, to not be myself. I came to the U.S. to be free," he says. "I never had a fear that someone would attack me.
"This is kind of like going back to Iran."
There is no reliable data on the number of LGBT refugees or asylum seekers in the U.S. A State Department spokesperson tells Newsweek this is partly because "data collection pertaining to sexual orientation requires self-identification on the part of the refugee." Asylum seekers who identify as LGBT can also fall into the category of "particular social group," which can include people who have been persecuted for reasons other than their sexual orientation. However, this fiscal year the U.S. has resettled more than 2,000 refugees from Iran, the home country of Ali and Reza, and one of the largest totals of any nationality, according to data from the Refugee Processing Center.
After escaping the pressure of being gay in Iran, where he would "have to constantly watch what you say, the way you move, the way you talk... lie constantly to keep your cover," Ali says a "holistic view" is needed to address homophobia in the U.S., which includes better cultural orientation for immigrants.
"We have a homophobic society and then we have homophobic immigrants who come into this society. Even if [Mateen] lived in a not very homophobic environment, I'm sure he would inherit a lot of homophobia from his parents and his culture," says Ali. "Immigrants coming to a new country, they don't alienate themselves from their cultural ties, their familial ties."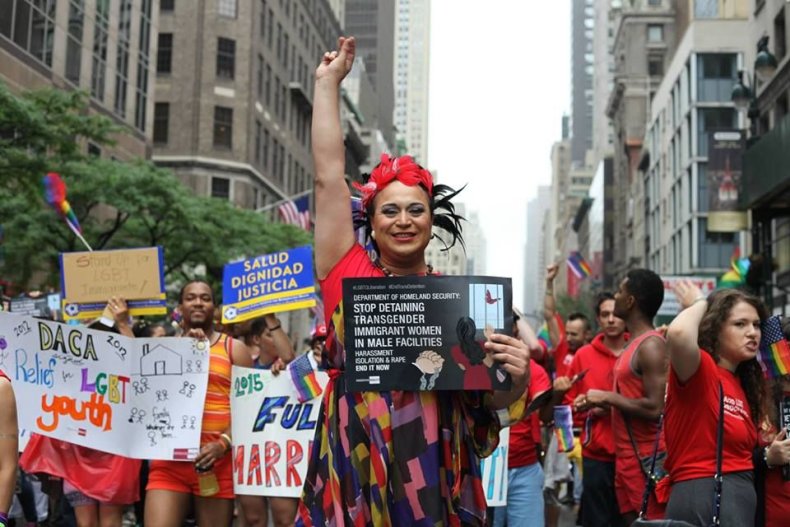 All refugees to the U.S. must undergo cultural orientation, which provides information on housing, benefits, health care and cultural adjustment. Ali says that when he took the class, which lasted for about three days, the only reference to LGBT issues was the scenario of two men kissing. Refugees were asked to judge the scene alongside other activities and determine whether it was legal or illegal in the U.S.
"The instructor just said, 'Yeah, it's legal, let's move onto the next slide,'" says Ali. "Is that how we want to tackle homophobia among immigrants? No."
After the shock of Orlando, Ortega, who works as an activist and a chef in a Manhattan hotel, still considers the U.S. a safer option that Mexico. The Pulse shooting not only targeted the LGBT community but "the Latino community, which I identify with as a transgender women of colour, a Latina," says Ortega, but she's optimistic about the lessons American society can learn from the attack.
"I feel in the best place in the world right now," says Ortega, who points out that seven people were killed and 12 were injured in an attack on a gay bar in Veracruz, Mexico, last month. "I think the government and society will change because of this, society will accept us more, which is not the mentality of the countries where we are coming from."
June is LGBT Pride Month, and many of the men and women who spoke with Newsweek said their plans to attend Pride events, or go to gay bars and clubs, haven't changed. Reza says he wants to march this year "more than any year," while Osama says the shooting has inspired him to become more involved in the LGBT communities and activities. "One's pain is everyone's pain. Hiding myself is saying, 'Yes, you've succeeded,'" he says.
"We are here, we are still here, we're not going anywhere. We will continue fighting for our rights and to have equal treatment in every sense, in every way," says Ortega, who plans to march in New York City's Pride parade on June 26. "That parade... it's turning into a celebration but it's also saying that we need to do a lot more after the tragedy in Orlando."
*Those marked with an asterisk asked Newsweek to refrain from publishing their surnames due to concerns for the safety and security of family members still living in their home countries.