Sex Education and LGBT Groups 'Rape the Minds of Children' Says Activist Mommy Elizabeth Johnston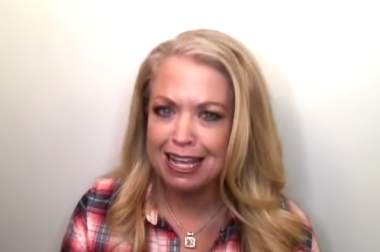 Updated | LGBT and sexual health groups are "sneaking into schools" to "rape the minds of children," according to a campaigner organizing an anti-comprehensive sex education protest in the U.S. and abroad.
"Activist Mommy" Elizabeth Johnston, whose page has over 500,000 Likes on Facebook, is urging parents to take their children out of school on April 23 for a "Sex Ed Sit-Out" protest. The blogger has ten children whom she homeschools.
Currently, 24 states and the District of Columbia mandate sex education, and 13 require it to be medically accurate. A 2017 study published in the Journal of Adolescent Health offered fresh evidence to show that sexual health programs that teach abstinence and advocate monogamy and heterosexual marriages fail to reduce teen pregnancy rates or protect teenagers from sexually transmitted infections.
Read more: Sex education is being ignored in schools, report says
Non-profit sexual health organizations including Planned Parenthood, Advocates for Youth, and LGBT advocacy non-profit the Human Rights Campaign (HRC) are among groups calling on comprehensive education in schools to be LGBTQIA+ inclusive.
Sex Ed Sit-Out organizers have created a template letter for parents to send to their child's principal explaining why they won't be attending school on April 23 in a "stand against the sexualisation of our children." The group says that protests are set to take part in the U.S., Canada and Australia.
In an interview with an online radio show by the conservative Christian non-profit and lobbying group the Family Research Council, Johnston said: "This is a sit out everyone can support and that we should be supporting. If you are not a rabid, foaming-at-the-mouth leftist liberal who wants to pervert the minds of children, everyone should be able to support supporting this sit out."
"We're the tax payers, we're the parents, you don't know our children, and you're not allowed to rape the minds of our children with this pornographic material," she said.
The interview came after Rhonda Miller, one of the protest organizers, said in a statement: "Comprehensive sex ed is being rolled out across America, often sponsored by special interest LGBT groups like Human Rights Campaign, and disguised as anti-bullying programs."
Johanna Eager, the director of HRC's Welcoming Schools program which provides resources and training on LGBTQIA + issues for elementary school educators to prevent bullying, told Newsweek: "HRC is proud of our collaborative work with school districts, administrators and faculty to build schools where students are safe and respected every day. We respond to requests from school district leaders, teachers, and school counselors who are eager to create welcoming school climate for all of their students.
"While HRC's Welcoming Schools program does not specifically address sexual health topics, comprehensive sexual health education is proven to reduce rates of unintended pregnancies, sexually transmitted infections, and sexual harassment in schools. At the end of the day, all students should feel safe and welcomed when they walk into school, and we will continue to work closely with faculty and staff to ensure that fundamental right is guaranteed for every student."
Speaking to the conservative Christian news website CBN News about her choice to homeschool her children, Johnston said: "They [her children] are ours to raise them as we believe God has shown us to do, and so in the schools we have a lot of humanistic, atheistic indoctrination taking place."
She added: "If you don't know, if you're not there and you don't know what's going on at school. I mean we're talking sexual activity taking place in stairwells... out of control immorality in the schools. We need to get our kids out of the public school system and begin to disciple them in the ways of God."
The blogger previously gained attention online for burning a copy of Teen Vogue magazine, after it published a scientific guide to anal sex aimed at "teens, beginners, and all inquisitive folk." The guide stressed the importance of consent and using condoms to protect against STIs.
"They are teaching children how to be safely sodomized. They are teaching kids how to have anal intercourse. We should not be teaching children, period, how to have sex," said Johnston.
Jessica Stern, the executive director of LGBTQ advocacy group OutRight Action International, told Newsweek: "The self-appointed 'activist mommy' sounds more like 'activist misinformed.' The fact is that lack of information leads to STDs, unwanted pregnancies, and even sexual violence. Sex education teaches young people how to have a healthy, pleasurable relationship to sex, whatever their sexuality or gender expression. Better yet, informed children make informed decisions. What more could a parent want?"
The Department of Education, Johnston, Planned Parenthood, and Advocates for Youth, did not respond to a request for comment.
This article was updated to include a response from HRC and a comment from OutRight Action International.