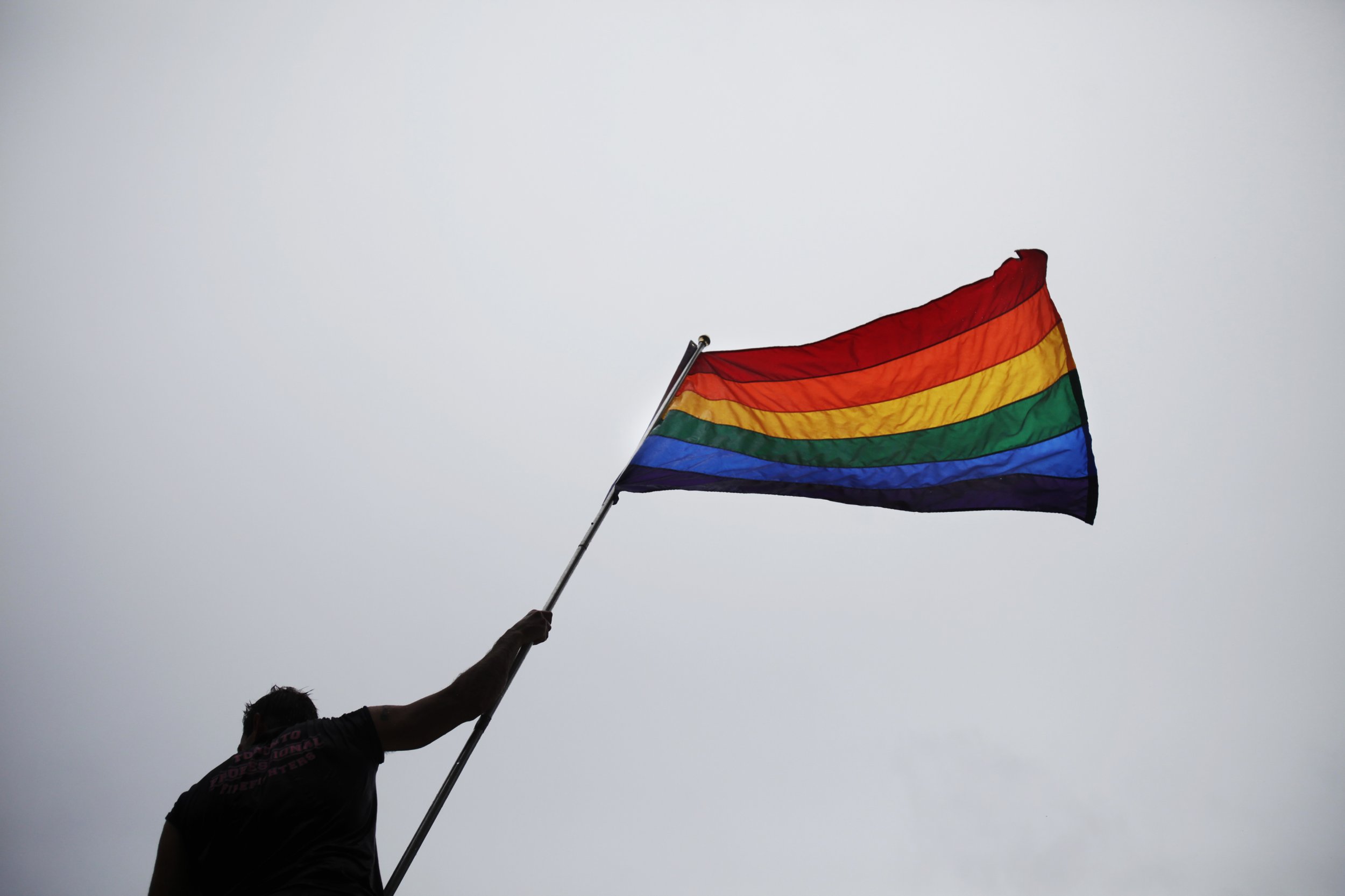 Andy was a skinny, shy 14-year-old when he started trading sex for shelter. Andy, whose name has been changed, identifies as queer with his gender and sexuality, a phrase some use to describe a sexuality or gender (or both) that doesn't fit with traditional definitions of straight, gay, male or female. Andy had suffered sexual and physical abuse at home. Plus, his household was so strict that "coming out wasn't even an option," he says.
"If I had stayed, I would have ended up killing myself," he tells Newsweek. "And I had tried."
Andy ended up hitchhiking around the U.S., living with adults who would provide food and housing in exchange for sex.
Homelessness is one of the main reasons youth in New York City and across the country engage in "survival sex"—national estimates range from 10 to 50 percent. One 2013 study on the city's homeless youth found that some 25 percent had traded sex, and a 2008 study indicates these youth routinely trade sex for shelter. But lesbian, gay, bisexual, trans, queer and questioning (LGBTQ) youth are dramatically more likely to trade sex for a place to stay, according to a new study that analyzes their experiences.
At around 17, Andy wound up in New York City. Clients raped and robbed him during his years on the streets. But he was wary of seeking help, —even in as LGBTQ-friendly a city as New York. Andy says he felt child protective services and law enforcement agencies wouldn't be sympathetic. If he went to a shelter as a minor, he would wind up on its radar. If that happened, they would place him in foster care or, worse, send him back home, he feared. He was able to leave the world of survival sex, but hundreds of children in New York City alone still sell their bodies to live.
Prior research has shown homeless LGBTQ youth were "seven times more likely" to trade sex than their heterosexual counterparts, notes "Surviving the Streets of New York," a study conducted by the Urban Institute and Streetwise & Safe (SAS), released Wednesday.
According to one survey conducted by the Empire State Coalition, some 3,800 homeless youth are in New York City, and nearly a third identify as LGBTQ. Citing widely accepted statistics on the topic, the Urban Institute's Meredith Dank, lead researcher of Wednesday's study, tells Newsweek that LGBTQ youth make up 5 to 7 percent of the overall youth population but 20 to 40 percent of the homeless youth population. There are some 350 youth shelter beds in New York City, so scores spend their nights on the streets, in parks and in subway stations or, as the study emphasizes, engage in survival sex just for a roof over their head and maybe a hot meal.
The new report used interviews with these youths to gather more information on their demographics and the mechanics of survival sex—who are the youths participating, how do they participate and what do they need to get out—and to assess their experiences with the social service providers and law enforcement agencies that, in theory, are there to help them.
Over the course of three years, the Urban Institute and SAS interviewed 283 LGBTQs—as well as straight youth who engaged in non-straight survival sex —ranging in age from 15 to 26.
Forty-eighty percent of the youths told interviewers they lived in a shelter. Ten percent said they lived on the street. Some had housing: 11 percent lived in a family home and 10 percent in a friend's home. Nine percent lived in their own home. Many interviewees reported their families forced them out because of an "unwillingness to accept their sexual orientation or gender identity," the study says. (While homelessness is a main driver of survival sex, other needs such as food and health care also propel youths to participate in the trade.)
Twenty-one percent of these youths were also in debt; the money owed ranged from $3 to $15,000, with their average debt $856. Almost half of these youths, 46 percent, got involved in survival sex "through friends or peers."
The research also revealed details about the survival sex marketplace, such as how these youths get customers. Almost half found clients on the street or on a "stroll." After that, the most popular method was Internet advertising, where 40 percent connected with clients. Those surveyed saw, on average, 11 to 18 customers weekly. On average, according to the report, the youths charged from $91 to $231 "per encounter."
Worth noting is that many of these youths also worked outside of the sex industry. More than half of those surveyed had sources of income other than survival sex, but employment options were limited, largely due to discrimination, according to the study. Twenty-three percent of interviewees had jobs; 23 percent received government benefits or public assistance. In 20 percent of cases, their family gave them money, while 15 percent sold drugs.
Fifty-four percent of these youths "used their earnings to buy food as their first priority."
The law considers any minor participating in the sex industry to be "trafficked," the study states, but not all the youths interviewed were involved in an exploitative situation, such as an abusive pimp. Only 15 percent said they had been in an exploitative situation during their time in survival sex. One interviewee told surveyors that her exploiter "recruited other young women at the homeless shelter where she stayed."
Importantly, "almost all" of these youths—93 percent—did not want to trade sex. Those surveyed said that employment, housing and education opportunities were integral to leaving the trade.
Dank says that the factors pushing youth toward survival sex don't matter as much as the fact that there aren't adequate resources for them.
"There's no social safety support net," she tells Newsweek. "Without that in their lives, immediately upon leaving home, they do what they have to do to survive."
New York City Mayor Bill de Blasio added 100 additional youth shelter beds to the city's budget last year. His proposed fiscal year 2016 budget includes this $3.4 million allotment for shelter beds, plus an additional $1.3 million in funding for similar initiatives, a spokeswoman from his office said.
Asked about advocates' claims of insufficient resources, his office issued this statement to Newsweek:
Both as a parent and our Mayor, Bill de Blasio is wholeheartedly committed to keeping our homeless and runaway youth safe—and that commitment is clearly reflected in our budget. Whether kids run away from their homes or are tragically forced out by their own families, the City's priority remains to protect them and stabilize their lives. That's why we are making a significant investment of $3.4 million every year for 100 additional crisis beds that increase our shelter capacity. And we're building on this commitment with an additional $1.3 million in funding each year, including for a 24-hour drop-in center in Harlem that offers specialized services for LGBTQ youth, additional transitional beds, mental health services, coordinated youth intake, and expanded outreach.
Carl Siciliano, founder of the Ali Forney Center, "the largest agency dedicated to LGBTQ homeless youth in the country," says these allotments are insufficient. Every night, there are 200 to 250 youths who want to get into a bed at the center, but there aren't any available. This means some may wait months for a slot.
"We see every single day that the lack of safe shelter for LGBT youth are driving them into situations where they are forced to do survival sex," he says. "The report is confirming something that we see every single day."