Church Reportedly Evicted from Building after Posting Anti-LGBTQ Sign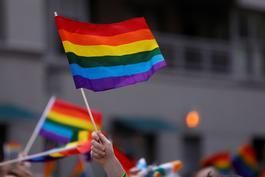 It's unclear whether a sign that said "LGBTQ is a hate crime against God. Repent," is what got the Remnant Fellowship Church in Auburn, Indiana forced out of their building, but the Church confirmed it was evicted from the area last week according to local online news source, wane.com.
The sign sparked outrage among members of the community after many people drove by the sign, according NewsChannel 15. The story included a statement from church elder Robert Sturges, who said, "We're trying to reach a certain group of people. They're being told in our culture that homosexuality, transvestites, lesbianism and sexual immorality is ok. But the Bible clearly says that those who practice these things will not inherit the Kingdom of God. In fact, it warns them that the wrath of God will abide upon them. And in the judgment, they will be lost and they will be sent to hell forever. We believe that. That's our faith."
Sturges also said he arranged the sign to mention the LGBTQ cimmunity as a reminder that the church would save people, in a ABC-affiliate WPTA21 report. When news of the sign hit social media, one woman went out and changed the sign to say "Stay open minded." Reports from The Hill suggested the church also appeared to delete its Facebook page where it initially defended the sign.
The landlord of the building, representatives of the Remnant Fellowship Church, local members of the LGBTQ community and surrounding insititutions were unavailable for comment by deadline. The situation follows a week celebrating the LGBTQ community across the nation.