LGBTQ Equality Act 2019: Eight Republicans Broke Party Ranks to Vote in Favor of Historic Civil Rights Bill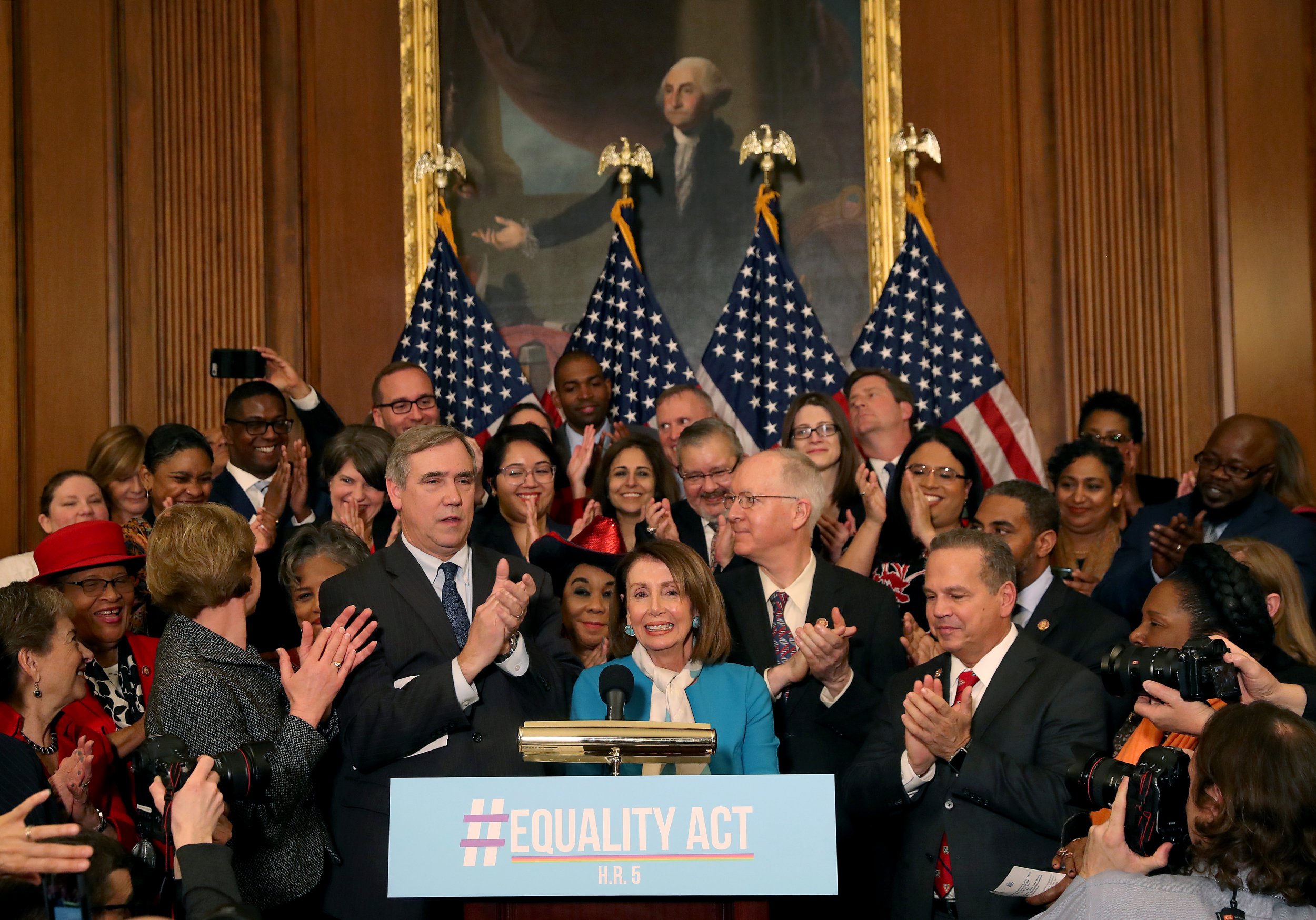 In a historic vote on Friday, the Democratic-led House of Representatives passed the Equality Act, a bill that would prohibit discrimination against the LGBTQ community in the United States. The bill marks the first time in American history that an LGBTQ civil rights bill has passed a chamber of Congress. Just a handful of Republicans voted in favor of the bill.
"Today's historic vote is a major milestone for equality and sends a powerful and profound message to LGBTQ people, especially LGBTQ youth, that the U.S. House has their backs," Human Rights Campaign President Chad Griffin said in a statement. "No one's rights should depend on which side of a state or city line they live on, and today we took a giant step forward in our journey toward full equality."
The bill, which is now headed to the Senate where it is expected to languish in the GOP-controlled chamber, would add sexual orientation and gender identity as protected categories to a host of current civil rights legislation.
Only 21 states and the District of Columbia currently protect LGBT people from housing discrimination; criminal codes that specifically identify LGBT hate crimes only exist in 20 states plus D.C.; and LGBT employees in 29 states face the prospect of workplace discrimination without explicit legal recourse, according to the Human Rights Campaign.
The Equality Act, sponsored in the House by Democratic Congressman David Cicilline, would amend the landmark Civil Rights Act of 1964, which protects equal access to public accommodations and prohibits discrimination in employment, to include LGBT persons. The bill would also insert LGBT protections into the Fair Housing Act, which protects homeowners and renters against specific bias in the housing market.
The bill passed with unanimous support from Democrats despite a largely opposed Republican party. Though eight breakaway Republicans did cross the aisle in support of the legislation.
"LGBTQ Americans are part of the fabric of our society and should be free to exercise the rights guaranteed to every American by the Constitution to participate fully in our society and pursue every opportunity," Republican Congressman Brian Fitzpatrick, who voted for the bill, told Newsweek.
Republican Congressman Will Hurd, another one of the eight, echoed these statements to Newsweek, saying that the "nation's patchwork of protections for the LGBTQ community falls well short of ensuring life, liberty and the pursuit of happiness for millions of Americans."
But Hurd cautioned that Democrats need to reconsider adding provisions that "more explicitly protect religious freedom" if the bill stands a chance of passage by the full Congress.
Religious liberty concerns were dominant in Republican circles on Friday as, but for their eight defectors, the party stood unified in opposition to the Equality Act. This was, in part, because the bill stripped away religious exemptions under the Religious Freedom Restoration Act that critics argue allow discrimination to persist even when non-discrimination ordinances are passed.
Georgia Republican Congressman Jody Hice wrote on Twitter that the bill's passage "is an enormous blow to religious liberty and our Constitution."
"The #EqualityAct is anything but equal, and enshrines a federally-mandated belief system that if you don't agree with it – you'll be punished," he added.
Debate over so-called conscience protections have arisen whenever the federal government has moved to ensure fairness in the public square. When the Affordable Care Act required employers offering health insurance to include plans that provide for birth control, religious institutions took their objections to the Supreme Court. And right after the high court's 1973 decision in Roe v. Wade guaranteeing abortion access, Congress passed legislation protecting the "conscience" of religious healthcare providers who wanted nothing to do with the procedure.
The government has often had to contend with claims of religious freedom and conscience when new social issues sweep into public life.
"In battles over slavery and racial segregation, religion and scripture were often cited as justification for maintaining inequality," Tisa Wenger, associate professor of American religious history at Yale Divinity School, wrote in a 2017 op-ed. "Until the civil rights era, refusals to serve African Americans were often cloaked under the guise of religious freedom. As social norms changed, the religious justifications for this bigotry became legally untenable."