Trump on 'Campaign to Erase LGBTQ People,' Groups Say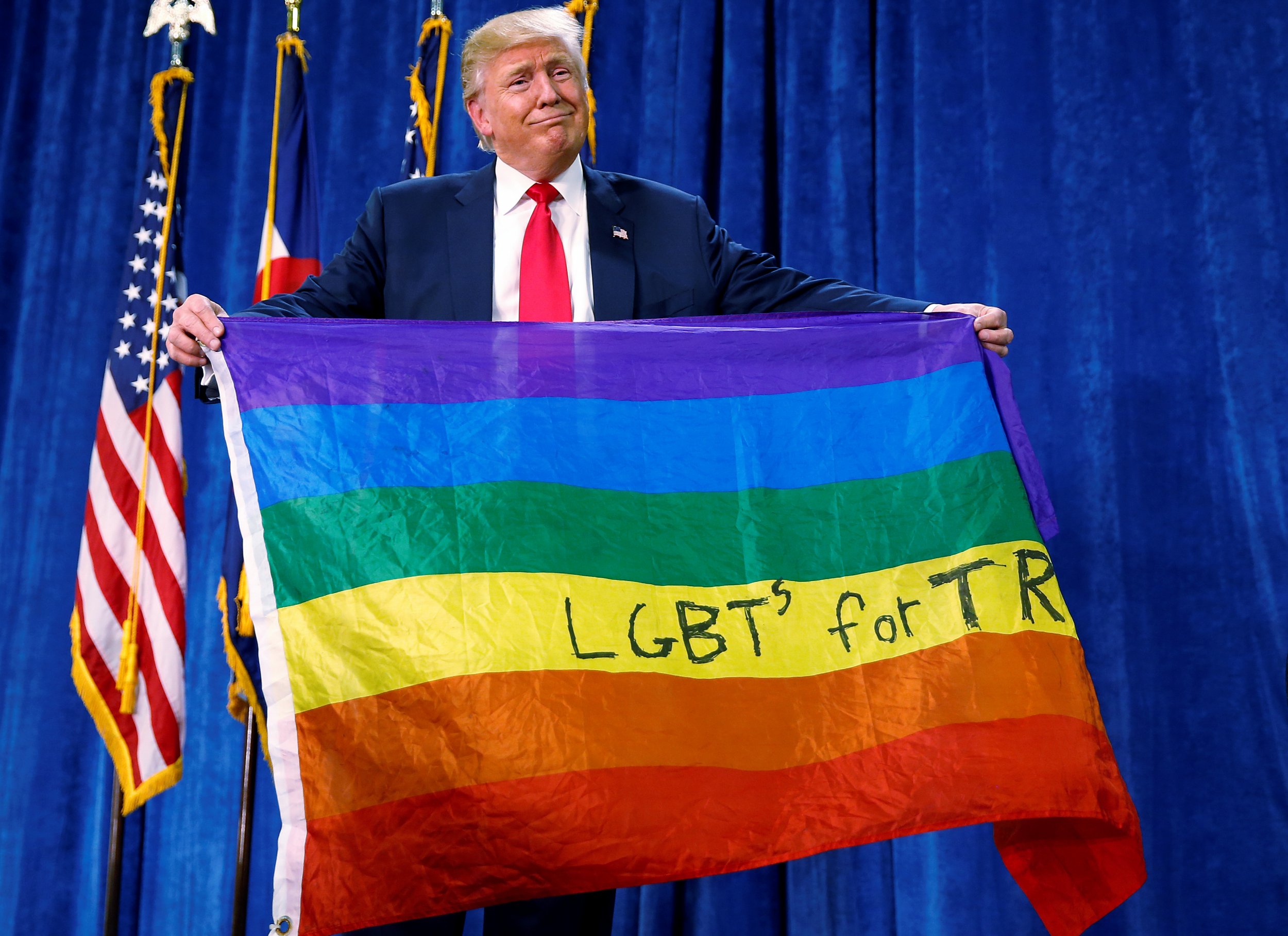 Members of the LGBTQ community and human rights groups are denouncing the Trump administration's decision to drop questions about sexual orientation from the 2020 U.S. census, saying it sets back the fight for their rights and is akin to denying them justice and equality.
The U.S. Census Bureau on March 28 issued documents that indicated questions about sexual orientation and gender identity might be included in the upcoming census, but later issued a statement saying the questions were "inadvertently" included in an appendix to the report.
Related: LGBT groups brace for Trump religious freedom executive order
"The correction suggests that plans for data collection for the 2020 census had included LGBTQ people," said the Human Rights Campaign in a statement, calling it the latest move in Trump's "larger campaign to erase LGBTQ people from federal surveys and disrupt programs that provide direct assistance" to them.
Gay, lesbian, and transgender rights advocates have for years pushed for sexual orientation and gender identity to become part of the census. In 2014, the Census Bureau said that gay couples count as families, but a Pew study the same year found the agency is struggling to get an accurate count of same-sex marriages. Also, advocates argues that questions about gay marriage alone don't answer the many needs of the LGBTQ community.
The thinking is that more data would help the government "to enforce federal laws like the Violence Against Women Act and the Fair Housing Act" and with "how to allocate resources like housing supports and food stamps," according to a statement by the National LGBTQ Task Force.
"With the removal of questions about gayness and transgender status in the Census, we really stand to lose a lot of the progress that has been made, and certainly not to make further progress," said a member of that group's board, Andrew Solomon, a professor of clinical psychology at Columbia University. "In order to have a fair system, you need a system you can measure."
Knowing how many Americans identify as gay, lesbian, transgendered or otherwise helps to target how taxpayer dollars should be spent, he said: "Without that information it's much easier for a Republican administration such as Trump's to argue that gay people are a marginal small group and that nothing needs to be done."
According to a 2012 Gallup survey of more than 120,000 adult Americans, roughly 3.4% identified as members of the LGBT community. That's about 10.8 million people.
However, government agencies such as the Centers for Disease Control and the U.S. Census Bureau's National Health Interview Survey have struggled to get a handle on the numbers. In 2014, they found just 2.3% of Americans are lesbian, gay, or bisexual—a sharp difference from other studies.
A Census Bureau spokesperson told The Washington Times on Wednesday it had been considering whether to include the questions about sexual orientation after being urged to do so by of some members of Congress, but it was decided there is no "federal need" for the answers.
The LGBTQ community currently is sorely underserved by government departments, Solomon said. There's a "high rate of prejudicial behaviour to gay senior citizens" and "limited options available to gay people who are accessing the health care system," he added.
For example, the Department of Housing and Urban Development in early March pulled data collection for homelessness prevention for LGBTQ youth. About 40% of America's homeless youth are LGBTQ, according to a 2012 UCLA School of Law study.
On top of that, the Department of Health and Human Services pulled questions about sexual orientation from its National Survey of Older Americans Act Participants. The Trump administration also canceled an Obama-era rule that transgendered students can use school bathrooms that match their gender identity.
At the Republican National Convention in July, Trump said that as president he would "do everything in my power to protect LGBTQ citizens," but S olomon says the president's " supposed loyalty to the gays was a dramatic statement, b u t I don't think that it's been borne out in anything that he's done."