LGBTQ Organizations Request Meeting With DaBaby to Educate Him After Homophobic Comments
Nearly a dozen LGBTQ+ and HIV/AIDS organizations invited DaBaby to a meeting to educate the rapper after he made homophobic comments during a concert.
The open letter released by the Gay and Lesbian Alliance Against Defamation (GLAAD) asked DaBaby to join them in "a private, off-the-record, virtual discussion" about HIV and misinformation that is harmful to the community.
"At a time when HIV continues to disproportionately impact Black Americans and queer and transgender people of color, a dialogue is critical," the letter read. "We must address the miseducation about HIV, expressed in [DaBaby's] comments, and the impact it has on various communities."
The 11 organizations who signed the open letter to DaBaby include Arianna's Center, Black AIDS Institute, GLAAD, The Normal Anomaly Initiative, Prevention Access Campaign, Relationship Unleashed, The 6:52 Project Foundation and members of the Gilead COMPASS Initiative from the Southern AIDS Coalition, Emory University, the University of Houston and Wake Forest University.
The letter acknowledged DaBaby's apology that was posted to his Instagram account. He said he wanted to educate himself on the issue.
"I appreciate the many people who came to me with kindness, who reached out to me privately to offer wisdom, education and resources. That's what I needed and it was received," DaBaby wrote on Wednesday.
"Again, I apologize for my misinformed comments about HIV/AIDS and I know education on this is important," he added.
The organizations said they agreed "education is important" and provided a number of statistics about HIV and the stigmas surrounding the Black, LGBTQ+ and HIV+ communities.
DaBaby was encouraged to become an advocate for the affected communities that he offended when he made the following comment at the Rolling Loud Music Festival in Miami, Florida on July 23:
"If you didn't show up today with HIV, AIDS, any of them deadly sexually transmitted diseases that'll make you die in two or three weeks, put your cellphone light in the air."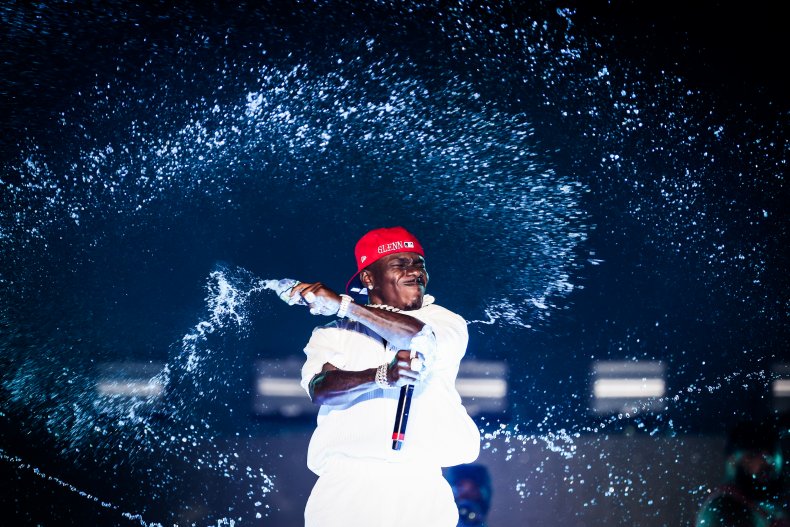 The rapper has been dropped from seven music festivals after a video of his comments was posted online. DaBaby received criticism from fans and celebrities when he initially defended his statements.
The letter invited those celebrities who called out DaBaby, including Demi Lovato, Dua Lipa, Madonna and Elton John, to join them in educating people on HIV.
"While we appreciate their stand, we also invite them to take action and to do their part to end HIV by supporting organizations like ours serving people who are Black, LGBTQ and/or living with HIV," the letter said of the celebrities.
The organizations expressed their hope for DaBaby to use his platform to "heal not harm." Misinformation and fear prevent Black Americans and other groups from accessing HIV prevention and treatment resources even 40 years into the epidemic, according to the letter.
"DaBaby can be a powerful and influential voice where Black Americans need it most," said GLAAD Associate Director Dashawn Usher. "We urge him to learn the facts and use his platform to share the truth that can save lives."
You can read the full letter here.