LGBT Groups Brace for Trump Religious Freedom Executive Order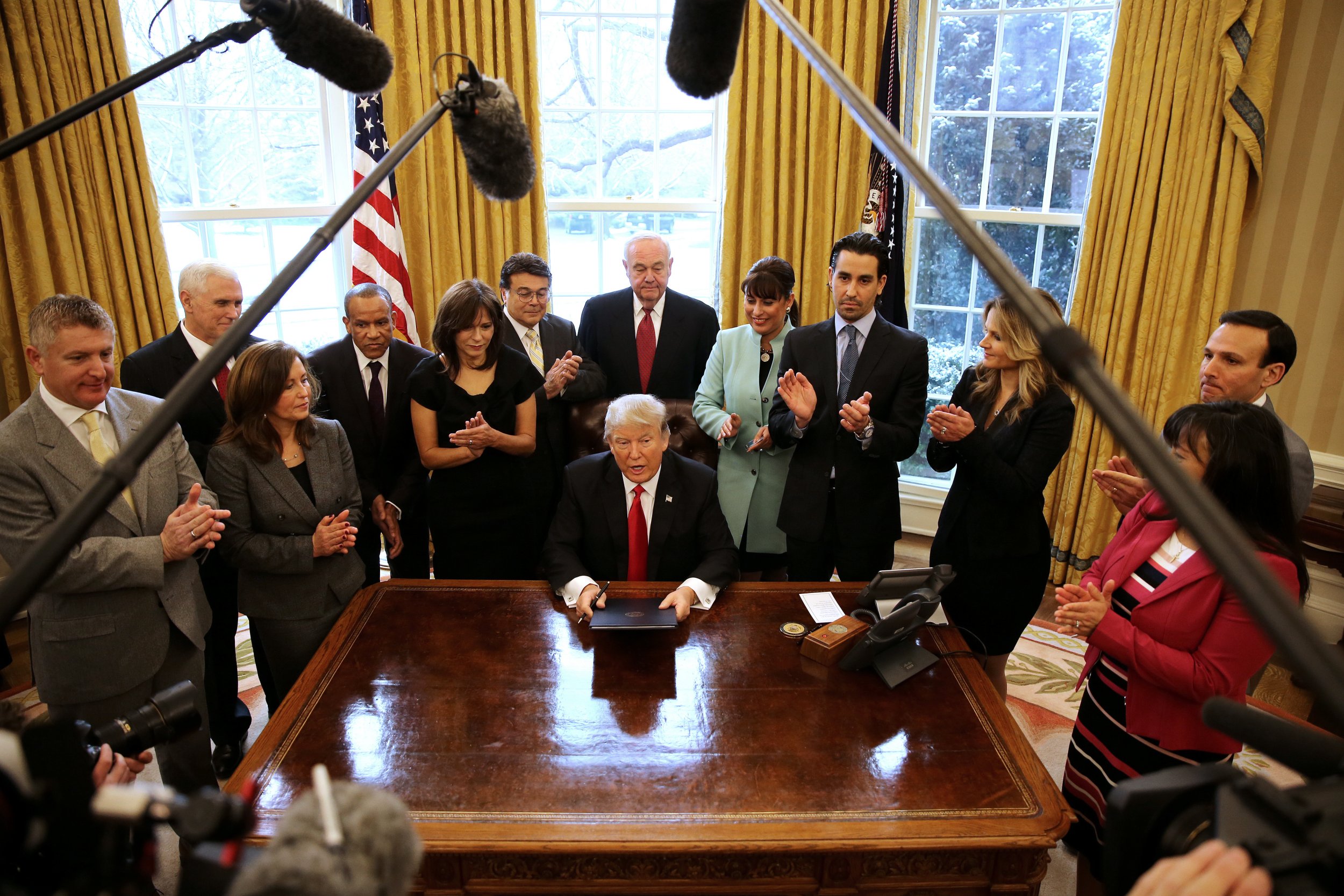 The White House issued an unexpected statement early Tuesday, promising that President Donald Trump intends to protect LGBT rights and would not repeal a Barack Obama executive order thought to be in the firing line. "The executive order signed in 2014, which protects employees from anti-LGBTQ workplace discrimination while working for federal contractors, will remain intact at the direction of President Donald J. Trump," the White House said.
Related: LGBT protest party held near Vice President-elect Mike Pence's Washington home
Advocates for the LGBTQ community, however, are not comforted. In fact, they believe that something else may be in the works, and that it may be worse for them.
"The fact that he said he won't change that executive order does not at all mean he won't harm LGBT people…. It simply means he will go about it another way," the American Civil Liberties Union's James Esseks warned during a conference call with reporters Wednesday. "Our fear is that he will create additional religious exemptions to equality laws."
Winnie Stachelberg, executive vice president of the liberal think tank Center for American Progress, issued a statement Wednesday saying, "We are confident that the White House is still drafting policies harmful to LGBT Americans for release as early as this week, as an executive order."
Within the progressive community, Chatter began building last weekend that LGBT people would be the next target of Trump's executive order spree. "In the context of what's happening in these first 10 days, [Trump's] working his way through the list," says Rachel Tiven, CEO of Lambda Legal, a nonprofit organization that fights for legal rights for the LGBT community.
"He's come for the immigrants, he's come for the Muslims. and now he's coming for the queers," she said, referring to Trump's previous executive orders beefing up immigration enforcement and barring people from certain Muslim-majority countries from entering the U.S. Initially, Tiven and others anticipated the order coming Tuesday, timed to coincide with Trump's announcement of his Supreme Court nominee. Instead, the White House issued its unexpected statement.
Leaders in the LGBT community say they do not expect that to be the end of the story, however, citing Trump's campaign promises and the advisers he's surrounded himself with in the White House.
"Trump promised as part of his campaign that he would sign a version of the First Amendment Defense Act," Sarah Warbelow, legal director of the Human Rights Campaign, a gay rights advocacy group, said during the Wednesday press call. Warbelow also noted that Republican Representative Steve Russell of Oklahoma has said publicly that Trump has promised to make a religious freedom amendment that the congressman proposed last year a part of that law.
This and other comments the president has made on religious freedom "make it clear that Trump has made extensive promises that he will move forward with in an executive order," Warbelow said.
Initially, LGBT advocates thought Trump was most likely to amend or reverse Obama's 2014 executive order extending protections against discrimination within the federal workforce and among contractors to people on the basis of sexual orientation and gender identity. Now they fear Trump will issue a more wide-ranging order, along the lines of the First Amendment Defense Act (FADA), which Republicans have introduced in previous sessions of Congress.
While the Obama order applies to federal employees and contractors, an order in the vein of the FADA would apply to all individuals and organizations, barring the federal government from punishing them if they denied services based on their religious beliefs. Supporters of the legislation say it is necessary to protect the First Amendment rights of religious people or institutions, like schools, hospitals and nonprofit groups, many of which receive federal contracts.
The issue of religious freedom has been a high priority for social conservatives since gay marriage rights began expanding, culminating in the Supreme Court's landmark 2015 ruling recognizing the right to same-sex marriage nationally. A handful of states have sought to pass religious freedom laws that would exempt people from discrimination laws and other legal obligations on the basis of religious beliefs. In many cases, these laws would also apply to corporations, stoking fears that businesses could decline to serve gay couples or fire their gay or transgender employees.
Indiana's passage of the Religious Freedom Restoration Act in 2015, under then-Governor Mike Pence, who is now vice president, created a national firestorm and prompted several major corporations to threaten boycotts of the state. Pence ultimately agreed to amend the law, but he and other supporters have continued to maintain the proposal did not enable discrimination.
Tiven says the worst-case scenario is an order that mimics the language of a 2016 religious freedom law passed in Mississippi, which is even more explicit than the Indiana law in granting the freedom to, essentially, discriminate against other people if justified under one's religion. The law is now tied up in a court battle, after being blocked by a U.S. District Court judge in July.
In the same way that immigration advocates are already filing lawsuits challenging Trump's executive orders banning entry of certain foreign nationals and other immigration restrictions, LGBT groups are studying their own legal options. Warbelow noted during the press call that existing federal laws banning discrimination on the basis of sex have been interpreted to protect LGBT people as well. An executive order providing religious exemptions to nondiscrimination laws "would likely violate existing statutory interpretations," she noted. Advocates have also challenged states' religious freedom laws on constitutional grounds, claiming they violate the Equal Protection and Establishment clauses.
Progressive groups are also preparing to activate a nationwide network of supporters to push back against a potential order and, if need be, take to the streets. Bishop Gene Robinson, a senior fellow at the Center for American Progress, said Wednesday he has helped circulate a letter opposing a religious freedom executive order that has been signed by more than 400 pastors, rabbis and other faith leaders.
"Everybody is on high alert," says Tiven. "If they thought there were a lot of people on the streets this past weekend [protesting Trump's immigration orders], just wait."