LGBTQ Veterans Slam Organizers for Barring Group From Boston's St. Patrick's Day Parade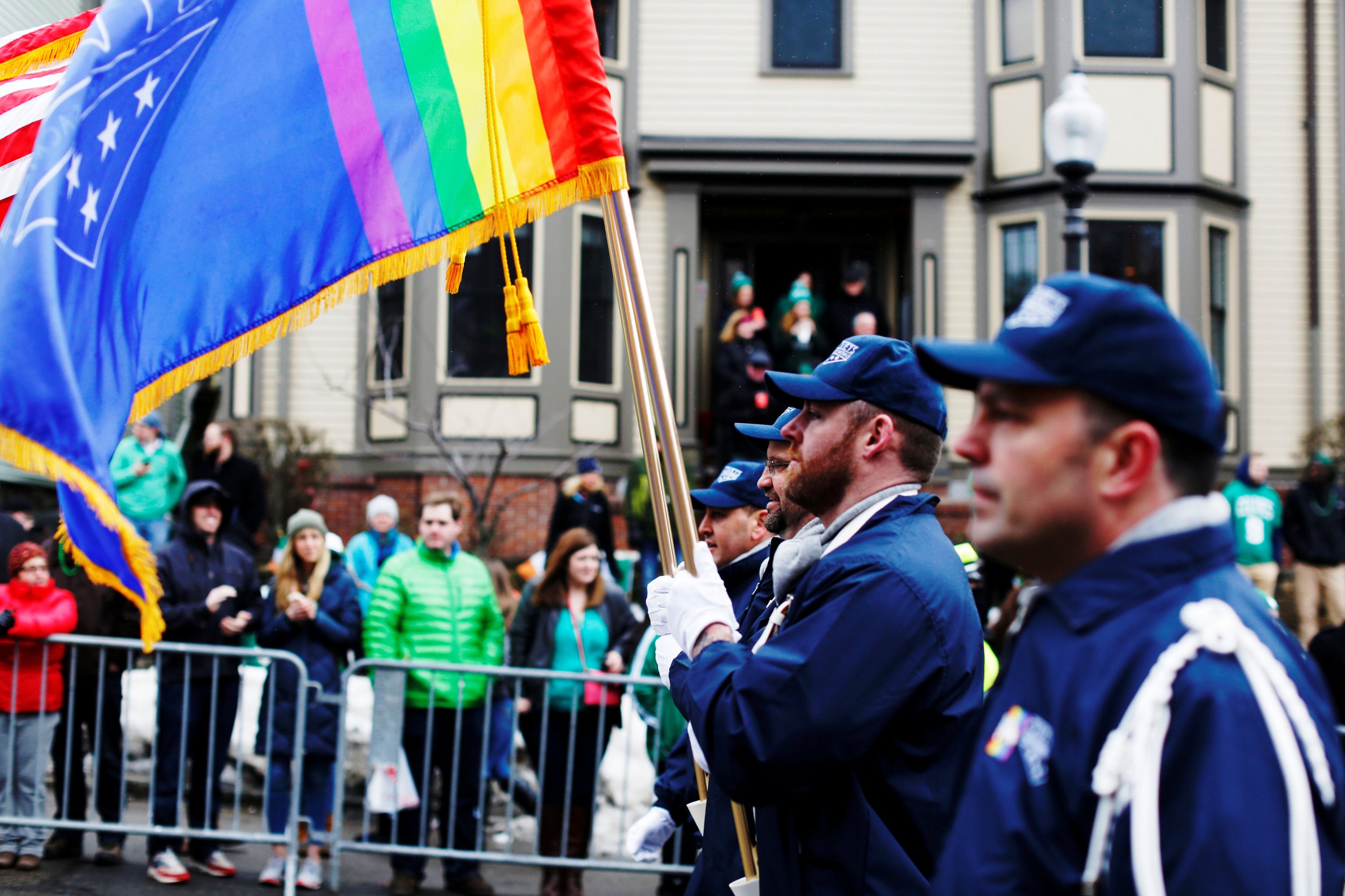 Bryan Bishop, executive director of OutVets, got a call Tuesday night from the South Boston Allied War Veterans Council informing him that the nonprofit, devoted to LGBTQ veterans, active service members and their families, would not be allowed to participate in Boston's annual St. Patrick's Day Parade on Sunday. The group's application had been denied.
"It was not a complete shock," says Dee Dee Edmondson, who acts as lawyer for OutVets through the firm Levine-Piro Law and serves on the group's board as communications director. "This is a stunt they've pulled several times," she adds, ducking into her car to recount the events of the last few days as a strong wind blew in Boston. But "it was extremely disappointing at the same time."
OutVets marched in the parade for the first time two years ago, after years of LGBT organizations being denied the chance to participate in the St. Patrick's Day tradition. After the Allied War Veterans Council refused the applications of the Irish-American Gay, Lesbian and Bisexual Group of Boston in 1992 and 1993, the group sued, and the case made its way up to the Supreme Court. On June 19, 1995, the court decided unanimously in favor of the council.
"The issue in this case is whether Massachusetts may require private citizens who organize a parade to include among the marchers a group imparting a message the organizers do not wish to convey," Justice David Souter wrote in the court's opinion. "We hold that such a mandate violates the First Amendment." In other words, the council, which the decision describes as "an unincorporated association of individuals elected from various South Boston veterans groups," was free to decide whether to allow LGBT and any other groups into their parade. In 2015, the council voted 5 to 4 in favor of allowing OutVets and another LGBT group to participate.
OutVets marched that year and again in 2016, when they were placed at the back of the procession, behind the fire engines and far from other veterans groups and elected officials, Edmondson says. After finally being allowed into the parade, that felt like another "slight," she says. And then Brian Mahoney, the council's former commander whom Edmondson calls one of the group's "biggest champions," passed away. "At the funeral, Bryan [Bishop] was told by an elected official, 'They'll be coming for you. Watch out.'" But OutVets still hoped the days of being denied were behind them. On Tuesday, they discovered it wasn't so.
OutVets immediately began reaching out to members and press "to make sure they know this shit's going down," Edmondson says. "The best remedy for this stuff is sunlight." Since news of the council's decision broke and spread, the group has received an outpouring of support. Boston Mayor Marty Walsh and Massachusetts Governor Charlie Baker both declared that they would not march in the parade if the group was excluded. This year's grand marshal, Dan Magoon—an Army veteran and executive director of Massachusetts Fallen Heroes—resigned from the honorary role.
"To be a part of a parade excluding OutVets does not coincide with the work I do advocating for all veterans," Magoon said in a statement. "The freedoms that we possess to hold such an event is due to the men and women who have spilled their blood in defense to this great nation, regardless of where they come from, what they look like, or who they share relations with."
Several of the parade's sponsors have also responded. The grocery chain Stop & Shop reportedly withdrew its sponsorship, as did Dedham Savings Bank, while Anheuser-Busch said in a statement that it was "disappointed to learn that the OutVets, who have proudly served this country, have been denied entry," and is "re-evaluating our participation in the event."
At a meeting between OutVets and members of the council on Wednesday, Edmondson says the council pointed to the rainbow in the group's logo and on its banners as the reason it was being barred from participating. The imagery, the council reportedly said, violated the parade's code of conduct because it is an outward display of sexuality. If the group agreed to remove the rainbows, it could participate in the parade. OutVets refused. What was implied, Edmondson says, was that "as long as you don't look gay, we'll let you in." But "at this time and in this place in history, we're not compromising," she says. "We're not going back in time."
Edmondson believes the council was emboldened by Donald Trump's victory in the 2016 election, by his recent reversal of Barack Obama's guidance to public schools allowing transgender students to use the bathroom of their choice, and by a general "pushback on LGBT rights."
At Wednesday's meeting, Tim DuRoss, the parade organizer, "asked us not to make him look stupid," Edmondson says. "You're doing a fine job on your own making yourself look stupid," she adds, organizing a parade that might be left to proceed without key figures and sponsors.
"How to put this nicely? These people don't recognize where we are in history. They're still living in 1995," Edmondson says. "Times have changed. Public opinion has changed." She points to the swift and wide-ranging response from elected officials, parade sponsors and others. "We didn't see that in 1990s."
The council, which is reportedly scheduled to vote on the matter again on Friday, did not immediately return Newsweek's request for comment. Edmondson says the next move is theirs, and that she is "hopeful that they will realize it's 2017."
"There's a lot of history here, with both gay people in Southie and this parade," she says. "Hopefully this will be the final chapter."