Lia Thomas Shines in Last Home Meet as Some Protest, School Defends Transgender Swimmer
Lia Thomas, a transgender swimmer with the University of Pennsylvania, shined during her team's last home game amid controversy about whether she should be allowed to compete on the women's team after transitioning.
Thomas narrowly placed first in the 200- and 500-yard freestyle races during the meet at Sheerr Pool Saturday afternoon, facing off against swim teams from Dartmouth and Yale universities.
During the 100-yard freestyle race, however, she came in fifth place. Yale's Iszac Henig, a transgender athlete who is transitioning from female to male, won that event.
The meet was held despite reports that some team members planned to protest it over concerns of fairness. It went on without major issues. Swimmers kicked off the afternoon with ecstatic team chants, while families clapped for their teams in the stands.
Still, there were signs of tension. When the school celebrated the seniors, some people did not cheer and clap for Thomas—though most did.
Outside the meet, a few women protested Thomas' participation, telling Newsweek they feel it is unfair to the other athletes to let her swim on the women's team.
One, Joy Gray, said even after transitioning, Thomas still holds advantages over the other competitors due to being larger physically. She called Thomas' participation "discrimination against women."
"Bigger heart, bigger lungs, bigger bones, bigger surface area for muscle. More muscle means more power. These do not go away with transitioning," she said.
Another, Jennifer Thomas (no relation), said: "We want people to see other women and men standing up for what's right, which is fairness in sports."
Gray added that while she thinks it's unfair for transgender women to participate in women's sports, she supports transgender athletes competing in their own leagues and dismissed accusations that those with concerns about trans women competing on women's sports teams are "anti-trans."
Others attending the event supported Thomas. One parent, Sue Feldman, told Newsweek she felt bad that Thomas received backlash, noting the swimmer has followed the rules set forth by the National Collegiate Athletic Association (NCAA).
"It's just kind of an unfortunate situation," she said. "I empathize with the girls who are getting beaten, but she hasn't done anything wrong. She's following the rules."
She added: "Like any swimmer, she's good at some things and not so great at other things. She's not a great sprinter, but she's good at distance."
Thomas found herself at the center of a national dialogue about how to fairly include transgender women in sports after she began swimming for the school's women's team. She previously swam for the men's team before transitioning.
The NCAA allows transgender women to compete on women's teams so long as they have been treated with testosterone suppression medication for at least one year before being allowed to compete on women's teams.
Thomas' wins during a previous swim meet rattled the swimming community, forcing it to reckon with the topic of the inclusion. During the Zippy Invitational meet in December, Thomas won nearly every freestyle race, setting a program, meet and pool record time during the 1,650 freestyle race, according to Penn Athletics.
Her win prompted John Lohn, the editor-in-chief of Swimming World magazine, to write in a December opinion piece that "athletes transitioning from male to female possess the inherent advantage of years of testosterone production and muscle-building."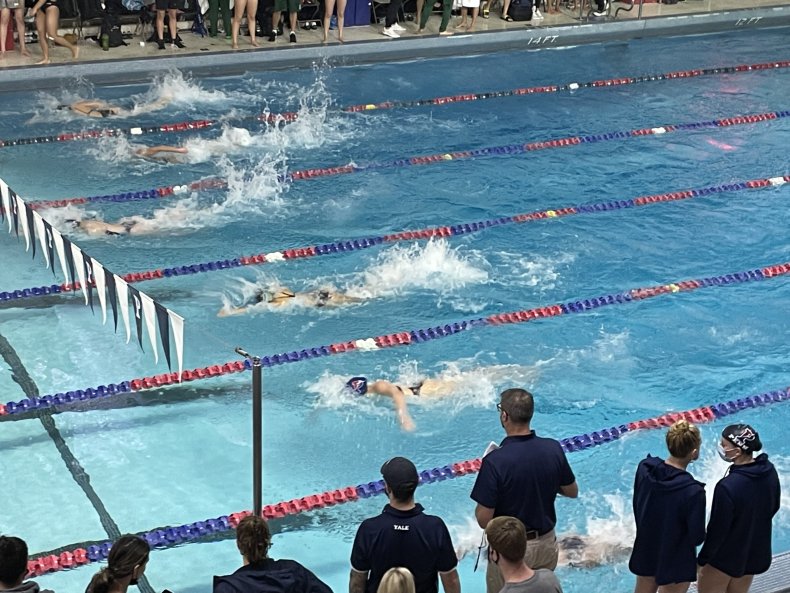 "In the case of Thomas, she had nearly 20 years of this testosterone-building advantage, something cisgender women could not attain. Although she took part in the testosterone-suppression process, a look at her performances clearly reflects that she is benefitting from the genetics of her birth sex," he wrote.
Meanwhile, both the school and the Ivy League this week defended her inclusion on the team, arguing she has met all of the protocols for a transgender student-athlete to compete on a women's team.
"We fully support all the student-athletes and coaches in our swimming & diving program and look forward to the team's continued success this season," UPenn Athletics wrote in a statement.
The Ivy League wrote in a statement that it reaffirmed its "unwavering commitment to providing an inclusive environment for all student-athletes while condemning transphobia and discrimination in any form. The league welcomes her participation in the sport of women's swimming and diving and looks forward to celebrating the success of all our student-athletes throughout the season."