Lia Thomas Competing Means Others 'Don't Have a Chance,' Swimmer Says
Lia Thomas made history Thursday when she became the first known transgender athlete to win an NCAA Division I championship for any sport. While Thomas said after her victory that she was "just happy to be here," according to ESPN, her win and the circumstances that surrounded it have left other athletes who competed in the race feeling less enthused.
In a brief interview after the competition Thursday, Virginia Tech swimmer Rose Pouch said that it's "a common conception that we are all very disappointed and frustrated" about Thomas's participation.
"It's heartbreaking to see someone who went through puberty as a male and has the body of a male be able to absolutely blow away the competition. Then you go into it with a mindset that you don't have a chance, if that makes sense," Pouch said.
Thomas, who is a swimmer and student at the University of Pennsylvania, placed first in the 500-yard freestyle with a time of 4:33.24. The outcome of the 500-yard freestyle has sparked both support and backlash for the athlete.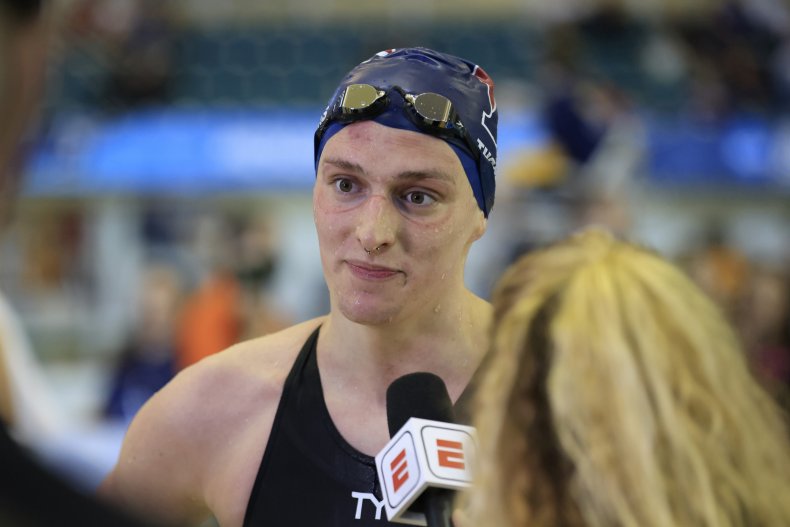 Schuyler Bailar, who became the first known transgender man to compete on an NCAA Division I men's team, told ESPN that the victory was "a symbol of Lia's resilience."
"The fact that she's able to show up here, despite protesters outside, people shouting and booing her, I think it's a testament to her resiliency," Bailar said. "And it's also a symbol that we can both be who we are and do what we love."
Disapproval has also been evident. Several boos were heard from the crowd at the competition after Thomas was announced as the winner on the podium, while some figures have spoken out publicly.
Christian Ziegler, the Florida GOP Vice Chair, tweeted Friday that Thomas is "a shameless" thief. He said that Emma Weyant, an Olympic silver medalist who took second place while swimming for the University of Virginia, is the real champion.
Ziegler's message has been echoed by several other conservative figures. Angela Morabito, who was a press secretary with the Education Department during the Trump administration, tweeted Thursday: "Round of applause for Emma Weyant, the UVA swimmer who placed second in the 500y freestyle tonight, behind Lia Thomas. Second is the new first. #savewomenssports."
Pouch, the Virginia Tech swimmer, said that one of her teammates was crying Thursday because she did not make the finals. The teammate, Pouch said, came 17th in the qualifying round and there were 16 spots.
"It's hard to see someone who works every day every night still not be able to compete against someone like that," Pouch said.
Protestors angered over her participation and victory were seen demonstrating outside the Georgia Tech athletic center Thursday, one holding a sign that read "Save Women's Sports," Fox News reported.
Pouch said that it's "hard to compete against someone with the aerobic capacity, the muscle development, the body of a man."
"Staying positive, I bet for other swimmers who are in that heat, is probably overwhelming. I'm not sure I can't speak for them, but it's disappointing to see," she added.
Thomas, meanwhile, seems intent on focusing on her sport and ignoring the backlash. She did not attend the NCAA-required news conference after the competition, according to ESPN.
"I try to ignore it as much as I can," Thomas said in a post-race interview with Elizabeth Beisel. "I try to focus on my swimming, what I need to do to get ready for my races. And just try to block out everything else."
Thomas was also competing in the women's 200-meter freestyle race Friday.
Newsweek has reached out to the University of Pennsylvania and the NCAA for comment.
Update 03/18/22, 2:20 p.m. ET: This story was updated with additional information and background.