Liberal Activist Group's New Campaign Bets $100K on Republicans Backing Trump Impeachment Probe
House Republicans are becoming the target of a new six-figure ad campaign by a liberal activist group that seeks to pressure GOP members into supporting the impeachment inquiry.
As the investigators' probe unfolds over the next few months, Stand Up America told Newsweek it will spend north of $100,000 in an attempt to change the minds of at least a dozen House Republicans. Some of them have left the door open to supporting the Democrats' inquiry or represent districts that the progressive organization believes are vulnerable in next year's election.
The campaign will launch this week and will feature digital ads, in addition to peer-to-peer text messages, emails and social media posts, to drive constituents in Republican districts to pressure members into backing the inquiry.
The attempt to sway lawmakers' minds will come at a time when an increasing number of congressional Republicans have shifted their anti-impeachment strategy from defending President Donald Trump, based on the substance of the allegations in the Ukraine scandal, to ridiculing Democrats for their closed-door process in conducting the investigation. Convincing Republicans to support the inquiry—something that will be extremely difficult to accomplish—could persuade some colleagues in the Senate to also back the process, one that will likely end with the upper chamber voting whether to convict or acquit the president.
Trump has told Republicans to "get tougher and fight" impeachment and has labeled "Never Trumpers" as "human scum." On Thursday, dozens of GOP lawmakers stormed the secure room where witnesses have been testifying to a bipartisan group of lawmakers spearheading the inquiry.
Some of the Republicans whom Stand Up America will target have indicated in recent weeks that, based on recent revelations from current and former Trump administration officials who've testified, they are open to at least investigating—but not necessarily impeaching—the president for possible wrongdoing in the Ukraine scandal. This includes a potential quid pro quo involving the foreign country's agreement to investigate a potential Trump political opponent, Joe Biden, in exchange for U.S. military aid.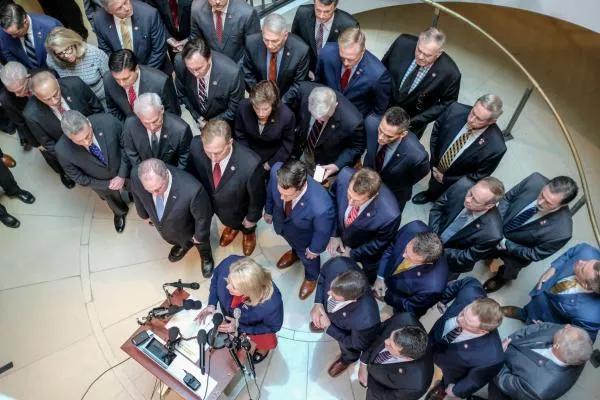 "The Trump White House is openly admitting to high crimes without an ounce of shame, including using military aid to pressure Ukraine to interfere in our elections—and yet, most Republicans remain silent," Sean Eldridge, Stand Up America founder and president, said in a statement.
The dozen Republicans whom Stand Up America has targeted include two retiring members who have signaled growing concerns about probable wrongdoing by Trump: Representatives Will Hurd of Texas and Francis Rooney of Florida.
Rooney showed concern last week over acting White House chief of staff Mick Mulvaney's attempt to rebuff the allegations of a quid pro quo based on witness testimonies and Trump's own words, as well as Mulvaney's later effort to walk back his remarks after conceding there was a quid pro quo.
"He basically said it's a quid pro quo, which is not a good thing," the outgoing Republican told reporters. "The only thing I can assume is he meant what he had to say.... It's not an Etch a Sketch."
After the whistleblower complaint that set off House Democrats' impeachment inquiry was released last month, Hurd said there was "a lot" that was "concerning." He won his election last year by just 0.5 percent, or 926 votes.
"We need to fully investigate all of the allegations addressed in the letter, and the first step is to talk to the whistleblower," Hurd said at the time.
The other targeted Republicans are Representatives Mark Amodei of Nevada; Susan Brooks of Indiana; Brian Fitzpatrick of Pennsylvania; Jaime Herrera Beutler of Washington state; Peter King, John Katko and Elise Stefanik of New York; Chip Roy of Texas; Chris Smith of New Jersey; and Fred Upton of Michigan.
Fitzpatrick (a freshman), Beutler, King, Katko, Roy and Upton all won their 2018 races by less than a 20,000-vote margin, leading Stand Up America to believe they may be able to motivate these candidates' constituents and put pressure on the lawmakers.
"It's time for Republicans in Congress to grow a spine and defend our democracy by supporting the impeachment inquiry, because no one—including Donald Trump—is above the law," Eldridge said.
{{#isDisplay}} {{/isDisplay}}