Liberal Group Targets 'Moscow Mitch,' GOP Senators Over Election Security Funding
Several Republican senators, including Majority Leader Mitch McConnell, are the targets of a new six-figure campaign by a progressive activist group that seeks to pressure the lawmakers to take action on election security funding.
Stand Up America, a liberal advocacy organization with more than 2 million members, said Wednesday it will spend north of $100,000 this month to pressure the GOP-controlled Senate to include hundreds of millions of dollars in next year's budget that must be approved by October 1 to avoid another government shutdown for election security measures. The Democratic-led House has already approved a bill with $600 million for election security funding — money that would seek to help to protect America's elections against future Russian interference.
The group's campaign will consist of a digital billboard in McConnell's home state of Kentucky, Facebook ads, calls and emails to constituents, office visits to lawmakers and peer-to-peer texting that will target GOP senators who Stand Up America either views as vulnerable in upcoming elections or who have expressed some degree of support for election security funding in the past. The targeted lawmakers are McConnell, Roy Blunt of Missouri, Susan Collins of Maine, Joni Ernst of Iowa, Cory Gardner of Colorado, John Kennedy of Louisiana, James Lankford of Oklahoma, Martha McSally of Arizona, David Perdue of Georgia, Marco Rubio of Florida and Thom Tillis of North Carolina.

Despite former special counsel Robert Mueller warning Congress that Russia continues to try and subvert U.S. elections, McConnell and other Senate Republicans have blocked votes on several election security measures that would provide money for states to bolster their systems by upgrading voting infrastructure and requiring post-election audits, as well as the use of backup paper ballots, among other things.
And in the wake of Mueller's congressional testimony earlier this summer, the Senate Intelligence Committee released a report on the 2016 election interference executed by Russia, further detailing the foreign adversary's efforts to meddle in an American election and the steps that states have since taken to try and prevent similar attacks in the future.
"Robert Mueller's testimony before Congress made it clear that the safety and security of our elections are still at risk. Protecting the integrity of our elections shouldn't be a partisan issue — but Moscow Mitch refuses to defend our democracy and is blocking election security funding," Stand Up America Managing Director Christina Harvey said in a statement. "This campaign will make sure McConnell hears directly from his own constituents and from Senate Republicans feeling the heat for putting party over country."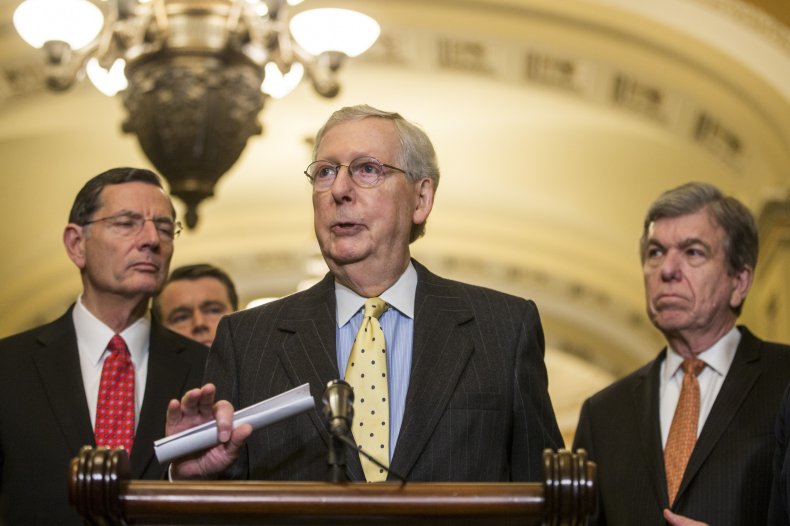 While "Grim Reaper" and "Cocaine Mitch" have become some of McConnell's favorite nicknames, "Moscow Mitch" is not one of them. The pseudonym has drawn the ire of the majority leader in recent months, who characterizes it as "modern-day McCarthyism."
"Unbelievable for a Cold Warrior like me who spent a career standing up to the Russians to be given a moniker like that. It's an effort to smear me. You know, I can laugh about things like the Grim Reaper, but calling me Moscow Mitch is over the top," McConnell told conservative radio talk show host Hugh Hewitt Tuesday morning. "And going back even to the breakup of the Soviet Union, I was one of those leading the charge for expanding NATO up to the Russian border over and over again over the years. So, [Democrats will] say anything and do anything. This is what we're up against with the hard left today in America."
Spokespeople for McConnell's office declined to provide Newsweek with a statement. They pointed to a lengthy floor speech made by McConnell in July, in which he railed against the election security funding bills as "highly partisan" and measures that came from the "same folks who hyped up a conspiracy theory" about Trump-Russia collusion. One of the bills, Securing America's Federal Elections Act, only received the support of one House Republican: Representative Brian Mast of Florida.
As part of its campaign, Stand Up America said it will also be partnering with other groups — like Public Citizen, the Brennan Center, Common Cause and Republicans for the Rule of Law — that have focused on election security and have sought to exert pressure on McConnell and others. Republicans for the Rule of Law unveiled a new TV ad last month that offered staunch criticism of McConnell for blocking votes on election security funding.