Liberal Groups Demand Democrats Forgo Recess to Fast Track Impeachment Proceedings
Several prominent progressive groups are calling on House Democratic leadership to cancel an upcoming two-week recess in order to expedite impeachment proceedings against President Donald Trump.
In a letter sent by Stand Up America and By The People on Wednesday to Speaker of the House Nancy Pelosi (D-CA) and Judiciary Committee Chairman Jerrold Nadler (D-NY), the liberal groups "respectfully demand" that a planned congressional hiatus for the first two weeks of October be skipped in order to help fast track House Democrats' impeachment inquiry. The letter was provided to Newsweek.
The demand came as Democratic leadership has yet to outline a timeline for their impeachment inquiry in the wake of Pelosi formally launching it on Tuesday. The lack of an explicit scope, timeline or objections that have been laid out have called into question what—if any—will alter congressional committees' investigations that have been ongoing for months.
"In place of this recess, we urge you to begin an aggressive hearing schedule, swiftly draft articles of impeachment, and vote to impeach Trump this fall," the progressive organizations wrote to Pelosi and Nadler.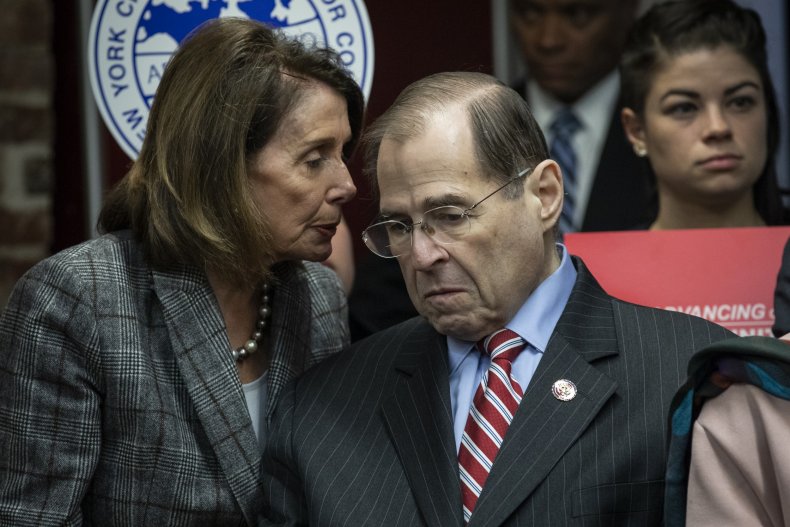 The following organizations also signed onto the letter in support: CREDO, Free Speech For People, Indivisible, March for Truth, Mainers for Accountable Leadership, Need to Impeach, Progressive Democrats Of America, Revolving Door Project and Women's March.
There was discussion during a private Wednesday morning Democratic caucus meeting about having certain committees work during the recess, according to Rep. Karen Bass (D-CA), who sits on Judiciary. However, there has been no official decision on the matter.
And there are concerns among Democrats that in order to avoid what could appear as politically-motivated, the party should conclude its impeachment proceedings—no matter whether they result in articles of impeachment or not—before bleeding over into an election year.
"I think that the Fall is going to be our opportunity to try to identify the major high crimes and misdemeanors and articulate them," Rep. Jamie Raskin (D-MD), also a Judiciary member, told reporters. "It's going to happen soon."
During a private Wednesday afternoon meeting, Pelosi told fellow Democratic leaders the party needed to narrow the scope of their impeachment inquiry to focus on recent revelations that Trump pressured the Ukrainian president to investigate former Vice President Joe Biden and his son, according to Politico.
In recent months, House Democrats have primarily focused their congressional probes on allegations of obstruction of justice, abuse of power and Emoluments Clause violations. But news that Trump asked a foreign leader to open an investigation into a political foe has unified the caucus around more aggressively moving forward with impeachment proceedings.