Liberal Groups Demand McConnell End Senate Recess to Pass Election Aid
More work, less play.
That's the message that 30 progressive activist organizations want to convey to the Senate as part of an open letter they sent Friday to top Republicans, including Majority Leader Mitch McConnell (R-Ky.), that demands they "immediately" return from their more than two-week vacation to allocate money for election security and safety measures amid coronavirus ahead of the November contest.
But the call to action is one that is likely to fall upon deaf ears.
"[T]ime is of the essence for Congress to provide election officials with the resources needed to ensure that no voter is forced to risk putting themselves and their loved ones in hospital beds in order to cast their ballot," the more than two dozen liberal groups wrote to McConnell, Appropriations Committee Chair Richard Shelby (R-Ala.) and Republican Policy Committee Chair Roy Blunt (R-Mo.).
"[T]he Senate has willfully failed to act under your leadership," the letter, first reported by Newsweek, continued. The organizations included the likes of Stand Up America, Indivisible, MoveOn, National Election Defense Coalition, Voto Latino and the American Association of People with Disabilities.
The chamber is on July 4 recess from July 2 until July 20. The House is not in session, but appropriators this week have debated and approved the draft of the annual budget. Since the pandemic, the House has conducted most of its work remotely, returning only for major votes, drawing criticism from Republicans. Both chambers will soon skip town for an entire month as part of Congress' annual August recess.
And there's no expectations for McConnell and other Republicans to give in to the liberals' demands now or then.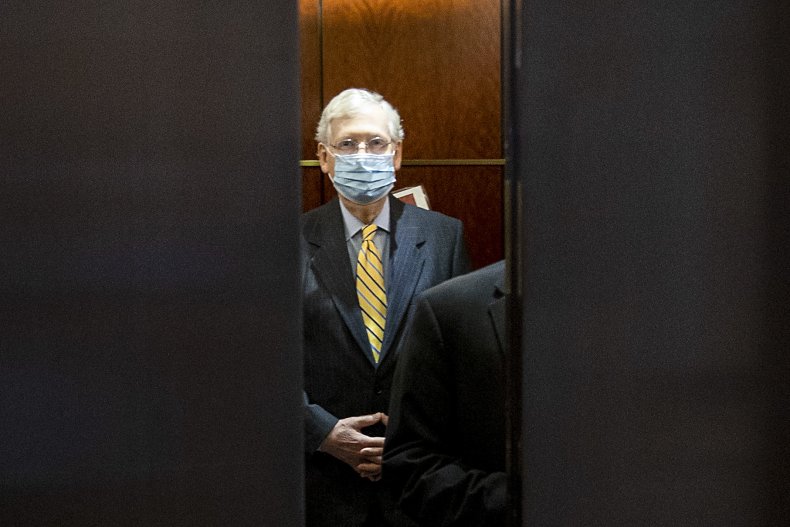 In a massive $3 trillion economic stimulus package that the House passed in May but died in the GOP-led Senate, Democrats included some $3.6 billion in their HEROES Act for local elections. The money was for security initiatives, vote-by-mail options and 15 days of mandated early voting.
But Senate Republicans have refused these endeavors over the concerns that they would federalize local elections.
"It's hard to see their opposition as anything other than blatant voter suppression in the middle of a pandemic," said Stand Up America President Sean Eldridge.
The plea for more voting assistance preludes the tens of millions of voters nationwide who will soon head to the polls for the first time amid a pandemic. And with the push for social distancing comes the drive for more federal spending on absentee and mail-in voting, methods of casting ballots that Democrats want billions of dollars for but in which President Donald Trump has falsely—and repeatedly—claimed are the subjects of widespread fraud.
Congress has so far approved an extra $400 million for elections since the onset of the health crisis. The Brennan Center for Justice estimates it would cost the United States roughly $2 billion to adapt its election infrastructure to insure both security and safety amid the pandemic.
The progressive groups characterized the $400 million figure as "grossly insufficient" for states and localities to adequately respond. In one of their approved appropriations bills this week, House Democrats included another $500 million in election security funding.
"It should be clear to senators of both parties that the cost of ensuring that every eligible voter can safely cast their ballot amid this pandemic is a small price to pay to preserve our democracy—but given your efforts to block this funding over the past two months, it bears repeating that this pandemic continues to threaten the very foundation of our democracy," the liberal activist groups wrote to Senate Republicans.
They added that the Senate "failing to return" would be "an abdication of responsibility" to the American people.