Liberals, Conservatives Nearly Equally Say Violence Against Government Justifiable
After an increase in armed protests and threats against government officials stemming from COVID-19 measures and the 2020 election, a new poll has found ideological liberals and conservatives are about evenly split over whether political violence is ever justified.
The poll is the latest from The COVID States Project, a multi-university effort that's been probing the attitudes of Americans since the pandemic took hold in March 2020. Conducted by PureSpectrum and released on Monday, 23 percent of survey respondents said it was "definitely" or "probably" justifiable to engage in violent protest against the government.
Among that group, self-identified liberals were the most likely to say violent protest was ever justified at 28 percent, followed by conservatives at 25 percent. Ideological moderates were the least likely to say violence against the government is justifiable at 17 percent.
Overall, 29 percent of respondents said violent protest against the government was "probably not" ever justifiable. Another 48 percent said it's "definitely not" justifiable.
The COVID States Project includes Harvard Kennedy School, Northeastern University, Rutgers University and others. Its previous surveys have looked at the use of at-home COVID tests, mask use, vaccines, as well as contentious school board elections and the January 6 storming of the U.S. Capitol.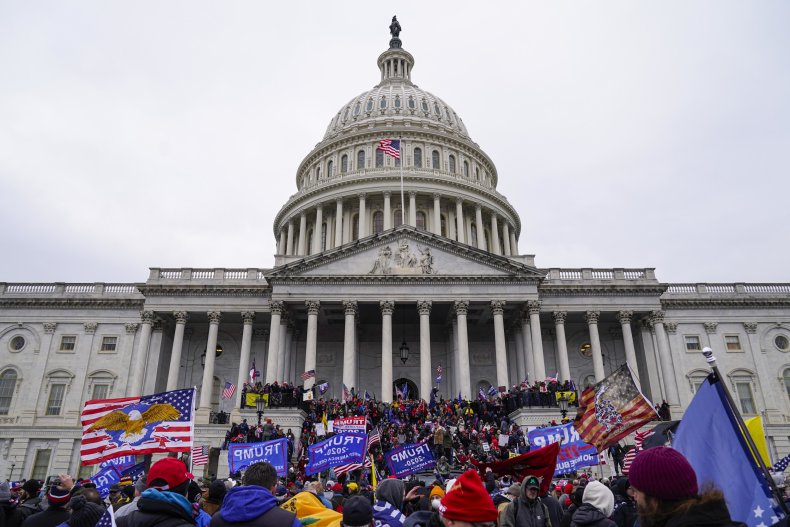 The introduction to the most recent survey noted how mask mandates and COVID-related closures as well as the 2020 election were marked by armed protests and threats leveled against government officials.
"These events have sparked concern about the state of American democracy and the safety of government officials," reads the survey's introduction.
Of the nearly quarter of Americans who said violent protest against the government was justifiable, just 10 percent said it was acceptable "right now."
"Although women and older Americans are still significantly less likely than men and young people to say that violence is justified right now against the government, the gap between groups is significantly smaller than for whether violence is ever justifiable," reads the survey's results. "A five percentage point gender gap separates men (13%) and women (8%) on whether it is currently justified to violently protest against the government, compared with an 11 point gap for whether it is ever justified."
The survey of 22,961 from 50 states and the District of Columbia spotted other gaps around gender, party affiliation and target.
Among those who said violent protest is currently justified, 14 percent are Republicans to 7 percent of Democrats. Among Republican men, the survey found 18 percent compared to 10 percent of their female counterparts felt that violence against the government is currently justified. For Democrats, the gender spread was 9 percent for men to 5 percent for women.
Of those who said violent project is justified right now, Republicans, at 71 percent, were more likely to identify the federal government as a target than Democrats, at 62 percent. On the other hand, Democrats at 43 percent were more likely to say violence was justified against their state government to 26 percent of Republicans.
The party in governor's mansion also influenced responses. Of Republicans who justified violence against state government, 37 percent said it was permissible if their governor was a Democrat to 18 percent for a Republican. Democrats with similar views were at a statistical tie, with 42 percent saying violence is acceptable against state government if a Democratic governor is in charge to 47 percent for a Republicans.