Liberals Finally Get Their Wish: Dianne Feinstein Says She's Out as Top Democrat on Judiciary Panel
Senator Dianne Feinstein, a California Democrat who is the upper chamber's oldest member at 87 years old, announced Monday that she will soon no longer be the top Democrat on the powerful Judiciary Committee.
"After serving as the lead Democrat on the Judiciary Committee for four years, I will not seek the chairmanship or ranking member position in the next Congress," Feinstein said in a statement.
Party control of the Senate will be decided after two runoff races in Georgia on Jan. 5. Judiciary and the Senate will be key in confirming President-elect Joe Biden's administration officials.
The revelation comes a month after the contentious confirmation process for Supreme Court Justice Amy Coney Barrett. Feinstein faced swift calls from progressive groups to step down from her ranking member post—or even retire from Congress altogether—after praising Chairman Lindsey Graham (R-S.C.) for how he conducted the hearing, even embracing him with a handshake and a maskless hug.
"Let's be clear, there's no way that would have [stepped aside] without our movement," said Evan Weber, the political director of the climate activist group Sunrise Movement. "But our demand is and has been for Senator Feinstein to not just step down, but resign."
The GOP-controlled chamber moved at breakneck pace to confirm the Trump nominee before Election Day, causing Democrats to erupt in anger and accuse Republicans of hypocrisy for confirming a justice mere days before an election when they previously blocked an Obama nominee months before the 2016 contest.
After Barrett's hearing, Senate Minority Leader Chuck Schumer (D-N.Y.) told reporters he had a "long and serious" talk with Feinstein. However, he offered little insight into whether he'd lost confidence in her as the top Democrat on the committee.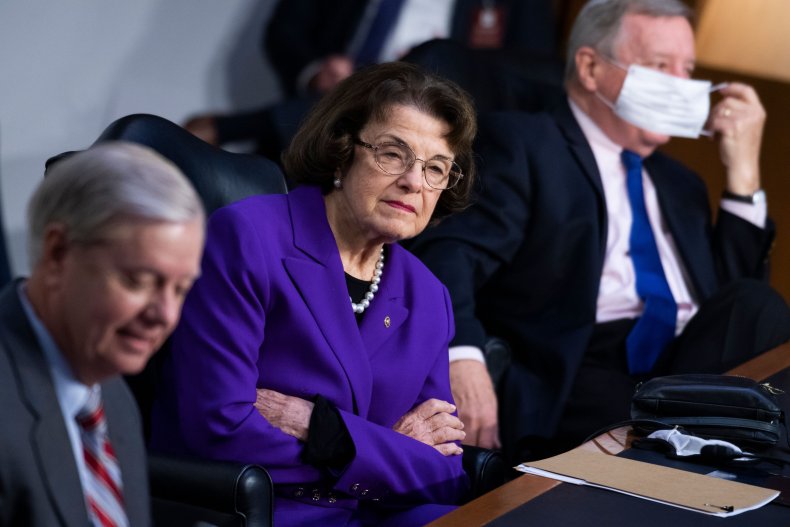 In a statement, Schumer said he is "deeply grateful for Senator Feinstein's leadership and contributions" to the party and as ranking member.
Feinstein has served as ranking member since 2017 and will continue to serve on the panel.
"California is a huge state confronting two existential threats—wildfire and drought—that are only getting worse with climate change," Feinstein said. "In the next Congress, I plan to increase my attention on those two crucial issues."
Based on seniority, Minority Whip Dick Urban (D-Ill.) would replace Feinstein. He said he intends to do so.
"I have served on the committee for 22 years, and I am its most senior member who does not currently serve atop another Senate committee," Durbin said in a statement.
This story was updated to include a statement from the Sunrise Movement.