Libertarians Johnson, Weld Need a Surge to Make Debates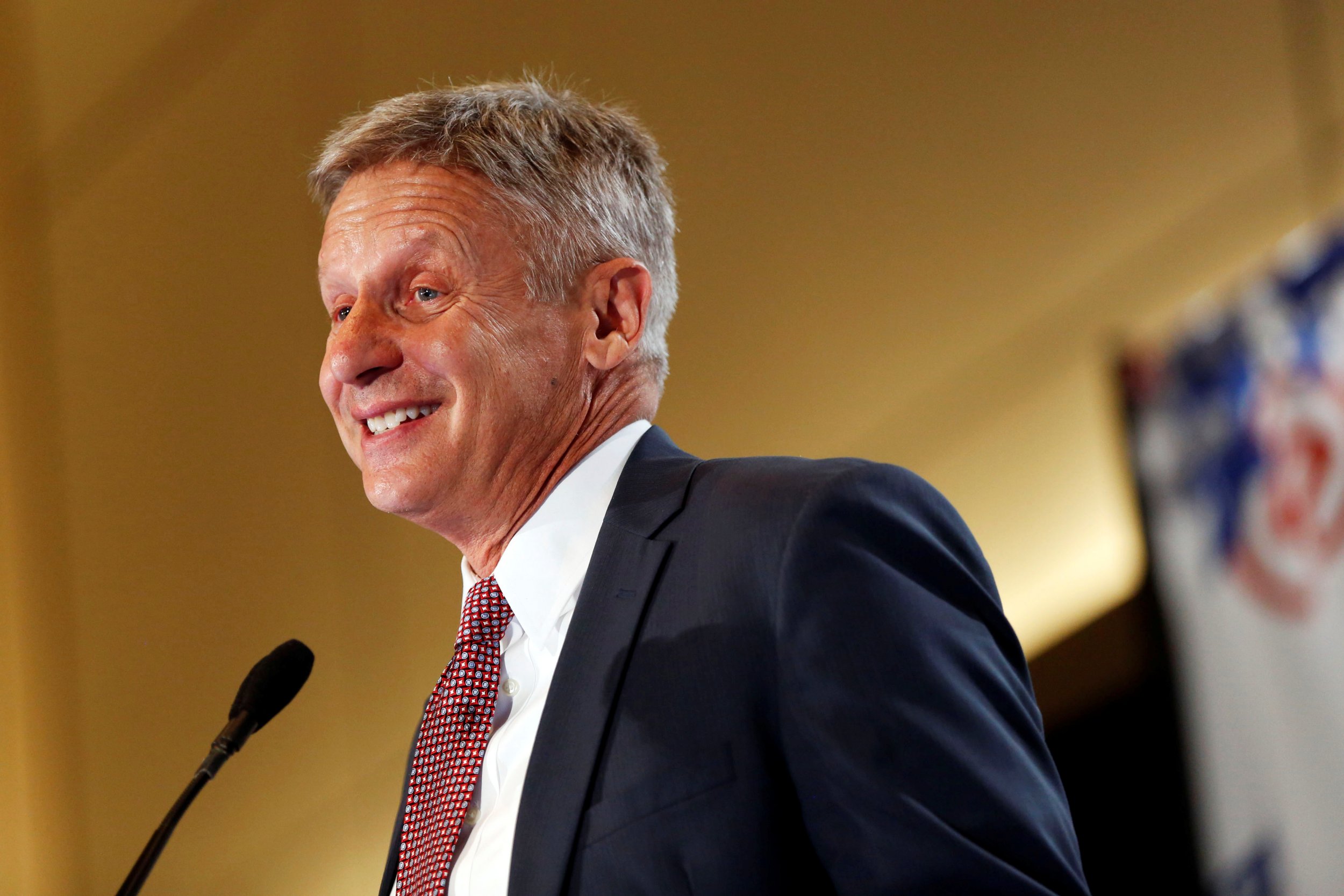 An important question that has the potential to affect the outcome of the presidential race is whether Gary Johnson, the Libertarian Party presidential candidate, can manage to join Republican Donald Trump and Democrat Hillary Clinton onstage at the first presidential debate just a month from now.
A former Republican governor of New Mexico, Johnson himself has said that making the nationally televised debate is essential to his campaign. (One simple illustration of the importance of the face-off is that the last Barack Obama–Mitt Romney debate in 2012 drew 59.2 million TV viewers and many more online.) But no one outside the two-party duopoly has managed to make the stage since 1992, when Ross Perot joined Bill Clinton and George H.W. Bush under the klieg lights. After doing so, Perot wound up winning a stunning 19 percent of the popular vote that fall, the largest third-party share of the general election vote since Teddy Roosevelt's total in 1912.
The Libertarian Party now is better poised to make electoral gains than at any time in its 45-year history. Johnson was a popular two-term governor of a blue state, as was his running mate, former Massachusetts Governor William Weld, who was elected as a Republican. Both men are avuncular and fun: Johnson is a dedicated athlete who has climbed the highest peaks on each continent, including Mount Everest; Weld, with a ruddy hue and sanguine demeanor, famously dove in the Charles River to demonstrate its cleanliness. Each has taken shots at both of the major parties, but they saved their biggest salvos for Trump, who according to Weld "has a screw loose" and who has been called a fascist by Johnson.
Despite the deep libertarian roots in America—the Bill of Rights, after all, sets firm limits on government power—the Libertarian Party has barely ever registered even 1 percent support in presidential election years. Its best showing came in 2012, when Johnson was also its nominee. But this year, with a mainstream appeal that seeks to avoid some of the more extreme "free minds, free markets" views it is known for—such as abolishing Social Security—the party has a chance to cut into the support of Trump and Clinton, who are saddled with historically high negative ratings. But without the turbo-boost of a debate appearance, it would be very difficult for the Johnson and Weld ticket to get close to double-digit support nationally.
The Commission on Presidential Debates, which sponsors the widely watched forums, has set a threshold for candidates: They must average at least 15 percent in a selection of national polls. Clinton and Trump easily clear that hurdle, but Johnson's support needs to see an increase. He often weighs in at around 9 or 10 percent in polls—the current average is around 10.2—sometimes jumping to 12 percent and beating the 15 percent mark in a few states and solidly among some demographics, such as voters ages 18 to 29.
The commission hasn't said exactly which time period it will analyze, but it has to come early enough to give candidates enough time to prepare before the first presidential debate at Hofstra University in New York on September 26. That means Johnson and Weld are entering a crucial three-week period during which they need to grow their support in polls sharply.
This past week, Johnson got some good news: The polls that are being used all ask voters about the Libertarian, which is a considerable advantage when compared with polls that rely on respondents themselves recalling his name. The surveys chosen by the debate commission are considered among the best because of their sample sizes, questionnaires and other methodologies. They are Fox News, CBS/New York Times, NBC News/Wall Street Journal, CNN/Opinion Research Corporation and ABC News/Washington Post.
The bad news for Johnson and Weld is that the Green Party's nominee, Jill Stein, is part of at least four of these surveys as well, which will likely cut into Johnson's support among those who can't stomach Clinton or Trump. Stein is polling more in the realm of 3.6 percent in the latest RealClearPolitics average, but every point counts as Johnson tries to make the 15 percent cutoff.
To help make the grade, Johnson has been holding high-profile rallies in August, and has two more coming up, in Lewiston, Maine, on Friday evening and in Boston the next day.
The campaign is making its strongest stand in the West and believes it has a shot at winning in Utah, where its headquarters is based and where Trump has fared poorly, especially among Mormons, a religious minority that's seen some of its own history of persecution reflected in the mogul's proposals to temporarily ban Muslims from entering the country.
The Libertarian campaign's fundraising has also attracted notice: It picked up close to $3 million in the first two weeks of August—about 10 times what Johnson raised four years ago and with a Bernie Sanders–size average contribution of just $32. That's a small cash pool compared with the duopoly's, but it shows some real grassroots enthusiasm. According to one poll, almost two-thirds of voters want Johnson in the debate.
So far, Johnson's presence in polls doesn't seem to be tipping the race toward Trump or Clinton, but that could easily change if he draws bigger numbers and makes the presidential debates.