Liberté, Égalité, Fraternité — but Don't Touch the Family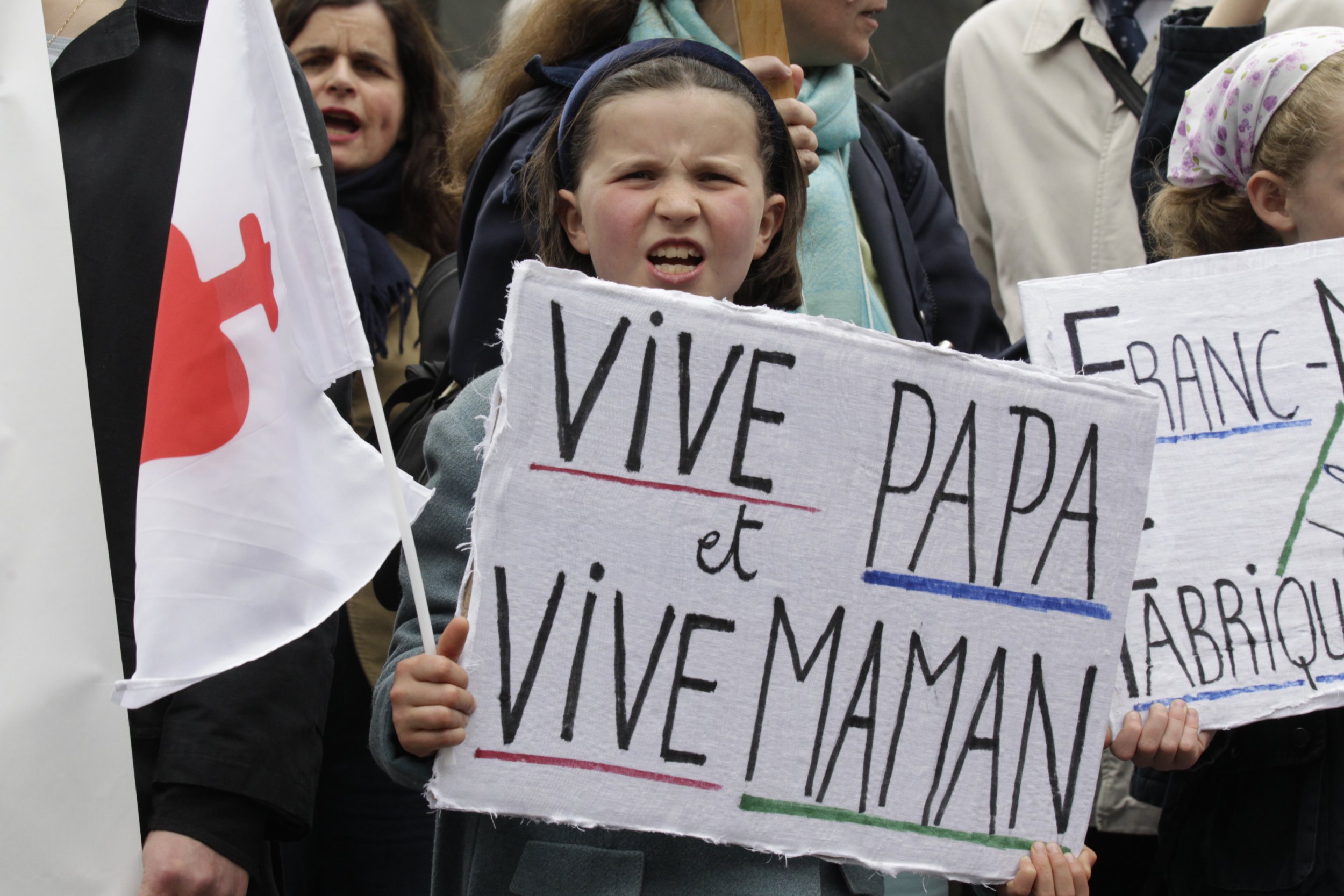 My Paris flat is a few steps from the Boulevard des Invalides, a wide, tree-lined road which perhaps should be renamed "Protest Alley." When the French have a gripe, which is often, they usually clog this artery, reminding me what's bothering them.
The protest march on the first Sunday in February was a beauty. Not the familiar ranks of the great unwashed demanding more pay for less work. These demonstrators were the great well-scrubbed: clean-cut, neatly dressed men, women and children.
And, there were a great many of them. Organizers said 500,000. The police said 80,000. Whatever the head count, the procession was about three miles long. What's more, the marchers included leaders and supporters of Catholic groups, such as Civitas, and Islamic groups, such as Muslims for Children—not communities usually found on the same side of the barricades. "Family threatened. Society in Danger," read one banner. On others were caricatures of President François Hollande wearing a crash helmet and astride a motor scooter, as he was photographed by a paparazzo recently while en route to a tryst with an actress.
Clearly, Hollande was not seen as a great advertisement for family life. He has never married. He cheated on the mother of his four children, Ségolène Royal, then cheated on her successor, Valérie Trierweiler, his partner and France's first lady until the couple split in January. However, this being France, where infidelity is not an impeachable offense, the mass protest was less against Hollande's personal peccadilloes than his Socialist government's policies.
First, there was the legalization of gay marriage and adoption in May last year. Next a "modernization" of family law to "reflect the new 'diversity' of families.' " On the face of it, a draft bill would move toward recognizing the rights of stepparents. But conservatives suspected a smokescreen to smuggle into law surrogacy and in vitro fertilization–assisted reproduction for gay and lesbian couples. "They want to replace mother and father with parent one and parent two," the president of Civitas, Alain Escada, told Newsweek.
Then along came the ABCD of Equality, an experiment sponsored by the Ministries of Education and Women's Rights with the stated intention of deconstructing gender stereotypes among elementary school children and promoting equality and respect between the sexes.
"Mon dieu!" went up the cry from those who suspected it was the work of lobbyists for lesbian, gay, bisexual and transgender activists. It must be a Trojan horse, they say, for so-called gender theory. Proponents of the theory – developed notably by John Money, a sexologist at Johns Hopkins University, Baltimore, and by feminists – argue that masculine or feminine identities depend on culture rather than biological or anatomical reality.
The government denies gender theory is being taught, but that didn't stop anxious French social conservatives from taking to the streets.
A few days after the demo in Paris, the government announced it would not, after all, introduce a bill on "modernizing" family law this year. There was already too much on the agenda of the National Assembly in 2014, said the office of the prime minister. Few people believed them.
Jerome Brunet, a spokesman for "Manif Pour Tous" (Demonstrations for All), which orchestrated the Paris protest, told Newsweek, "It was postponed only because we are close to elections."
Nationwide municipal elections – for local mayors and councils – are scheduled for late March. The left-wing government's approval ratings are in the gutter and an overhaul of family law could provide more ammunition for opposition parties on the resurgent right.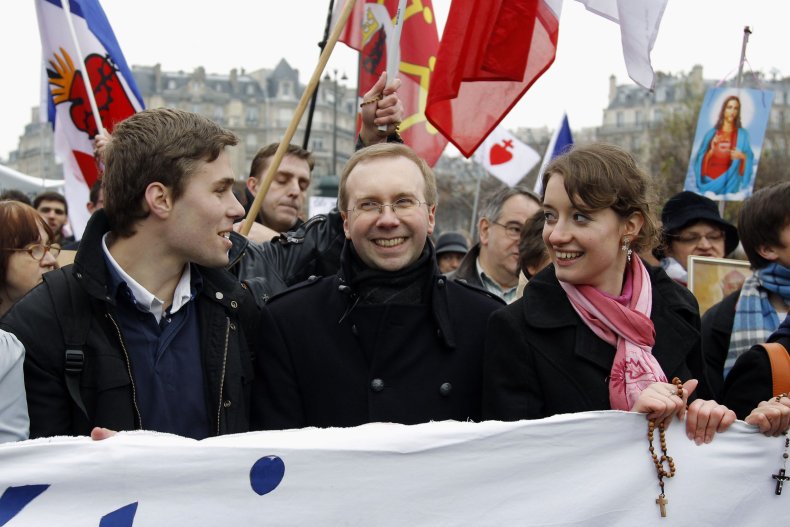 However, there has been no U-turn on the controversial ABCD of Equality program in schools. It was the initiative of ministers, notably the Minister for Women's Rights, Najat Vallaud-Belkacem, who did not seek or require parliamentary scrutiny or approval. In a civilized country in the 21st century, who would argue against equality and respect between the sexes?
Not so fast. Critics say the name of the program is misleading and its implementation far from transparent. When did ABCD teaching begin, in how many schools, for how long, what are the training and guidelines for teachers, who and what will decide if it is adopted universally? None of this is made clear on the official ABCD website. In fact, the test phase is already in 600 classrooms in 200 schools.
But, is it really necessary? "No," says Olivier Vial, who runs CERU, an educational think tank, and heads the Inter-University Union of right-wing teachers and students and the Observatory on Gender Theory, created 12 months ago. "The basic principle that ABCD puts forward is that we must defend equality between the sexes. This claim is unfounded, because girls are not victims in education, on the contrary, at all levels, girls outperform boys," Vial told Newsweek.
Statistics from the Ministry of Education do indeed show more than twice as many women as men are qualifying for professions such as medicine and law, and women have overtaken men as commerce graduates. Among those hardest hit by the economic downturn – the under-30s – fewer women than men are unemployed.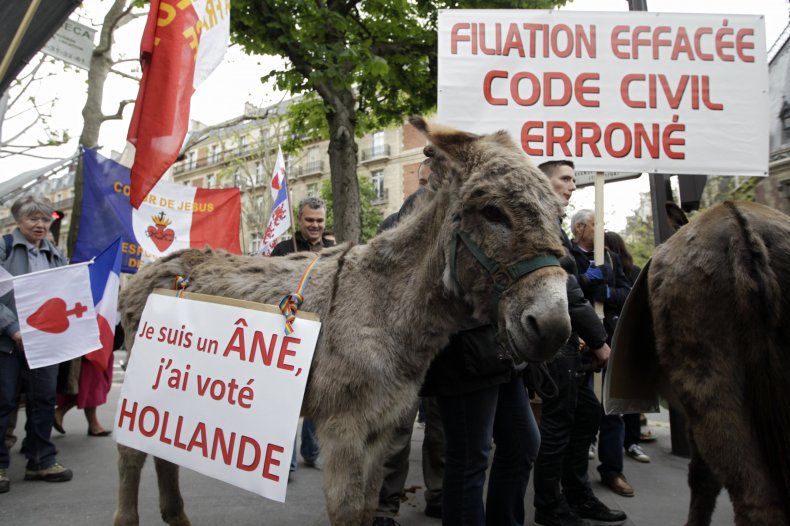 Supporters of the policy, including Socialist Senator Laurence Rossignol, say that does not mean discrimination and gender stereotypes have disappeared. "In the technical and technological fields, girls are a minority despite their good results in science," Rossignol told Newsweek, adding that both boys and girls can be held back by gender stereotypes.
Worried parents have latched onto colorful tales of how the program is playing out. Among resources for teachers, for example, is a section entitled "lace, ribbons, velvet and embroideries", which looks like a pictorial history of cross-dressing in France. They include King Louis XIV in stockings, high heels and a wig, the infant granddaughter and grandson of the writer Victor Hugo clad in identical frocks, and a model wearing Yves Saint Laurent's "le smoking pour femme" (tuxedo for women), with pants, jacket, dress shirt and a black bow tie.
Rossignol said the point is that clothing is not inherently masculine or feminine. "Boys used to wear dresses and have long hair," she said.
Other recommended teaching aids include movies such as Tomboy, a French-made drama in which Laure, an androgynous 10-year-old girl, moves to new neighborhood, renames herself Mikäel and masquerades as a boy. Her playmates are fooled and another little girl falls in love with Mikäel. In 2011, the movie won prizes at lesbian and gay film festivals in Europe and North America.
A couple in Caen, in western France, learned in December that Tomboy was to be shown to children in the class attended by their 11-year-old son, Joseph, and demanded to see it beforehand. Not liking what they saw, with the head teacher's agreement, they kept their son away from school on the day of the screening. The next day a teacher played a DVD of Tomboy for Joseph and another absentee. "We were heard but not listened to," the boy's father told Newsweek.
Some of the tales have proven less than convincing. Civitas posted online photos of what it said was a woman demonstrating sex toys to school children, without making clear when or where this happened. Newsweek asked and was told "in Canada." Civitas has since made this clear.
Hervé Mariton, an opposition member of parliament and one of the few politicians to take part in the "Manif Pour Tous," said parents should not be undermined. "It is not the school's role to teach children about modifications to society," he told Newsweek. "Schools must not ignore parents and think they are a substitute."
In a TV debate in January, Rossignol added fuel to the flames by declaring, "Children do not belong to their parents." She says she was making a general point that no human being belongs to another.
There's been a touch of hysteria on both sides. France's left-leaning media has painted critics of the reforms as wild-eyed fundamentalists spreading falsehoods. The newspaper Le Monde, for example, published online two critiques on what it called 10 hoaxes on gender theory. A French journalist suggested to Newsweek that opposition to ABCD is a plot to unite French Catholics by Opus Dei, the devout Catholic movement centered in Spain.
Vallaud-Belkacem declined to speak to Newsweek about the controversy, but Rossignol said the aim was to show that biological differences should not lead to inequality: "The idea is that children can thrive in their sexual identity without thinking that the other is better or worse."
In January and February, thousands of parents defied the authorities and kept their children away from school for a day. Farida Belghoul, who orchestrated the boycott, told Newsweek parents will continue to absent their children for one day a month until schools abandon the ABCD program and gender theory.
At a press conference in Paris last month Belghoul was flanked by senior representatives of both Catholic and Muslim associations who echoed her belief that ABCD is a trailblazer for gender theory and that gender theory is a threat to civilization as we know it. Albert Ali, a French Muslim writer, put it like this: "We can't leave our innocents in the hands of these Dr. Frankensteins of education."