Liberty University Accepts Falwell Jr's Resignation After He Withdraws It
Jerry Falwell Jr. has officially submitted his resignation as president of the privately-owned Christian college Liberty University after initially withdrawing his resignation amid media reports on Monday. He resigned under allegations of sexual misconduct.
The resignation removes Falwell as the university's president and from its Board of Directors.
The Executive Committee's Board of Trustees had asked Falwell to take an indefinite leave of absence on August 7 after Falwell posted a photo of himself on Instagram with a woman, described as his wife's assistant, with his pants unzipped and holding a cup of what he called "black water."
Falwell responded to the controversy over the post by saying it was taken in fun—he later deleted it. Then, on Monday, reports resurfaced that Falwell and his wife, Becki, had engaged in a long-term sexual relationship with a third individual.
Falwell said that he wasn't involved in the relationship and had sought professional help to process the "emotional toll" of his wife's affair. The third individual claimed the relationship was conducted with Falwell's blessing and his presence. Falwell denied the individual's claims.
"Additional matters came to light that made it clear that it would not be in the best interest of the University for him to return from leave and serve as President," Liberty University wrote in a statement to Newsweek.
While Falwell had initially agreed to resign immediately as university president on Monday, he then instructed his attorneys to not tender his resignation letter after several news websites began reporting on it. On Tuesday, Falwell officially submitted the letter.
"I call upon the University community and supporters to be in prayer for the University and for all its leadership, past, present and future, as we walk with the Lord through this stormy time of transition," said acting President Jerry Prevo in a statement.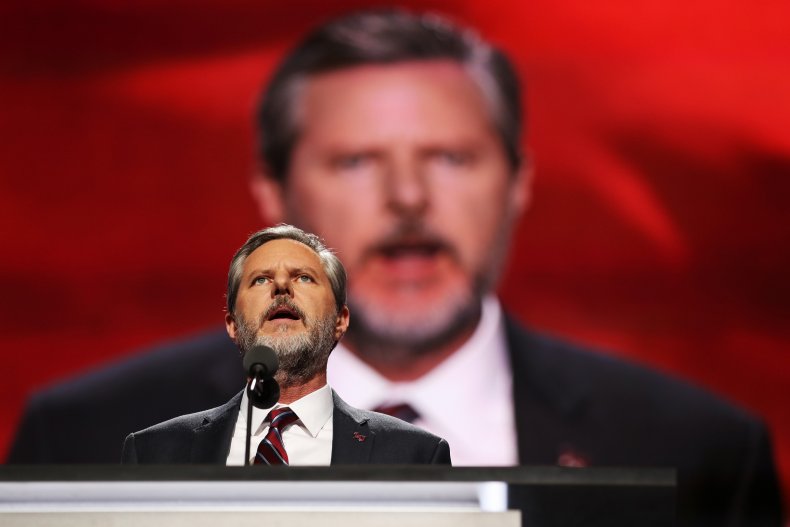 Falwell had also caused a recent racial controversy while serving as the university's president.
On May 27, Falwell tweeted an image of a face mask with a printed image from Virginia Governor Ralph Northam's 1984 medical school yearbook showing Northam in blackface standing next to someone wearing a KKK hood. Falwell wrote that he'd only wear a face mask if it could have the image of "Governor Blackface" printed on it.
Falwell had published the post as a way to shame Northam over his executive order requiring state residents to wear facemasks to prevent the public spread of the COVID-19.
But in response, 35 Black Liberty University alumn wrote a two-page public letter expressing disappointment and grief over Falwell's "incendiary rhetoric... [making] light of our nation's painful history of slavery and racism." The letter said that Falwell's past "infantile behavior" had belittled staff, students and parents and "does not display the kind of Christian witness that Gospel demands of us."
"I have deleted the tweet and apologize for any hurt my effort caused, especially within the African American community," Falwell later wrote.