Liberty University Allegations Latest Controversy to Hit School Over the Years
A report published Sunday details allegations that Liberty University suppressed reports of sexual assaults on its campus for years. The accusations are just the latest in the many controversies that have plagued the Christian school over the years.
ProPublica said in a lengthy story that Liberty University threatened to punish students with conduct violations after they had reported to school officials that they were raped. Some of the students who revealed they were the victims of sexual assaults were told by school officials they had violated the school's strict moral code, known as the Liberty Way, ProPublica wrote.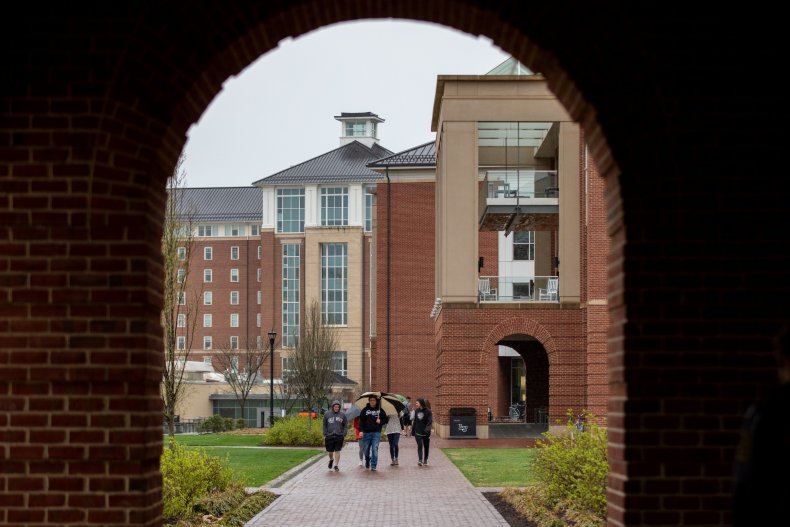 For its story, ProPublica spoke with more than 50 former students and staff members at the school and also reviewed records from more than a dozen cases. The exposé brought Liberty University's name back into the news, but the school has been the focus of coverage before because of high-profile controversies in the past.
The school, originally named Lynchburg Baptist College, was founded in 1971 by famed televangelist Jerry Falwell Sr. and Elmer Towns. The school was rebranded as Liberty Baptist College in 1977 before settling on Liberty University in 1985.
By the 1980s, Falwell headed the right-wing Moral Majority organization, which in itself brought some controversy to the school, including criticism of its tax-exempt status from the IRS. Falwell died in 2007, and his son Jerry Falwell Jr. took over the school as the new president.
Under Falwell Jr., the school became the largest Christian university in the U.S. for some time, thanks in part to its large online program and a $1 billion endowment. The younger Falwell also made Liberty a destination for conservative speakers; Texas Senator Ted Cruz even launched his White House bid from the school's campus, in 2015. Former Florida Governor Jeb Bush and Donald Trump also spoke at the school during the same election cycle.
Following multiple mass shootings across the country, including some on college campuses, Falwell ignited a major controversy in late 2015 by encouraging Liberty students to carry concealed weapons while at the school. He also made anti-Muslim statements during one of the school's convocations.
"I've always thought if more good people had concealed carry permits, then we could end those Muslims before they walked in," he said.
Falwell's eventual endorsement of Trump in the 2016 presidential election caused one Liberty University board member to resign and a group of students to release a public statement denouncing the Republican nominee. After Trump's victory, he returned to the school multiple times during his presidency for speaking engagements.
Evangelical author Jonathan Martin objected to Liberty University's growing affiliation with Trump and called for a campus-wide prayer protest in 2019. When Martin was arrested at Liberty and removed by campus police, student journalists tried to cover the protest rally, only to later claim that Falwell personally censored them.
In October 2019, Falwell settled a lawsuit with Gordon Bello, who claimed the Falwell had promised him a stake in a gay-friendly hostel business venture. Bello also reportedly possessed sexually revealing photographs of Falwell and his wife, Becki.
In May 2020, Falwell tweeted an image of a mask emblazoned with a picture of Virginia Governor Ralph Northam in blackface. The action resulted in several Black faculty members and student athletes leaving the school.
Falwell took a leave of absence from Liberty in August 2020 after photos he posted on Instagram showed him with his arm around a woman who was not his wife, while his pants were unzipped and he held a glass containing an undetermined drink. Other instances of him "liking" Instagram photos of scantily clad women were also disclosed.
More allegations about Falwell and his wife surfaced soon afterward, including one from a former pool attendant named Giancarlo Granda who said he engaged in a relationship with the couple beginning in 2012 when he was 20. He told Reuters that he would have sex with Becki Falwell while Jerry Falwell watched. (Later, Jerry Falwell said his wife had an affair with Granda but denied he was involved in the trysts.)
Jerry Falwell Jr. eventually resigned as president of Liberty University in the wake of the sexual allegations. Soon after, though, a former student at the school said Becki Falwell performed oral sex on him while he stayed over at the family's home after a band practice with her eldest son in 2008.
In July 2021, the university was sued by a group of 12 unnamed women over allegations that the university created an environment that increased the likelihood of sexual assault and rape.
The school's Lynchburg campus did not require COVID-19 vaccinations, masks or social distancing this fall. A coronavirus outbreak resulted, with more than 400 students and 50 staff members testing positive for the virus and forcing the school to go exclusively online for weeks.
Contacted for comment by Newsweek, a Liberty University spokesperson provided the following statement: "Liberty University prefers not to issue public comment on litigation, but the university would like to affirm its commitment to take all allegations of sexual assault seriously and in accordance with the law."
Update 10/25/21, 3:10 p.m. ET: This story has been updated to include a comment from a Liberty University spokesperson.