Liberty Student Sues, Claims Jerry Falwell's University 'Profiting' Off of Coronavirus Pandemic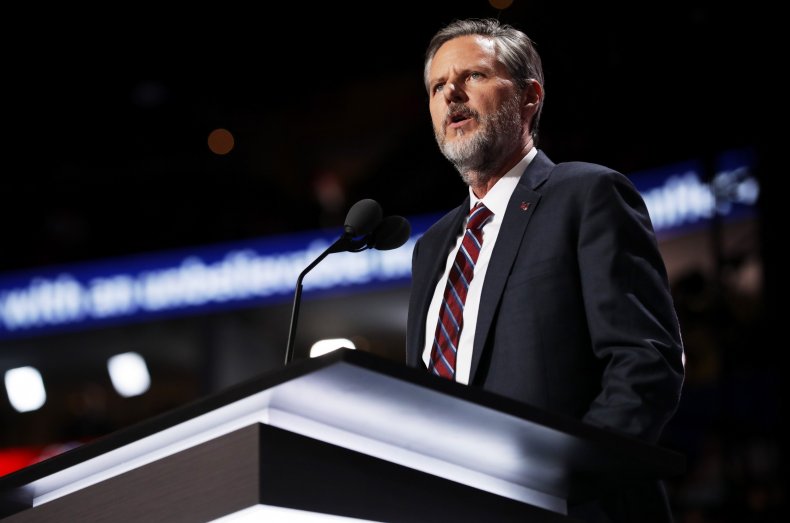 A new class-action lawsuit filed on behalf of Liberty University students in Lynchburg, Virginia, is accusing the school of improperly hoarding fees and "profiting from the COVID-19 pandemic."
The federal lawsuit, led by the unidentified Student A, alleges that Liberty University only nominally placed its facilities on "open" status as a pretext for holding onto students' campus and housing fees.
"Despite ending on-campus services and activities for the rest of the semester and leaving students with no safe and practical choice other than moving out of their on-campus housing and discontinuing comping to Liberty's campus," the lawsuit, filed Monday, said. "Liberty has refused to refund to students and their families the unused portions of the fees that they each paid to cover the costs of certain on-campus services and activities, which are no longer available to students."
Student A told Newsweek through their attorney that they believe the school's response has been "irresponsible and dangerous."
"President Falwell does not seem to really have the student's best interests in mind," they said, adding that the university's actions have "put people in danger."
A Liberty University spokesperson, who was accused in late March of berating a student who had spoken out against the school's COVID-19 response, told Newsweek in a statement it is "not surprising that... class action attorneys would seek to profit from a public health crisis."
"Liberty University has tirelessly attempted to balance the needs of students, employees, and the community as it has navigated through the unprecedented health challenges presented by COVID-19," the statement said. "Liberty's attorneys will defend against this lawsuit, which is without legal merit."
The statement added that because government actions caused the reduction in services, "that fact legally excuses Liberty's adjustments and leaves the plaintiffs without a legal case."
For the current academic year, students can pay up to $4,450 for a meal plan, up to $8,000 for housing, a $340 student health fee and a $770 activity center fee, among other costs, the lawsuit said.
However, many of these services are no longer accessible to students because the university is "encouraging... to consider staying home" during the pandemic, according to a campus-wide email the lawsuit said was sent March 17.
Instead, Liberty University offered a $1,000 credit on the fall semester bill to students who were no longer residing on campus because of disruptions related to the school's coronavirus measures.
On its website, the school disclosed that it would prohibit gatherings of 10 or more people, move dining services to take-out meals, close fitness centers and close the campus to visitors, among other changes.
The class-action complaint also accuses Jerry Falwell Jr., the politically controversial figure and president of Liberty University, of contributing to the confusion on campus by initially dismissing "the seriousness of the pandemic." It also accuses Falwell of training his social media accounts to "invite scorn upon anyone who criticizes him." Falwell Jr. was not named as a defendant.
Many students have spoken out about Liberty University's reaction to the viral outbreak in early March. Two professional reporters involved in pursuing stories about these frustrations were named in arrest warrants for trespassing, at the university's behest.
Explaining why they wished for their identity to remain confidential, Student A told Newsweek that they are "worried about retaliation."
"I want to finish my studies and not be punished for standing up for what's right," they said. "I also am concerned about online harassment from people who are supporters and also critics of the university."
Updated 4:43 p.m. ET, with comments from Student A, the anonymous plaintiff in the class-action lawsuit.