Library Book 300 Years Overdue Returned With Note From Woman
A 1704 edition of the 1688 book The Faith and Practice of a Church of England-Man has found its way back to Sheffield Cathedral in England around 300 years after it was checked out of the cathedral's library—and 200 years after the library itself was dismantled, officials said.
Written by the Christian theologian William Stanley, The Faith and Practice of a Church of England-Man seemingly provides an overview of the principles and beliefs that members of the religious sect are expected to hold. Stanley himself held a number of positions within the church before he died in 1731, according to the University of Cambridge.
Sheffield Cathedral was built in 1430 but was known as Sheffield Parish Church until 1914. It still bears traces of the original Norman stonemasonry, according to the cathedral's official website. Over the course of its nearly 600-year history, the cathedral hosted members of King Henry VIII's inner circle, weathered a deadly flood that killed 200 residents, and survived several major wars, including the English Civil War, World War I, and World War II. It sustained minor damage when German forces bombed Sheffield in 1940.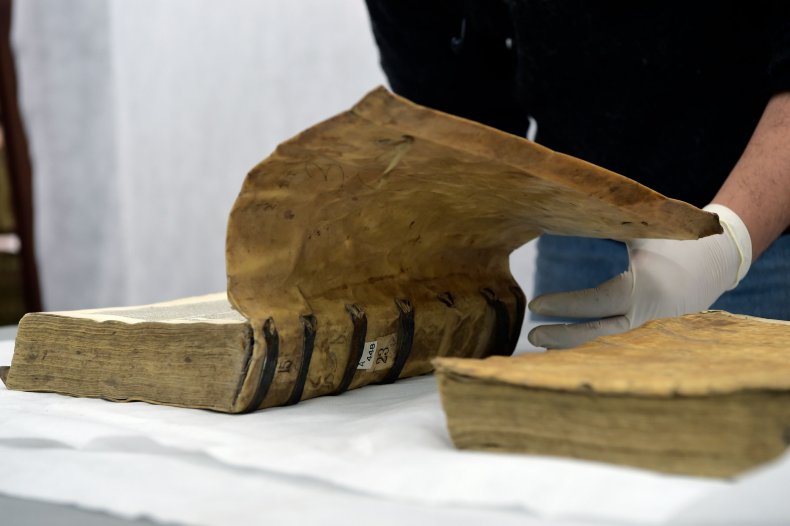 The book, which arrived in the mail last week, was accompanied by a note from a woman in Wales who said that her recently deceased godmother had willed that it should be returned to the cathedral, Reverend Canon Keith Farrow told the Sheffield Star. The inner pages bear the inscription "This Book Belongs to ye Lending Library in Sheffield Church 1709."
"So this has obviously been taken out of the lending library and not returned. You can imagine someone coming into the lending library and actually borrowing this book," Farrow said. He has served as the cathedral's vice dean since 2019 and the cathedral's canon missioner since 2014, according to a cathedral press release.
The book has outlived its own repository, which was likely demolished in the early 19th century.
"Where in the building it was, we're not sure. We have a few books from that period from the early Georgian and onwards, so we think probably at the time of the first re-ordering of the church in the late Georgian period, the library was probably dispersed," Farrow said.
Probably much to the sender's relief, the cathedral has elected not to charge her a late fee. Quipping that the sum would probably amount to enough to buy a new roof for the cathedral, Farrow said that he had promised the family that he wouldn't fine them.
"[T]hey've returned the book and that's wonderful...Now it's come back home so it's a joy to have this little jewel back here in Sheffield Cathedral," Farrow said.
The book is now on display in the cathedral, according to the Sheffield Star.