Library Honoring Michelle Obama Vandalized With Trump Graffiti
A Little Free Library honoring former first lady Michelle Obama has been vandalized with pro-Trump graffiti.
The Washington Post reported Saturday that Maureen Dolan-Galaviz set up the library—offering free books to passers-by—near her home a few blocks from the White House shortly after the January 2017 inauguration of President Donald Trump.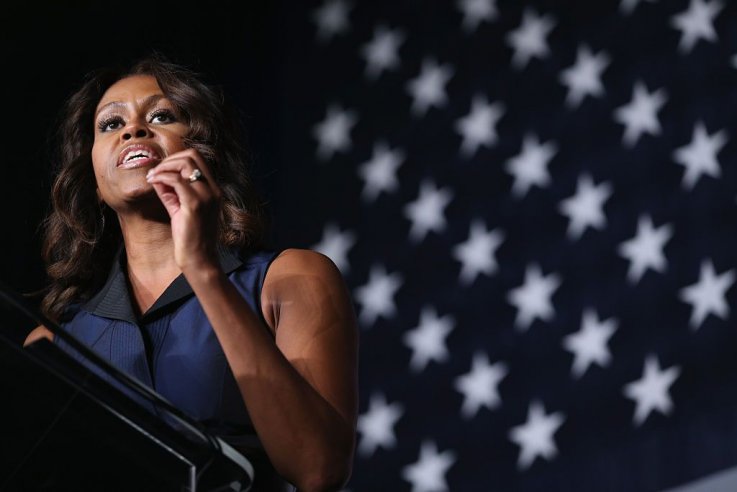 The library features a plaque reading: "In Honor of Michelle LaVaughn Robinson Obama. Lawyer, writer, and First Lady of the United States."
Dolan Galaviz told the Post that the library had been the subject of frequent attacks, with vandals breaking its window windows and ripping off the plaque.
She said that a vandal then tore down a picture of Obama put up to replace the plaque, and scrawled 'Trump' over Obama's name on the building.
"Who would do that?" Dolan-Galaviz told the newspaper. "If there is one thing that should be off limits it's the idea that we all deserve access to books."
Residents expressed shock at the attacks
"I've never seen the vandal," resident Debby Hanrahan told the Post. "None of us have time to stand guard and protect it."
"We are a neighborhood of writers and readers," she added. "For somebody to have something out for a little library, I just can't fathom it."
Dolan-Galaviz said that she named the library after Obama as an act of defiance after Trump took office.
"I think the whole city was reeling from the realization that the Obamas were going to be out," Dolan-Galaviz said. "This was a way of saying, 'We are still here.' It was a little act of, not rebellion, but standing our ground."
The incident comes amid debate about a breakdown of civility in American politics, with Trump administration officials confronted by protesters in public and the president criticized for insulting opponents on Twitter.
Since being launched in 2009, the Free Little Library project has seen small libraries set up in streets and communities across the U.S. and 88 countries worldwide.
Library Honoring Michelle Obama Vandalized With Trump Graffiti | U.S.