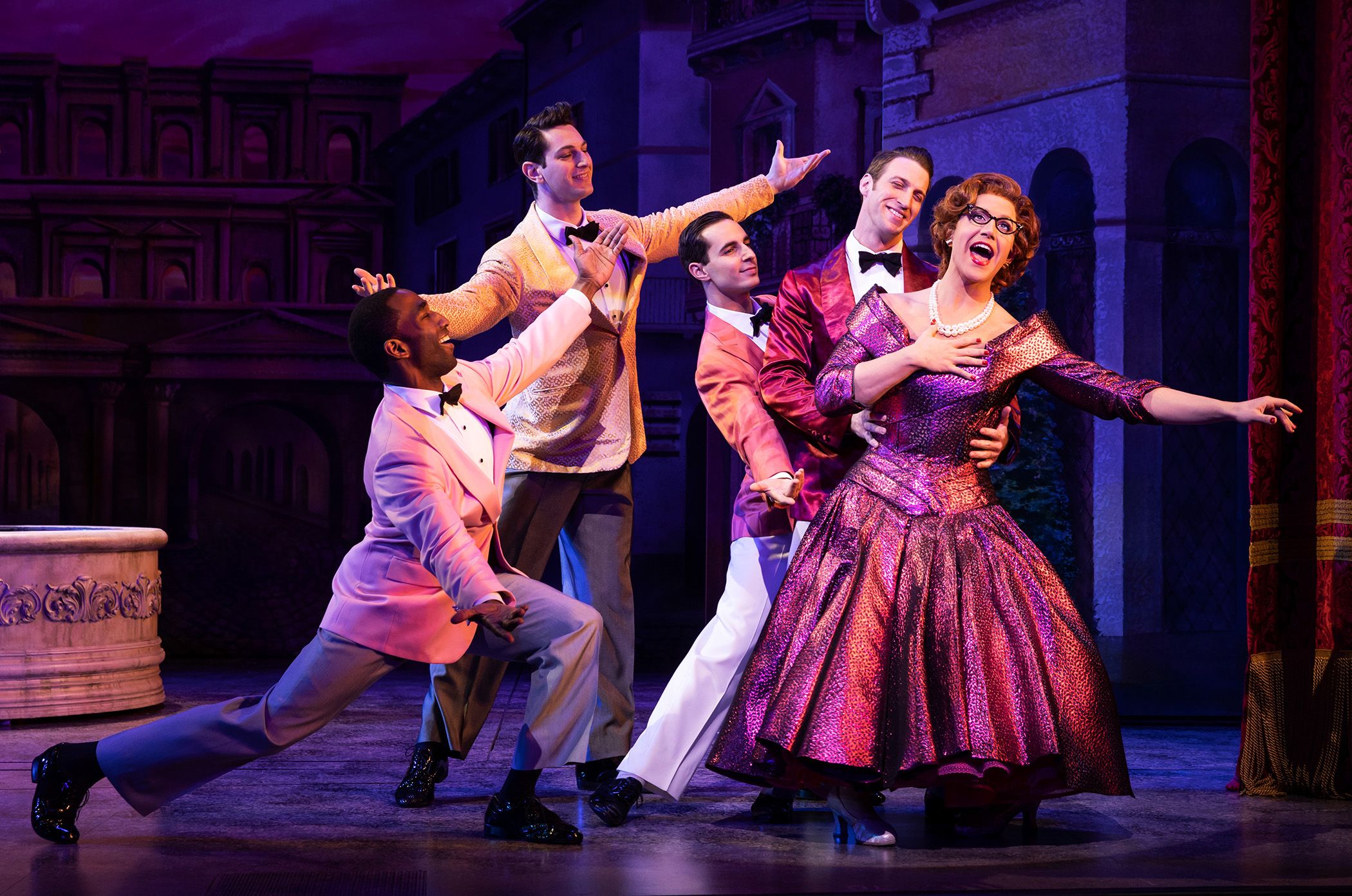 Adapting a movie into a Broadway musical is hard enough, but when the movie is as popular as Tootsie, the degree of difficulty rises exponentially.
Robert Horn's problem was exactly that hard. The potential pitfalls were numerous, none the least of which was changing a very-familiar plot, and working with a lot of well-drawn, funny characters. A block or so away at the Belasco Theatre, the creators of Network, another iconic movie, had a similar problem; they went with the Paddy Chayefsky script, making relatively few text changes. A few blocks north Beetlejuice's creators made many departures from the movie script.
Tootsie and its librettist Robert Horn have gotten rave reviews, as well as a New York Drama Critics' Circle award and a Tony nomination for the book of Tootsie. Horn talked with Newsweek about the how it all came about.
The project had been in the works for a long time. "At one point early on," Horn says, "the movie's screenwriter Larry Gelbart was writing it. And he sadly passed away." Gelbart's first show, The Conquering Hero (based on the Preston Sturges classic Hail, the Conquering Hero) didn't go very well; it closed after eight performances. But it did result in Gelbart and theater's more famous quips, one that captures the special hell that is the adapting a hit movie into a musical: "If Hitler is alive, I hope he is out of town with a musical."
After Gelbart's passing, plans for the Tootsie musical were up in the air. Scott Sanders — the show's lead producer with Carol Fineman — had gotten the rights to the property back when he had worked at Sony Studios.
The script went through a lot of incarnations before Horn was approached.
"I had done a reading of a show called Moonshine, based on the TV show Hee Haw," Horn says. "Scott saw it, and on the basis of that he said I was the guy. He already had David Yazbek attached. And I got petrified. I said, 'Are you serious? You want me to put that target on my back?'"
Yazbek has won, among many other awards, Tonys for The Band's Visit and The Full Monty.
"But I went in and met with David. And we sat down and said, 'Well, here's what we don't want to do,' and we were on the same page. So I said, 'All right take a breath and go.'"
Dorothy Michaels: Man and Superwoman
The movie Tootsie has been an audience favorite for 37 years, featuring some memorable scenes. The problem then became how do you work with them without messing things up?
"I would go back and reference the movie at certain moments, when I was stuck. I used the movie more to inspire me," Horn says. "So David and I had to have blinders on; we had to get that first draft out that was ours and see what it was. We had to sit down around a table and read it with actors. We wanted to honor the movie. We never wanted to deny the source material. At its core, it is a wonderful story about actors and this industry. The foundation was built by the movie, without a doubt. We just decided how we wanted to build the house."
Horn says he knew the movie prior to working on the script, but that he "put the movie out of my head" when the time came to write the musical's libretto.
"I knew the tail couldn't wag the dog. I couldn't say, 'I have to keep this from the movie; I have to keep that from the movie,'" Horn says. "We knew we were going to update it. The movie was iconic and perfect for the era and the time it was made in, but it could not be translated to the climate that we live in now. I said, 'Let me honor the DNA of the movie and think of this as a story about a desperate guy who's told he can no longer do the one thing he loves more than anything and what would he do to change that?'
"I didn't lock myself into anything from the movie. My feeling was that anything we feel is precious will hurt our telling of the story. Once we figured out how we were going to tell our story, I could look at the movie and say, 'What fits back in?'"
The working process is different on every show. Sometimes the book writer does a complete script without music, other times, especially in jukebox musicals, the music dictates the plot. Horn and Yazbek's process was more collaborative.
"David and I worked very much together on how the show was going to lay out," says Horn. "We made the decision to take it out of the world of soap opera and put in into a Broadway musical, make it sort of a love letter to this industry that we all celebrate and live in. That sort of told us where it was going to sing.
"Nobody writes a character song like David Yazbek. As we were figuring out how we wanted the characters to live in our world and what did we want the relationships to be in our world — David knows where the perfect place to put a song is and what kind of a song that should be. So it's not like I necessarily made room."
What is unusual in Tootsie are the stretches of straight dialogue. This was not an accident. "The interesting thing about this show," Horn says, "is it feels like a musical and a play. They let me write scenes with no songs in them. Then David would go, 'Ah this is where we've got to sing now. This is where that emotion must be expressed this way.'"
But did Yazbek steal all Horn's best material — which is common practice in musicals? At this, Horn laughs and says yes and no: "What David would tell me often is, 'You write it as a scene and I'll turn it into a song. Let me know what you're thinking, and I can make a song out of that."
Sarah Stiles' Sandy: Character on the Verge
But the opposite also happened, as was the case with "What's Gonna Happen" a song sung by Sarah Stiles who plays Sandy. "[Yazbek] he knew what that song was going to be before I even approached it, and at that point, my job was going to be to get you to that song. This is a neurotic actor who constantly doubts herself and all the things we created Sandy to be and she is going to sing about that. And David wrote his incredible patter song." It's like "Not Getting Married Today" (the show-stopping nervous breakdown song by Stephen Sondheim from Company) "The stakes for her are so high," says Horn. "Once David wrote that song, I knew where Sandy lived in all the scenes. I knew how to write for her."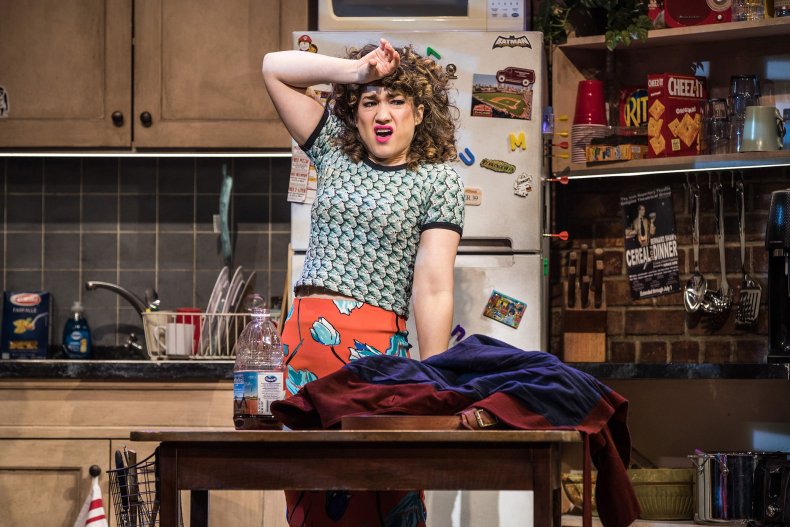 "The thing I love about her is that she is actually one of the strongest women in the show; she is her own worst enemy and she's constantly self-doubting and self-loathing, but she packs this incredible strength. And she doesn't give up. She doesn't stop. She may never make it. She'll whine and complain, but she never gives up."
One of the toughest parts in writing Tootsie came when Horn and Yazbek needed to eliminate characters.
"When you do a musical," Horn says, "you have only so much real estate and you want to make sure you have the time and the room to tell everybody's story, to give everybody an arc. I felt that if I built the relationship between Michael and Julie strong enough and added the subplot of Jeff and Sandy that it didn't need [the character of Les, Julie's father]. The impact of Michael's betrayal was squarely on Julie.
"In the movie, Julie finds her strength from Michael. I wanted it to be the other way around. I wanted Michael to learn his lessons from Julie: a strong woman who sees the world the way he does. The character of Les muddied that."
According to Horn, other characters were changed in smaller ways. For example, John Van Horn, the creepy old actor played by the George Gaynes in the movie, became Max Van Horn, the hunky, piece of eye candy played by John Behlmann, who at times seems to be channeling Keanu Reeves.
"We wanted Dorothy to be a voice for women in our culture who are made to feel invisible by virtue of their age," says Horn. "I loved the idea of the young, attractive guy, who you'd think would fall for the young, attractive girl, actually falls for a woman because of her experience and her humor. We had a reading and John came in — Scott Ellis had found him — he was amazing. We said, 'That is our guy.'
"That character could easily be a trope. But John gives it such heart and innocence and humanity. A guy growing up with the world telling him he's beautiful and that what his worth is. But he finds in this woman something he didn't know he had, which is belief in himself for something other than just what he looked like. He and Dorothy bond because they are judged by their looks. Why wouldn't he fall in love with someone like that?" Horn says, adding, "I had so much fun writing that character."
Julie Halston: Comedic Goddess
When I mention the name Julie Halston, one of my all-time favorite comedic actresses, Horn's reaction is visceral. I sense a kindred spirit. Halston plays Rita, the producer of Juliet's Curse/Juliet's Nurse, the musical in which Dorothy has been cast.
"I saw her in Hairspray and Scott Ellis did a production of You Can't Take It With You, where she just stole the show," says Horn. "And she was in the television show The Class. So I knew who she was." We both had seen her off-Broadway in Charles Busch's camp classics (Times Square Angel, The Lady in Question, Psycho Beach Party and Red Scare on Sunset) in places like the Limbo Lounge and Provincetown Playhouse. She also stole the show in the 2002 production of George Kaufman's The Butter and Egg Man at the Atlantic Theatre Company.
(Note: The following quotes have been edited for space, eliminating the 10 or 12 times Horn said, "I love her.") "There is no scenery left when she walks off that stage. One of the great joys you get with working with a company like this is that they help you write their characters," Horn says.
"In an earlier draft, Julie's character Rita had a very different trajectory. When I met Julie Halston, I went 'I know how to write for you.' And she worked with me as I created the character: Rita is the woman who has the checkbook; she is the woman who is in control. She is tough. She is no-nonsense. She's funny. She's got humor about herself and this world that she's navigating. Audiences love her."
"I got to create a menagerie of characters that orbit around our two central characters that was such a delight. I've seen shows where characters who orbit the lead don't get their moments or don't get the completion of their stories. We had this great canvas to bring these secondary characters to life, because they are all part of Michael's life and they are all coloring this world. And I was blessed with the Julie Halstons of the world.
"You know, you grow up with these people and they influence your craft, but you never thing you are going to work with them. They live in the periphery of being idolized, and then suddenly there you are sitting across from them watching them read your words and bringing them to life in ways you never imagined when you wrote it. Whatever else happens, that has been the joy of this production."
Jeff and Michael: A Fine Bromance
The character of Jeff Slater is much more developed in the musical. According to Horn, there were a couple of reasons for that: "For the sake of brevity, I wanted to combine the agent (played by Sidney Pollack) and the roommate Jeff, played by Bill Murray character into one character. Even though I still had the agent. I knew I needed this sort of Jiminy Cricket, someone who was in Michael's face, who had words of wisdom in his own way, but was the voice of the audience. Someone who could say, 'What are you doing?! This is never going to work. Are you out of your mind?' And that character just organically filled those shoes.
"And I loved the idea of creating a bromance. You don't get to do that a lot in musicals. These guys can say anything to each other; they are best friends. There is this lovely bromance in the middle of this over-the-top farce, and I had a really good time writing that, as did David. Jeff and Michael's song at the top of Act Two ("Jeff Sums It Up") is one of my favorite songs in the show."
On reflection, one almost forgets that this is a play about a straight man walking around in a dress. It's not La Cage aux Folles, Sugar or even Casa Valentina. Santino Fontana as Dorothy should be stealing the show — and sometimes he does, but only sometimes. The many well-drawn secondary characters are what elevate Tootsie from a one-joke farce to a well-rounded musical.
As Horn and his collaborators weather the awards season, he reflects on this creative journey: "It's a lovely thing to sit there and listen to so many people acknowledge what's going on on that stage. These characters — they live in your head for three to three and a half years. People say, 'How do you come up with so many jokes?' And I say, 'I don't; they do. They talk to you. They just come to you, and they say funny things.' Now you have to say goodbye to them and move on to new characters that will live in the schizophrenia of your mind.
"The show is now done. It is gloriously and sadly done," Horn says.
The writing may be done, the performances continue.
Tootsie is playing at the Marquis Theatre. For more information go to TootsieMusical.com.