Libya: Gaddafi's Reign of Terror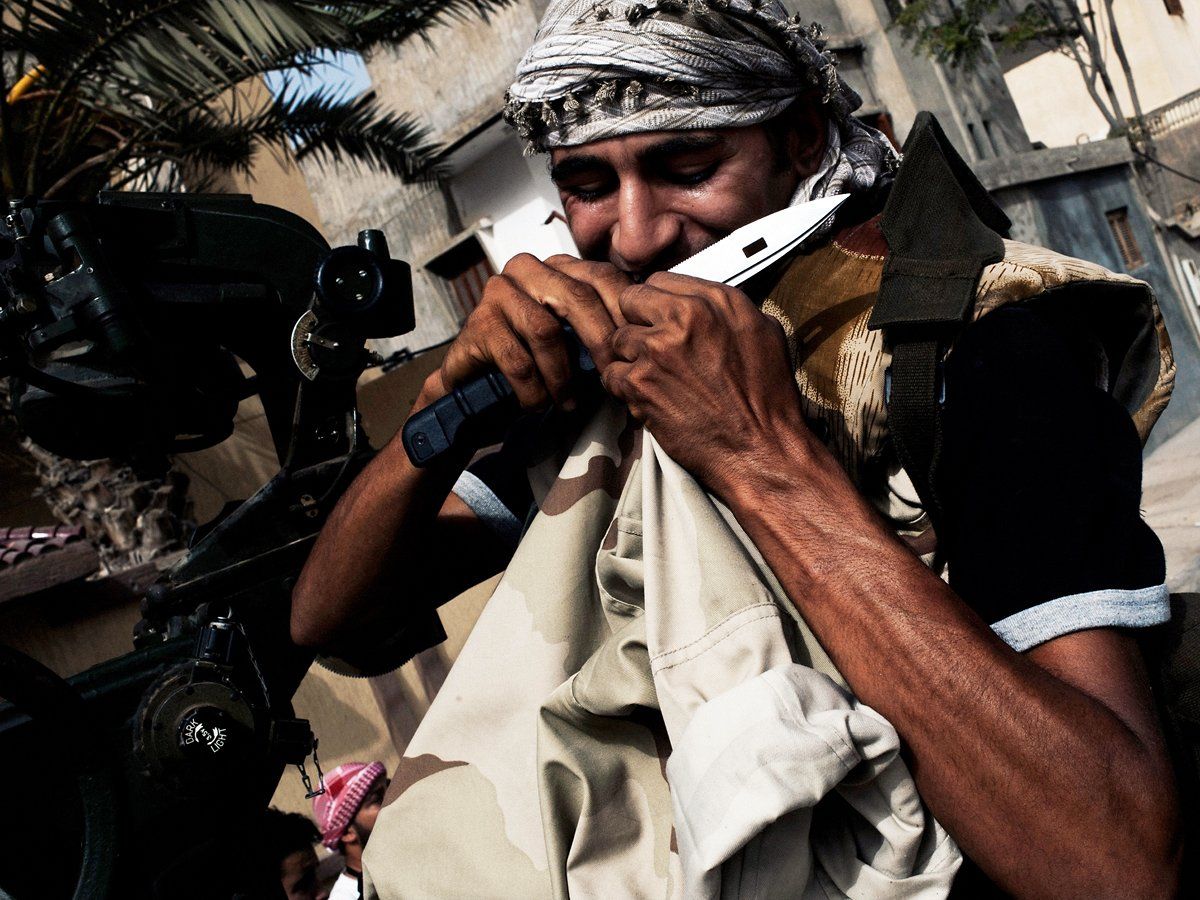 When I first arrive in Tripoli, long past midnight on a hot September night, driving in from the Tunisian border, the smell of burning rubber permeates everything. Near Fashloom, the first neighborhood to rise up against Gaddafi, there are a row of littered, desecrated shops and a scarecrow of the dictator hanging from the electricity wires.
There is also the flag of the new Libya—modeled after the one from the days of King Idris—flying. The restaurants and shops are not yet open, but there are tea sellers with vast silver pots working street corners. Even at midnight, there is heavy traffic, mainly soldiers sitting in the back of trucks, and everyone seems to have a gun. The sound of AK-47s firing in the air—in celebration, not war—is unnerving. And it is constant.
And people are tentatively coming back. The borders are packed with some of the million expatriates now returning after nearly four decades in exile. They gape at their old neighborhoods. Some are here to find out their own secret histories, some to open up old wounds, some to discover exactly what happened to people they loved who died under Gaddafi's rule.
In one southern Tripoli neighborhood, Yarmuk, the stench of death lingers after 45 people were summarily executed.
Yarmuk was once a place full of Gaddafi pride, and the base for his 28-year-old son Khamis's political and military headquarters. His was the feared 32nd Brigade, an elite "protection military unit" of 10,000 men.
Khamis's HQ was behind 12-foot gray cement walls wrapped with barbed wire, with an enormous entrance topped by an imposing eagle. Local people say it was a son's pathetic attempt to model his base after his father's elaborate compound, Bab al-Aziziya. Khamis means "Thursday" in Arabic, and some Libyans joke that Gaddafi's son had an inferiority complex about his name and that there was constant infighting between all the male heirs about who would succeed their father as the next Libyan dictator.
A month on, Khamis is believed to be either killed in battle or in hiding with his father. His former compound is now filled with weeds growing in the fierce Mediterranean heat. But the fear in Yarmuk remains because people still remember when they heard bullets in the night, and the sound of men screaming, in the last days of the fall of Tripoli.
There are places in the world, like Srebrenica in Bosnia, like Hama in Syria, where the ghosts of death linger long after the event. You smell them and you see them even before you arrive: these are haunted places. In a small field, part of the compound, belonging to the 32nd Brigade, a guard leads me to a corrugated-iron warehouse, terra-cotta colored, about 30 feet by 50 feet. I'm not so far away when I begin to feel a familiar sensation: something evil happened here.
The guard says it was used for farm supplies; someone else says auto supplies. There is an exploded pickup truck with the Khamis Brigade insignia, and the field is scattered with objects the prisoners left behind—a single sandal, perhaps lost while fleeing; a plastic bag of toiletries hanging on a nail in the wall—but otherwise the place is eerily silent.
It was here the Khamis Brigade killed the detainees—some of them innocent men—on Aug. 23. At one point, at least 150 were crammed into the warehouse, without water or sanitation, in the raging heat.
Instead of releasing the men, Khamis himself arrived, according to survivors. He gave orders. Then the killers tossed grenades into their crammed cell, then machine-gunned them, then tried to get rid of the remains by pouring gasoline around the cell and burning it. Two days later, witnesses who came across the warehouse told Human Rights Watch that they saw the smoldering remains and, outside the warehouse, two corpses.
A few weeks later, the stench of burned flesh encircles me; the charred, blue-gray bones can still be seen; felt under my feet are the remains of the men who died here. There are sprays of bullet holes in the door and, inside, a bloody mattress and burned clothes. In one corner is a cluster of singed hair. Outside is the killers' graffiti, scribbled before their act of vengeance: "GOD, KADAFFI AND LIBYA." And next to it, "DEATH TO THE RATS." "Rats" was Gaddafi's pet name for rebel fighters. But some of the men were not even fighters: they were simply in the wrong place at the wrong time.
As Libya comes back to life, the stories of the last days of the atrocities are beginning to emerge. One of the dead from the Khamis massacre was a 46-year-old beekeeper named Abdulhakim Khaditha al-Kabir. He was the father of three children. He was seized on June 18. Abdulhakim's crime was that he was coming home from his farm past curfew when he was stopped by Khamis's men. He was in Souq-al-Jumaa, one of the first areas to rise up against the dictator. They accused him of being a rebel fighter. "His bee farm was near Bani Walid," explains his brother, Khaled, 41, describing a town that is one of the last pro-Gaddafi strongholds. "I don't think he knew why they put him in that warehouse. But inside, it was terrible. There were 150 men there, fed every three days, with one bottle of water a day for all of them."
Most were political prisoners, Khaled says, including a famous judge who was imprisoned, then released, simply for being close to Mustafa Abdel Jalil, the head of the National Transitional Council.
"But most, like my brother, they were there by mistake," Khaled says at his home in Tripoli on a scorching autumn day, as his brother's fatherless children play silently nearby.
Khaled says that when his brother was brought in for questioning by Khamis's men, he was tortured, and "they planted a Kalashnikov in his car and said it was his. But my brother did not own a gun. They lied. And then they killed him." But in the final days of Gaddafi, with all brutality unleashed, truth hardly seems to matter. And on the way out of Yarmuk I see scrawled across a concrete wall "The Devil Is Muammar Gaddafi."
One evening I have dinner with Huda Abuzeid. She has a cut-glass British accent, but she is thoroughly Libyan, and is now working as an adviser to the NTC. She is here to see the rebirth of her country, which she left when she was 4, but also, on some psychological level, to find closure for the murder of her father, Ali Abuzeid, a leading dissident.
Huda was 22 when her father, a trained accountant, was murdered in November 1995 by Gaddafi's men in London in the grocery shop he owned near the Edgware Road, an area populated by Arabs. It was Huda who found his body, knifed to death—"his face viciously marked, a final spiteful act by his killers"—and Huda who had to keep her 14-year-old brother from coming inside the shop after she called the police. "I was in shock," she says now, her voice emotional at the memory. "I just remember the phone ringing and ringing…and trying to keep my brother outside so he would not see the blood."
Ali Abuzeid was the founder of the National Front for the Salvation of Libya, an anti-Gaddafi group in exile. But he had left the group some time before, believing that regime change could not come from those abroad but rather had to be borne by those inside Libya.
Huda, still torn by the murder of her beloved father, says, "He was a man from the western mountains of Libya, a man who was respected for his word, a man well liked and strong-willed." Imprisoned in Libya for a year in 1976, he took his young family and left for the U.K. with a bounty of millions of dollars on his head. He must have known that Gaddafi's regime would one day get to him. "My childhood was spent worrying about him every time he traveled," she says, recounting that once, on a trip to Tunisia, she had to leave when they found out a hit squad had been sent to assassinate her father for a failed attempt to overthrow the regime. Gaddafi called her father a "stray dog" in one of his infamous speeches that followed.
The Libyan dictator's powers stretched way beyond his own country.
In the weeks before her father's death, Huda, who was working for the BBC, noticed that he seemed especially agitated. The fact was, he had been threatened for the past two months but decided to keep the news from his family.
The worst part of her father's death was that his murderers went unpunished. The case was not investigated thoroughly, even though Ali was a British citizen by then. Huda was told off the record by police officers that they were "not being allowed to do their job properly." Indeed, the police were unable to access the Libyans they felt might be responsible; and two weeks after her father was killed, a Libyan diplomat, Khalifa Bazelya, was expelled from Britain for spying on Libyan dissidents. Information that later came to light said that both MI5 and MI6 had long suspected Bazelya of acts of violence in the U.K.—yet they never had the chance to question him about Ali's death.
"No one has given an adequate description of why they deported him so quickly and why they did not question him about the murder," Huda later wrote. "I began to see there were higher agendas being served.
"My father's murder," she added, "is only one of a long list of crimes that have been committed by the Libyan regime and have gone unresolved."
But today, she is back in Tripoli trying to work with a country that has not known democracy or how to build institutions for 40 years. It's challenging, but it is also painful. "I was numb for 10 years after his death," she says quietly. "I had so much to do. Protect my mother and siblings. I worked and tried not to think of my father as dead. We left everything, all his clothes, still in the same place." Even his reading glasses, she says, stayed where he had placed them.
During the start of the Libyan revolution, she was in London editing a film she had made about Egypt. Even as she watched television with "my heart squeezed," she thought the Libyan revolution "would be over in a week." Yet she bought a camera, headed to Benghazi, the seat of the resistance, and offered her services. "Suddenly, I spoke the same Arabic I had spoken with my family my whole life," she says. "I was back in my own country. I felt free! When I saw the flag, I wanted to cry." She says she always thought she would never get to Libya until she was very old. "I saw my father live with the failed revolution, and now I am living what he could not see," she says. "I realized, finally, Libya was free."
In Benghazi and Tripoli, I meet a lot of young people like Huda Abuzeid: Libyans who had been forced to leave, were educated to high standards abroad, and are now back to build a new country.
But nation building, especially in a place that was ruled by fear for so long, is "not going to be easy," admits Mazin Ramadan, director and senior adviser to Ali Tahouni, the new finance and oil minister. Ramadan settled in Seattle in 1984 to be part of the high-tech boom and came rushing back when the revolution started. "Libyans don't imagine an Iraq-type scenario here," he says. "They imagine it will be like Europe, France, the U.K.—I have even heard they want it to be like Switzerland." He laughs and orders a macchiato—Libyans, due to their Italian colonization, probably drink more coffee than those from the Starbucks state. "People expect Coca-Cola to run from spigots in their kitchens!"
Change, Ramadan says, for the traumatized Libyans who were taught from Gaddafi's infamous "Green Book" and had to whisper anything remotely sensitive and who disappeared and were tortured and killed if they weren't careful, has to be visible. He reminds me that the war is actually still going on. Elections, most people predict, will take 18 months or more; this is a population that has never voted—let alone chosen between political parties. "Remember, for an entire generation under 40," he says, "there was only Gaddafi."
One evening as the heat drops, we go to Gaddafi's old compound, Bab al-Aziziya, a 2.3-square-mile area that now resembles a grotesque Disneyland. Once people get through the lines of traffic—especially on a Thursday night, the start of the Muslim weekend—they still wait for hours to see the home of their now demystified leader. It's disappointingly ordinary and suburban. People bring their children and snap photos of them on their mobile phones holding borrowed AK-47s. Across a patch of grass is the home of Saif al-Islam, Gaddafi's Western-educated son who once regaled London's jet set with his parties and his thoughtful demeanor. People try to loot whatever is left and throw trash in Gaddafi's old swimming pool. Children flash V signs and wave the new flag and wait to see the network of underground tunnels where Gaddafi showed off his cruise missiles. It makes me wonder about the next generation—children of this revolution, and how they will be educated in democracy.
Dr. Faisal Krekshi, 55, head of the recently renamed Tripoli University, says that during the Gaddafi regime, the school was a "center of propaganda. If you wanted to be promoted, you had to be loyal." Educated in the West as an ob-gyn, he decided to return and teach his people during the regime. Gaddafi trusted him and made him the family gynecologist to his daughters and wife, but as soon as Krekshi could, which was in February 2011, he defected to the rebels and worked from within a sleeper cell. Now he is back running the university, and some say this thoughtful, intelligent man is Libya's best chance to be an honest, solid politician.
During the NATO bombing, he says, "Gaddafi was taking dead bodies from my hospitals—the bodies of dead rebel soldiers—and planting them in places where NATO had struck, then bringing out the media and saying, 'Babies are dying,'?" he remembers. "There was nothing that was beyond him."
So what lies ahead for Libyans? Krekshi is careful, because he is concerned. He says Tripoli University is the most important educational institution, but also the most dangerous.
"It is capable of immense brainwashing," he says. "One could easily get 120,000 students on the streets in a matter of hours. That's the power of propaganda. So we have to be careful where we go, how we do it." The lessons to be learned in Libya, he says, are about transparency.
"And there cannot be revenge," he says, referring to Iraq. For example, the former dean, a known player in the regime, was told specifically not to come back to campus after Gaddafi fled. But he did—and the angry students quickly arrested him.
"I said, don't touch him," Krekshi says. "They wanted me to take him to prison." He sighs. "Healing will take a long time. That is one thing that is for certain."