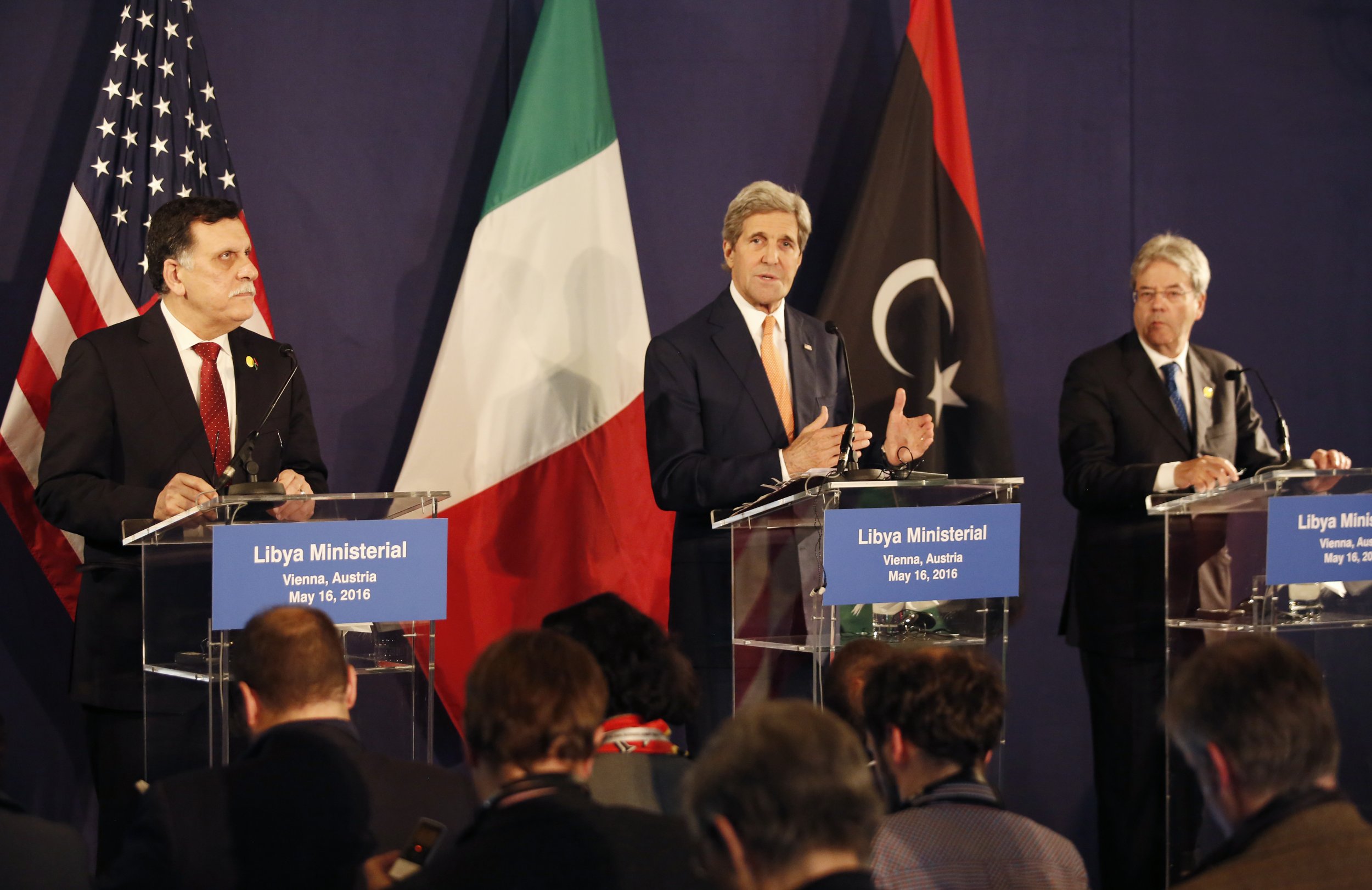 The United States and other world powers have indicated they are willing to arm Libya's internationally recognized government in a bid to halt the spread of the Islamic State militant group (ISIS).
World leaders—including U.S. Secretary of State John Kerry, Italian Foreign Minister Paolo Gentiloni, and representatives from other states including Russia—met in Vienna on Monday to discuss a solution to the crisis in the North African country, which has been mired in conflict since the overthrow of former dictator Muammar El-Qaddafi in 2011.
The political power vacuum in Libya has allowed the proliferation of militant groups including an ISIS affiliate, which is in full control of the coastal city of Sirte, making it the only ISIS-controlled city outside Syria and Iraq. The U.S. is already conducting airstrikes against ISIS targets in Libya and British Foreign Secretary Philip Hammond said the U.K. would not rule out sending troops to Libya if the necessary parliamentary approval was gained.
A presidential council was created in Libya as the result of a United Nations-brokered peace deal between the country's two rival parliaments, located in the capital Tripoli and the eastern city of Tobruk. The deal created an 18-strong cabinet under Prime Minister-designate Fayez Serraj, and the council issued a statement earlier on Monday giving the go-ahead for the cabinet to start working, despite a failure to gain support from the Tobruk-based government.
Libya is currently subject to a United Nations arms embargo, aimed at preventing lethal weapons getting into the hands of ISIS and other militias. The final communiqué from the Vienna summit—which was signed by representatives of the five permanent U.N. Security Council members, as well as numerous other nations attending the talks—said that the signatories "fully support" the Libyan unity government's intention to request exemptions to the existing arms embargo, according to Reuters.
The world powers also said they were "ready to respond to the Libyan government's requests for training and equipping" government forces, AP reported.