Returning From Strikes on Islamists, Libyan Jet Crashes Into Home, Killing Pilot and Family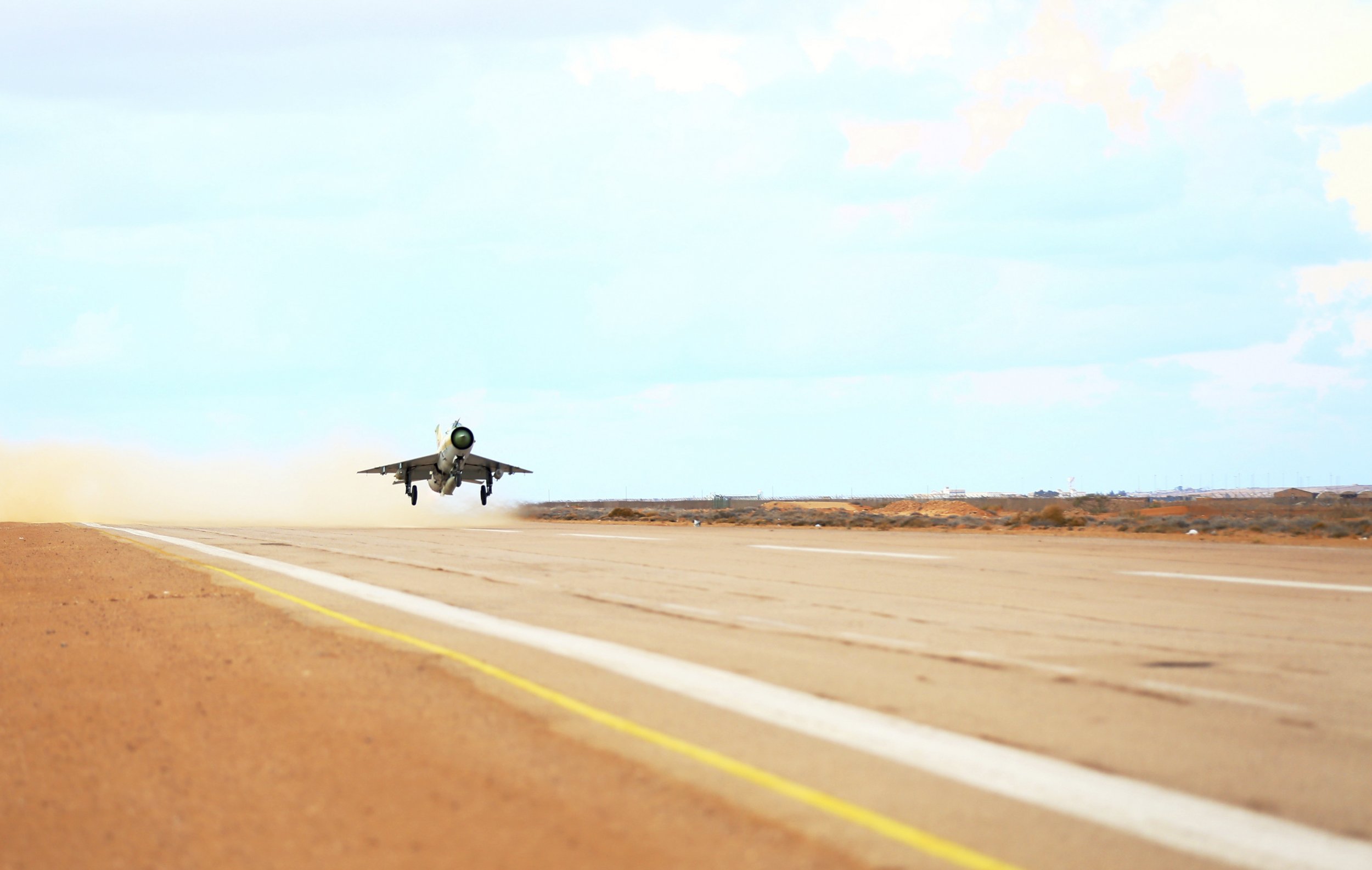 A Libyan fighter jet crashed over a residential district of Tobruk on Wednesday, killing its pilot and a family of four in their home, as it returned from bombing raids over the Islamist-held city of Derna.
A military spokesperson told Newsweek that the MiG-21 aircraft crash landed in the al-Tarsha district, south of Tobruk, as it returned to Jamal Abdul Nasr Air Force Base from an early-morning bombing raid over Derna.
She confirmed that the jet crashed as the result of a "technical failure" adding that the aircraft was "far clear of danger" by the time it reached Tobruk and could not have been shot down. The spokesperson named Brigadier Saleh Jouda al-Badr, a Libyan Air Force commander, as the pilot killed in the crash. A couple and their two young children were inside their home and killed by the falling plane.
Libyan fighters operating out of Jamal Abdel Nasr have been flying regular sorties over Derna, 60 miles east of Tobruk, the seat of Libya's eastern government and rival to the country's UN-backed unity government based in the western capital Tripoli.
Libya's eastern military forces are led by Field Marshall Khalifa Haftar—formerly loyal to Libyan leader Muammar el-Qaddafi—who has built a reputation of repelling Islamist forces. Libya has been in a state of turmoil following the NATO-backed ouster of el-Qaddafi in 2011 as rival armed groups have battled for control of the North African oil-producing nation.
In January, Hafter, who had been widely condemned by the U.N. and the U.S., for his unsanctioned military actions, won the tacit support of the Kremlin when he met with Russian military officials aboard the aircraft carrier Admiral Kuznetsov as it returned from Syria.
While Hafter has been successful in his mission to expunge Islamists from all but a few remaining neighborhoods in Benghazi, the field Marshall has had less success in Derna. The city in Libya's mountainous east was an ISIS stronghold until the militants' foreign leaders were ejected by local militias with links to Al-Qaeda in the Islamic Maghreb. Derna has been held by Majlis Mujahideen since 2015.