Libya's Split Brings Turkish Delight and Russian Revenge | Opinion
While the international community pushed hard in Berlin two weeks ago to cement a cease-fire between Libya's two main warring parties, it may have silently condemned Libya to a formal split between east and west—or, at the very least, continued chaos.
Since the country's division in 2014 between an Islamist-influenced government in Tripoli and a once-elected government-in-exile in the east, the international community has tried to shoe-horn the two opposing parties into a power-sharing agreement, through a U.N.-created Libyan Political Agreement and its never-ratified, Tripoli-based Government of National Accord (GNA). The main reasons for this were not altruism, nor the interests of the Libyan people, but the short-term interests of several European governments, whose immediate political imperatives were to appear to be stemming the flow of African migration and the spread of ISIS, which took root in Libya in 2015. Instead, the arrangement has led to the opposite.
The conference in Berlin on January 19 and the other U.N.-backed conferences before it have failed, most obviously because the two parties to the Libyan conflict are irreconcilable—the product of a disastrously mismanaged 2011 intervention in Libya by NATO and the U.S., which led to the overthrow of Libya's former dictator Muammar Gaddafi but left Libya's fragile revolutionary government exposed to manipulation from other regional powers—notably Qatar and Turkey. Those two states, then ostensibly pro-Western (Turkey is a member of NATO and Qatar hosts American forward forces in the Gulf), filled the gaps left by the U.S. and Europe in Libya, but used the opportunity to engineer what was effectively an Islamist counter-revolution.
The best hope for Libya's stability was not "everyone getting along" but, as Libya scholar Dirk Vandewalle wrote in 2013, for Europe to finish what it started: disarm the Tripoli militias that have held the country hostage. Or be content to deal with them for a long time to come.
After nearly four years of bitter fighting, General Khalifa Haftar, commander of the Libyan National Army headquartered in eastern Libya, defeated radical Islamists in Benghazi, including ISIS and Al-Qaeda, and proceeded to consolidate his hold over much of the country's east and south. Meanwhile, continued European and American absence and constant pressure by the United Nations have left room for Turkey and Russia to discover a deal that would advance their individual and mutual interests while undermining Western influence in the Mediterranean.
As Haftar made a precipitous push to capture Tripoli in mid-December of last year, Turkish President Recep Tayyip Erdogan quickly moved to sign two agreements with the Tripoli-based government: a mutual defense treaty and a sweeping maritime exclusion zone that tread on the territorial rights, most obviously, of Greece and Cyprus and angered Egypt and Israel.
While the rest of the region's politicians were up in arms over the legally toothless maritime agreement, Erdogan sent plane-loads of Syrian fighters, many allegedly with Islamist connections, to Tripoli to fight Haftar. Erdogan also may have provided sophisticated weapons to deprive Haftar of his former air advantage. Two days ago, two Turkish frigates appeared off Tripoli amidst rumors of a landing of more advanced weaponry.
A plausible consequence of these deals done under the wing of the cease-fire is the division of Libya into a Russia-influenced east and a Turkish-dominated West. And this may suit both Turkey and Russia's purposes fine. A prominent role and perhaps a military base in Libya would substantially increase Russia's influence in the region, while Erdogan wants Turkey to be acknowledged as a Mediterranean power and the undisputed regional patron of regional Islamist groups.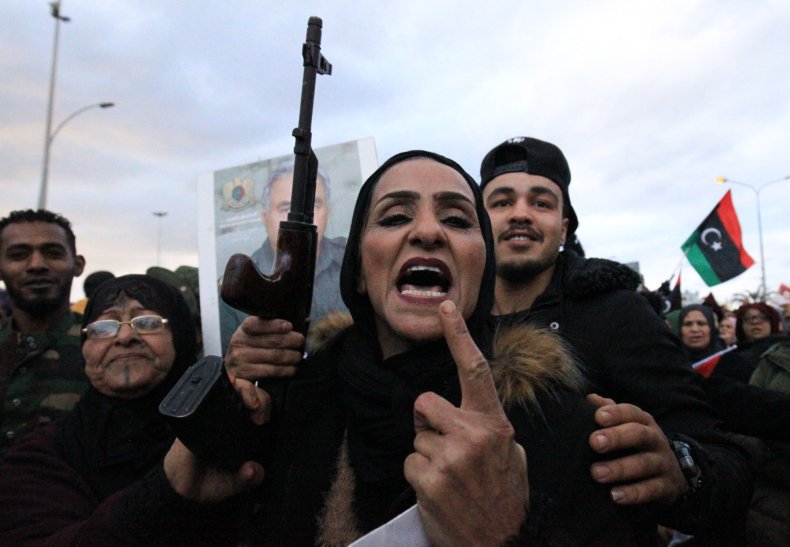 Recent Russian-Turkish deals include the Turkish purchase of a Russian missile defense system, which now sits in the heart of NATO, and a Turkish-Russian deal for a gas pipeline that sends Russian gas to Europe and undercuts the influence of Ukraine. There's a bit of sweet revenge added in, as Russian President Vladimir Putin allegedly never forgave the U.S. for, in his view, exceeding the U.N. mandate to overthrow Gaddafi. Now, nearly a decade later, Russia has become a major power broker in both Syria and Libya—an outcome not easily foreseeable in 2011.
Most of Libyan energy is the east, but the west has resources as well—and for both Russia and Turkey, something is a lot better than nothing—especially if it comes with a weakened NATO and a bickering European Union.
Europe, and to a lesser degree the U.S., will have to live with the consequences of their own dithering. Inattention has created holes that countries adverse to Western interests have used to carve out significant leverage. The Islamists in Libya will have their own domain; and Haftar, who enjoys near full support in Libya's east, will likely be compelled to move closer to Russia and Egypt, validating the international community's cries that he is a new version of Egypt's Abdel Fattah el-Sissi. And the migrant and terrorism issues will remain a powerful lever of Turkish influence.
As they say, one must be careful for what one wishes.
Ethan Chorin is a former U.S. diplomat posted to Libya, and the author of Exit the Colonel: The Hidden History of the Libyan Revolution and The Road Through Benghazi (forthcoming).
The views expressed in this article are the writer's own.
Libya's Split Brings Turkish Delight and Russian Revenge | Opinion | Opinion