Libya's Stability is About More Than Libya | Opinion
It has been a decade since one of the largest mass expressions of frustration, the Arab Spring, rocked foundations across the Middle East and North Africa. In the decade since, the path forward has not always been direct or clear.
I had the privilege of leading Tunisia as prime minister for more than three years. It was a challenging but rewarding time. In my efforts to help build a sustainable democracy in Tunisia, I knew that reliable neighbors were essential. I was particularly concerned about the state of Libya, our neighbor. I knew then, and I feel even more strongly now, that a stable and prosperous Libya is important for the Libyan people and the broader region.
Following the 2011 revolution and for far too long, Libya has been used as a tool for destabilization and a breeding ground for radical ideologues pushing division, violence and terrorism. The trade routes that once benefited both our countries were essentially cut off. Sadly, aspirations for democratic self-determination in Libya were stymied or squashed against the wishes of the people, fueling a cycle of hopelessness, distrust and apathy.
Today, only a stable, prosperous and democratic Libya can help to counter this trend of despair and instead inspire hope. A new future is within reach in Libya following U.N.-sponsored talks in Geneva. Democratic elections are set for Dec. 24. These elections must proceed and must succeed. And for that I believe that there's an urgent need to focus on the Libyan national reconciliation and the quest of consensus within the Libyan political class before the election. This will help to avoid having the election be contested or not recognized. The ultimate goal is to create a true democracy in Libya and not a democracy by name only—which provides nothing—a part constitutional deadlock. Democracy needs content to survive and evolve.
As a chief of government, I worked hard to facilitate mobility between the two countries. Millions of people used to cross the borders and trade between Tunisia and Libya was flourishing. Nowadays and following the COVID-19 outbreak, the borders with Libya's neighbors, including Tunisia, are beginning to reopen. What's more, regional cooperation is beginning again. Recently, the 5+5 Libyan Joint Military Commission held a meeting in Egypt for the U.N. mission and representatives of Libyan neighbors including Sudan, Chad and Niger to discuss the process of removing foreign fighters from Libyan territories. This is significant. It is clear that Libya, and the region, is focused on creating conditions that favor peace and stability.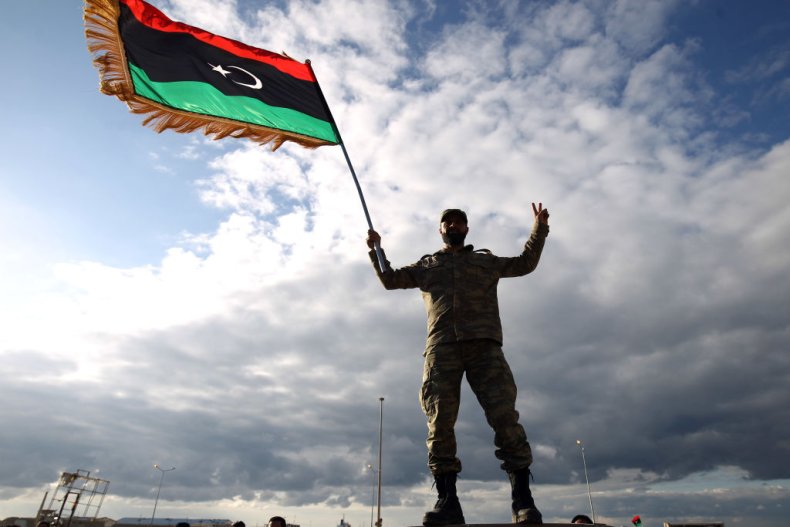 A democratic Libya would benefit all its neighbors, from those who share its borders to those across the Mediterranean. Libya's close proximity to Spain, France, Italy and Greece provides an opportunity to reset immigration trends, with a focus on legal, safe and ethical treatment and processing of migrants. Only through a stable and prosperous Libya will there be enough resources and political will to meet this moment. Not only will a stable Libya protect the rights of migrants, but it will also help reduce the elevated level of immigration from North Africa, as Libya becomes an increasingly desirable place to live and work.
There is no denying that climate change is upon us, and the constraints from extreme weather events are only growing. Libya is in a unique position, one where we can capitalize on old forms of energy production while investing heavily in new renewable forms of production. With incredible potential for solar and wind power generation, Libya is poised to be a valued energy partner to Europe, especially as it has to deal with an increasingly untrustworthy supplier to the European Union's east. Libya has the capabilities to address both short-term needs while advancing future forms of energy production—but that can only be unlocked by a democratic reunification of Libya. Without a democratic republic, accountability is unlikely, and Libya's economic engines will continue to only serve a minority.
The message a democratic Libya would send to the world's oppressed people cannot be overstated. It would lift up the voiceless, empower the people and show an alternative to violence—creating the environment to de-radicalize individuals and inspire others throughout the region to build their own democratic state. Through unlocking the aspirations of the people, Libya, and in time the region, will build a new age of prosperity and engagement.
Finally, a stable Libya provides a buttress against foreign influence in the region. Some countries see their foreign policy best served by keeping countries in the Middle East and North Africa weak, fractious and easily influenced—but these conditions are not advantageous to any other good-faith actor in the region. Building regional resilience is vitally necessary to prevent these influences from growing.
As I said when I was prime minister, when democracy flourishes in Libya, so too will stability, transparency and accountability throughout the region. With a stable economy and a strengthened private sector, Libya will be able to engage on equal footing with European and African partners like Tunisia, set an example to others in the region and build hope for the future. A stable Libya will have the capability to not only defend but advance human rights, build prosperity and be an engine for positive development across the region well into the future. That's why Libya's stability is about more than Libya.
Youssef Chahed is the former prime minister of Tunisia.
The views expressed in this article are the writer's own.