Bipartisan Senators Propose 'Lie and Try' Gun Background Check Bill
A bipartisan group of U.S. senators, including Republican Marco Rubio of Florida and Democrat Chris Coons of Delaware, introduced a "lie and try" firearm background check bill on Sunday.
The proposed gun legislation comes in the wake of the Marjory Stoneman Douglas High School shooting in Parkland, Florida, that left 17 people dead. It also follows a WPTV-5 news report that Florida is the only state lacking the legal authority to charge people who are banned from possessing a gun but "lie and try" to purchase a firearm anyway.
Although passing a background check is standard procedure at gun stores in Florida, lying to pass a check is a federal crime that is not enforced by state firearm retailers. Instead of facing up to 10 years in federal prison, Florida gun buyers that lie are simply allowed to walk free due to a discrepancy between state and federal authorities.
But on Sunday, senators proposed assistance for the National Instant Criminal Background Check System (NICS) Denial Notification Act. The act would require federal law enforcement to alert state authorities within 24 hours when individuals "lie and try" to purchase firearms of any kind.
"The Parkland shooter was able to carry out this horrific attack because of multi-systematic failures," Rubio said in a statement Sunday. "While we work to ensure that our background check system contains the critical information necessary to be able to conduct an effective background check, we must also ensure that federal and state authorities are successfully communicating with one another when it comes to dangerous individuals and their attempts to acquire firearms."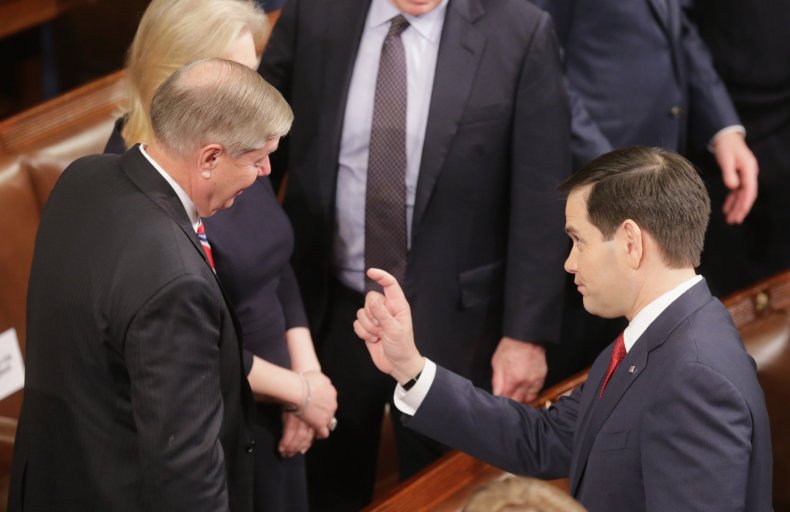 The bill mainly assists states such as Florida in enforcing existing firearm laws. Thirteen states run their own background checks using the FBI's NICS database system, meaning state law enforcement is made aware of prohibited persons, including convicted felons, fugitives and domestic abusers, after they illegally attempted to purchase a gun. But in 37 other states and Washington, D.C., law enforcement relies almost exclusively on the FBI to flag those who are willing to "lie and try" on background checks.
"This NICS Denial Notification Act requires the FBI to notify state law enforcement within 24 hours when a person who is prohibited from getting a gun, such as convicted felon, lies about their background in an attempt to buy one. That is, in itself, a federal felony and it goes almost entirely unprosecuted now," Republican Senator Pat Toomey of Pennsylvania said in a statement. "This bipartisan bill is a critical step forward in helping to ensure that our communities can be safe from criminals."
The bill also requires the Department of Justice to publish an annual statistical report on the prosecution of these now rarely pursued illegal purchases.
In 2017 alone, the Florida Department of Law Enforcement denied more than 12,600 applications that the agency processed in state background checks. Applicants in all of these cases had falsely claimed they were allowed to purchase firearms.
Arthur Divi, a, City Pawn gun store owner in Tampa, Florida, told WPTV that "one to two times per month" he'll see rejected applications for firearms due to an individual lying. Divi said that even when he does receive confirmation that a person has "lied and tried," the person is always allowed to walk free.
"I would just call it strange that you wouldn't be able to charge someone that falsifies a federal form, state or federal form, knowingly," he said.
The legislation is co-sponsored by Senators John Cornyn (R-Texas), Tammy Duckworth (D-Ill.), Lindsey Graham (R-S.C.) and Claire McCaskill (D-Miss.).